6 Ways To Spice Up Your Bedroom For Valentine's Day
Living & Lifestyle
2159 views
2159 views
Do you think your lover is getting used to the annual chocolate and flowers gift for Valentine's Day? Want to level up on your Valentine's Day romance game this year and pull out all the stops?
It's the thought that counts. So, best to factor in all aspects when planning for the special day. And, you'd successfully tug your lover's heartstrings. Want to pull out all the stops with a romantic getaway but don't have the financial means for that?
Turn your bedroom into a lovers' paradise! Stay at home and spend the day alone together. Spoil your lover this Valentine's Day by simply transforming your bedroom into a love den. You'd be surprised how much little changes could alter the atmosphere in your bedroom.
The best thing to do to spice up your bedroom is to focus on setting the mood. So here are 6 useful ways to spice up your bedroom and set the mood for Valentine's Day.
1. Curtains, Drapes, Shades, or Blinds?
Image via temporausch.com
One of the best ways to turn your room into a passion trove is to remove all distractions. And, that includes outside light. Because we all know low light is the most conducive to set a steamy bedroom mood.
So, try to decorate your bedroom with some heavy thick curtains, drapes, or shades. Maybe even opt for blackout curtains. These will transform your bedroom into a passion fortress and sacred place. A place for only you and your lover.
2. Bye-bye TV!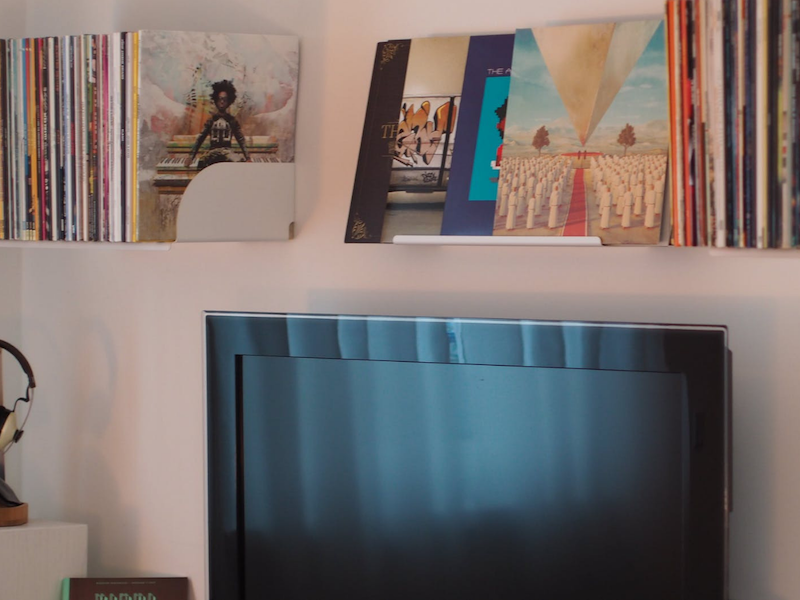 Image via pixabay.com
Instead of adding decor, try taking the bedroom TV out. If you can't take it out permanently, compromise and take it out for Valentine's Day.
The TV is a distraction. So, it maybe coming in between you and your lover's naughty bedroom endeavors.
Eliminating all distractions puts full focus on your lover so you'd be more inclined to do 'something else' other than watch TV. No distractions transform your bedroom into a space for only you and your lover. So, you both become each other's main attractions.
3. Let's get Scentsual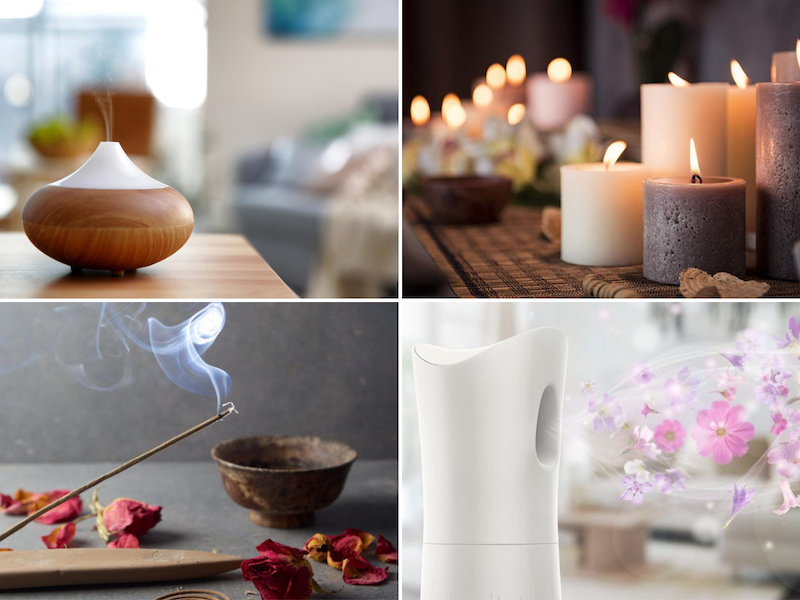 You may think a mere scent is minuscule in setting the bedroom mood, but you're wrong. The right scent could do a world of difference in your bedroom mood.
Right scents can act as an aphrodisiac. Some can stimulate your senses to be alert enough for a quick in-between the sheets soiree as soon as you both wake up. Or, could relax you to forget about distractions. Then, easily get in the right mood for some much needed coital alignment.
Suggestions? Invest in a good essential oil diffuser and a variety of essential oils for any kind of sensual endeavor. Or, hit up a Bed, Bath and Beyond for some scented candles. Candles are a two-in-one bedroom prop. Their scent and light both set the mood. Incense sticks or room fresheners will work great too. That is if you're afraid of a fire hazard.
Some very relaxing scents include lavender, vanilla, and oud.
4. Lights, Please!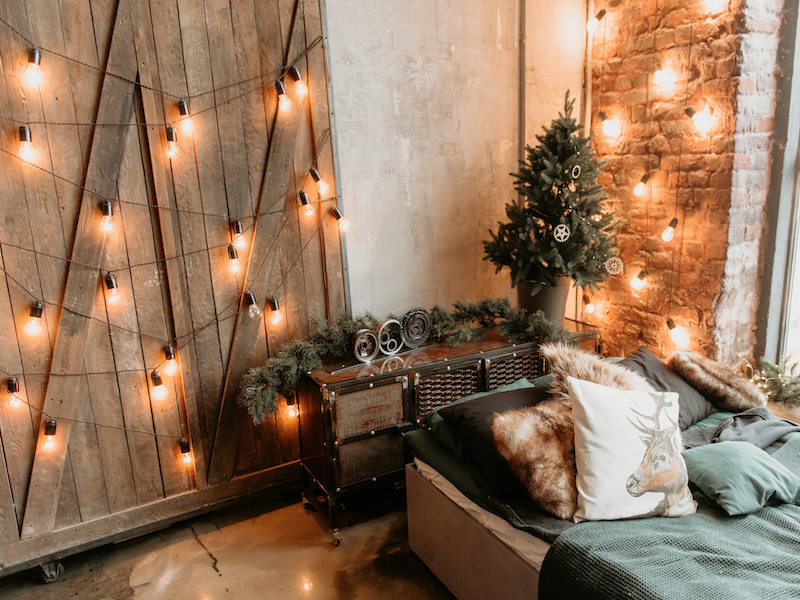 Image via Dimitri Zvolsky
What's one of the first things you do before a fun bedroom session? Dim the lights, right? So it's no wonder that lights are another crucial aspect in setting the right mood for bedroom fun.
For the most conducive bedroom lighting, opt for sensual, ambient toned lights. Rule of thumb: not too bright. So, invest in some really good soft lights. Cove lights, recessed lights, and 3-toned lights. Candles are great too. All will create the right dim romantic environment.
Also, remember that people are more confident in the bedroom when the lights aren't so invasive. And, we know confidence lets people perform better.
5. Hang a Piece of Rowdy Artwork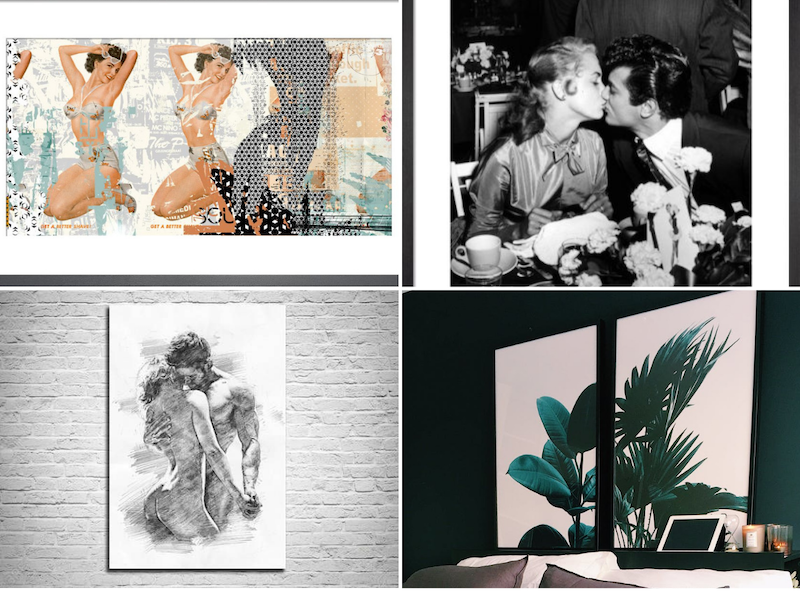 People are by instinct, visual beings. Did you know visuals can aid in prompting you to get in the mood to do the deed? Be it an explicit or implicit romantic art piece, you'd be surprised it does its job.
Try to get a radiant and sensual red piece. Red is after all the color of passion and desire. Bring some fire into your bedroom with a statement splash red art piece.
Or, opt for an explicitly sensual piece. A statement body silhouette piece or nude oil portrait. One that shows skin. Skin is sensual and surely invite a smoldering air into your bedroom.
Not explicit enough? What better than a romantic kissing portrait? Without realizing, it'll probably increase the lip-locking frequency and work as a cue to get busy.
If you do however want something more reserved, opt for a flora and fauna piece. Bouquets scream romance.
6. Up Your Bedspread Game
Your bed is, after all, the go-to location for coital endeavors. Therefore, to spice up your game, a quality bedspread is important. Your sheets, pillows, duvet, blankets, and mattress matter.
First things first invest in an aptly cushioned bed mattress. Then, get the best, softest pillows for comfort. Choose your sheets, duvets, and blankets carefully. Soft covers provide comfort and make you both never want to leave the bed.
One of the best in the game is Egyptian Cotton high thread count covers. Deck your bed with these to mimic a hotel feel in your very own bedroom. And, did you know people tend to rattle the sheets more on vacation?
Good Luck and Enjoy Your Valentine's Day!
Feeling inspired and excited now? Seems easier to pull off than you thought right. The little things matter, so take initiative to make this a Valentine's Day special and one to remember.
Valentine's Day comes only once a year. Go all out! Despite that, you could still do these little upgrades and continue spicing up your bedroom experience for a while.
Request for quotes and we'll match you with a selection of Interior Designers!
Previous
3 Ways to Remove Chewing Gum from Your Carpet
Next
6 Gadgets That Help Your Elderly Parents Live Comfortably