10 Storage and Organisation Ideas Under $10
Living & Lifestyle
90683 views
90683 views
Storage doesn't have to be expensive. With just a couple of dollars, you can buy substantial storage and organisation solutions that use space better. Although they aren't particularly large or extravagant build-ins, they still do what they're supposed to exceedingly well – and with a dose of style.
1. HOFTA Drawer Divider, IKEA, $3.90 (74cm x 14cm)

Drawer separators may seem like a redundant investment but they're incredibly useful for those always on a tight schedule. Your belongings can be separated and kept in an organised manner, ensuring you'll be able to retrieve items in a flash.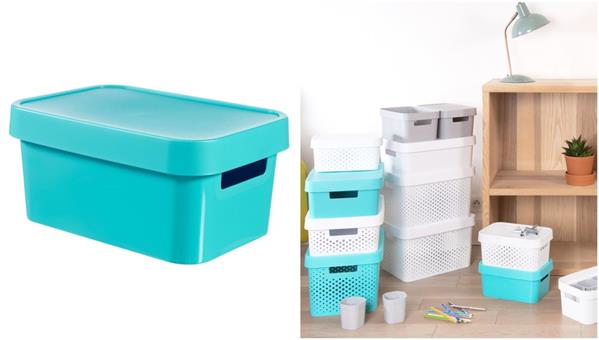 2. Infinity Box With Lid, HipVan, $9.90 each (36cm x 14cm)

Lids keep out dust and are necessary if you're planning on leaving your things untouched for long periods of time. Measuring 36cm by 14cm, these infinity boxes are the perfect size for smaller household tools.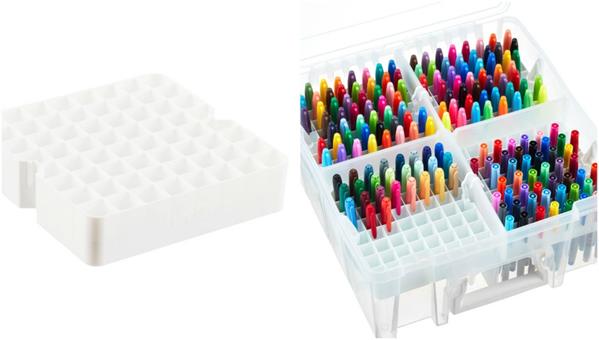 3. Marker Tray, Container Store, $8.20 (16.5cm x 3.8cm)

Stationery trays are ideal for artsy folk who own one too many craft materials. You'll be able to grab pens and markers the moment you need them instead of having to dig through a giant pencil case. Putting them back in place once you're done also keeps your work desk neat.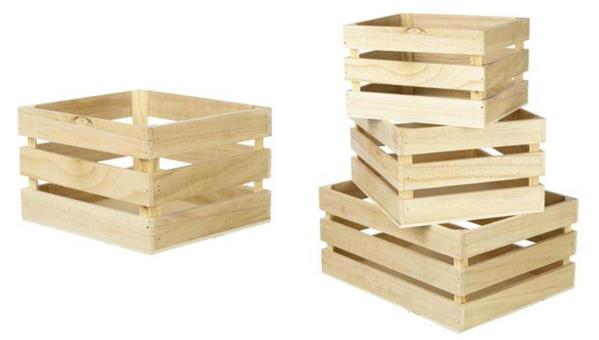 4. Natural Wood Crate, Spotlight, $7 each (22.4cm x 13.8cm)
Wooden crates can be used as a form of decorative storage in the living room, housing miscellaneous stuff like pots of cacti or a stash of magazines. Its durable nature also makes it suitable to be placed in your garden or balcony, so you can store your gardening tools in it.
5. PLUMSA Storage Basket, IKEA, $9.90 (28cm x 25cm)

Patterned storage baskets not only serve a functional purpose, but also contribute to the aesthetics of your home. This particular piece can either be hung onto wall-mounted hooks or used as a standalone. With a height of 28cm and diameter of 25cm, it's a roomy option for items like kids toys, sewing materials and toiletries.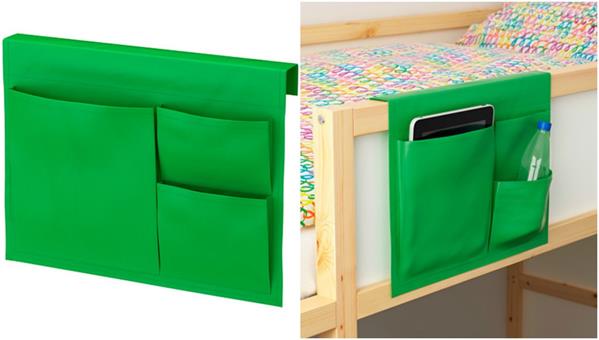 6. STICKAT Bed Pocket, IKEA $9.90 (39cm x 30cm)

Because they can act as compact substitutes for bedside tables, bed pockets benefit those who live in smaller homes. They also come in handy at the most unexpected times. If you're down with the flu, essentials like bottled water and medicine can be stationed right by your side.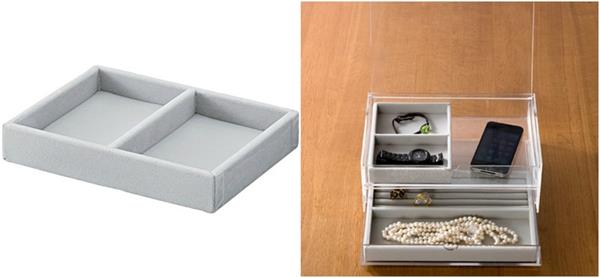 7. Inner Box With Partitions, MUJI, $9.90 (15.5cm x 2.5cm)

Without partitions separating them, accessories sometimes rub against one other, resulting in scratched surfaces. Cushioned partitions are even better; they ensure your jewellery is always protected and kept in tiptop condition.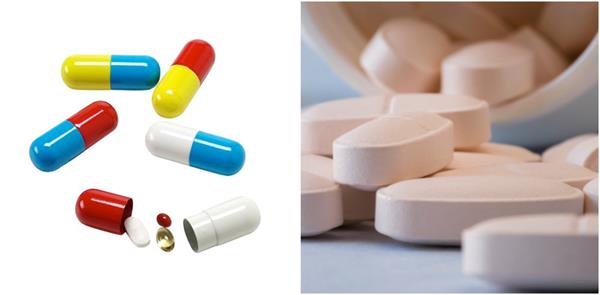 8. Pill Capsule Holders, Container Store, $5.80 each (5.4cm x 1.9cm)

A witty idea for a capsule holder, each one is made of aluminium and non-toxic, food-safe paint finishing. Pills, vitamins and supplements can be sorted and stored in these containers so that they're neatly organised. You can even paste on labels that indicate their expiry dates.
9. 3-Section Shoe Bin, Container Store, $7.30 (28.5cm x 19.7cm)

When space is lacking, a simple solution is to place footwear in an upright position to free up storage space. Half of the area you were initially reserving for your kicks can now be used to store other belongings.
10. Bathroom Vanity Box, HipVan, $4.50
A bathroom vanity box quickens your makeup routine since all your tools are on full display and easily within reach. The product even has enough space to store tiny essentials like clips and hair ties.
Keeping our home organised changes the experience entirely when you return home. Be sure to find the right storage solutions for the different parts of your home. This can also mean choosing the right interior designers to renovate your home. Good ones will know how to provide you with more storage with the minimalist look.
Request for quotes and we'll match you with a selection of Interior Designers!
Previous
Home Tour: Luxurious Open-concept Maisonette
Next
Iconic Design Series: The Wishbone Chair