10 Breathtaking Pools Of Executive Condominiums That Will T.O.P In 2016
Singapore Property - Real Estate
9660 views
9660 views
The Executive Condominium (EC) is a highly sought-after housing breed in Singapore that includes all the benefits of a condominium (all-round surveillance, clubhouse and swimming pool), but clock in at lower price. So it's no wonder many of us get excited about new ECs and flock to their show flats each year.
As if they aren't amazing enough, the water features in these ECs are looking more and more unique with every new project. Think day beds, cushy pavilions, and even aquatic gyms! Here are 10 ECs estimated to T.O.P next year that come with pools so breathtaking; you'll feel like plunging into them.
1. OneCanberra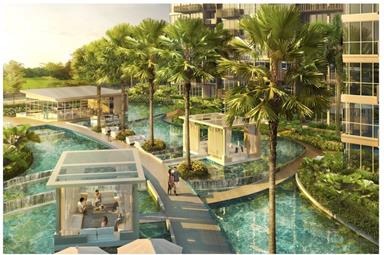 OneCanberra, an upcoming project near Sembawang Shopping Centre, features water lounges that are separated by walking decks and comfortable cabanas.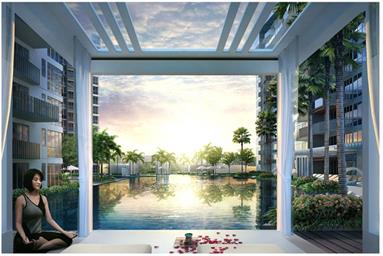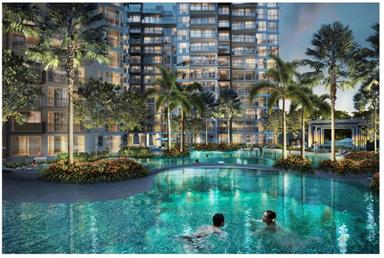 The aquatic activities even extend to outside of the EC with the SAF Yacht Club just a stone's throw away.
2. The Topiary
One of the more modern looking ones on our list, the highlight of this housing development is its main swimming pool, which is positioned in the central courtyard area.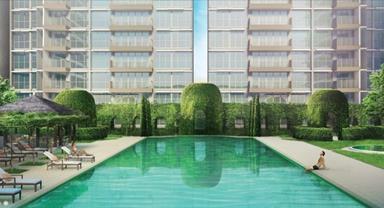 The thick shrubbery scattered along the pool give the space a grand feel, and complement the surrounding high-rise apartment blocks.
3. Heron Bay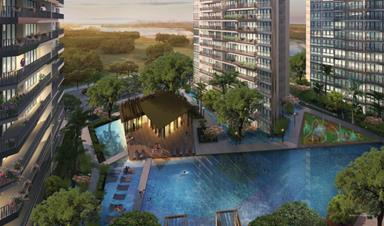 Located along Sungei Serangoon is Heron Bay, a riverfront EC that comes with amenities inspired by its surrounding natural landscape.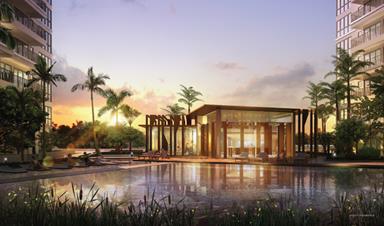 Its Enchanting Lagoon is made up of several beautiful facilities like spa jacuzzis, a 50m-lap pool, and even a child-friendly water playground!
4. Waterbay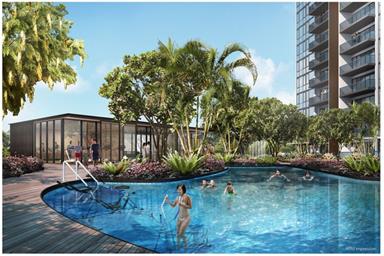 A development that prides itself on being the waterfront town of the 21st Century, Waterbay promotes a family-centered lifestyle through its various amenities.
This EC also has floating pods that are perfect for morning yoga sessions!
5. Forestville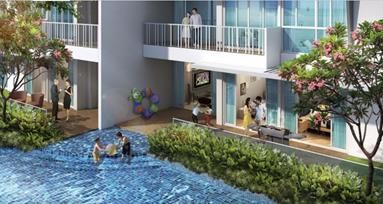 Nestled in the heart of Woodlands, Forestville has units that lead straight to the pool. Imagine being able to dive into the water from your home!
There are so many water facilities that this property almost looks like it's built in the middle of a lake.
6. CityLife @ Tampines
The mature estate of Tampines sees a new EC that's all kinds of contemporary.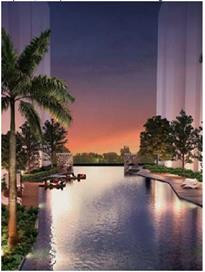 What's so metropolitan about CityLife? It comes with a 100m pool that has an infinity edge!
7. Ecopolitan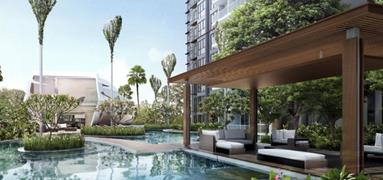 Ecopolitan is a development project that brings relaxation to homeowners with pavilions dotting the misty spa pool.
There's also a 50m-lap pool, and even an aquatherapy alcove for people who want to get physical!
8. Twin Fountains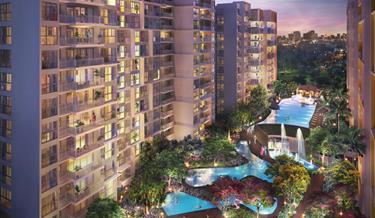 Boasting a long, meandering pool sandwiched between the condominium buildings, Twin Fountains is another EC situated in the north region.
Other water features include unique adventure fountains and cosy villas all around.
9. Lush Acres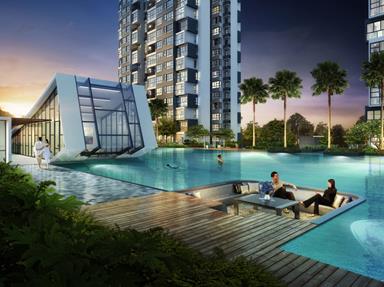 Its striking cube-shaped clubhouse hovers over the pool, a little hub that provides future family functions with beautiful views.
Moreover, the clean-cut appearance of Lush Acres makes its sunken lounge stand out, giving the space a tranquil atmosphere.
10. Sea Horizon
Spanning 297,732sqft of land in the east of Singapore is Sea Horizon, a property named after its lovely view of the sea.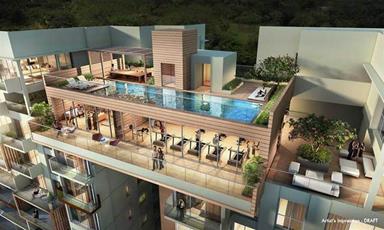 The ground level houses four large pools, but the most outstanding one has got to be the elevated pool that sits atop the Sky Clubhouse.
---
Information from teoalida.
Request for quotes and we'll match you with a selection of Interior Designers!
Previous
AWESOME Halloween Decorations To Dress Up Your Home With (Part 2)
Next
5 NEW Brunch Locations In Singapore You Must Check Out