10 Cafés With the Best Ambience
Best Eats
8622 views
8622 views
A good café is made up of so many aspects. Food is usually a priority to most people, but the general feel of a place also determines if return visits would be made.
We couldn't help but notice how much effort the new cafés are putting into their décor, so we shifted our focus from food to interior design to bring you 10 of our favourite ones!
1. Blisshouse
Since Cinderella is currently showing in the theatres, we figured a lot of people would be fantasising about fairytales and carriages now. Dreaminess comes in the form of lush greenery and white furniture in this café. Now all we need is prince charming!
There's even a water fountain and white grand piano for more instagram-worthy photo opportunities!
This place takes tea parties to a higher level, and you'd definitely be floating in bliss while nibbling on dainty sandwiches here.
Type of food: Western – Pasta, pizza and other mains.
Location: 6 Eu Tong Sen Street
Opening Hours: Sunday to Thursday: 12pm – 10pm
Friday, Saturday, Sunday & Eve of PH: 12pm- 11pm
2. Kombi Rocks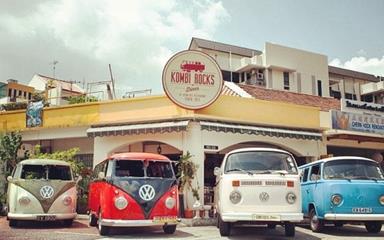 You wouldn't need a time machine to travel back to the 70s with this vintage-themed cafe. Volkswagen minibuses would greet you at the entrance, along with retro scooters and posters of The Beatles on its walls.
Through the little details, it's clear how much thought the owners put into creating that old-school atmosphere. The display cabinets are lined with bits of memorabilia and if you're lucky, you might even get a table with the ancient barber chairs!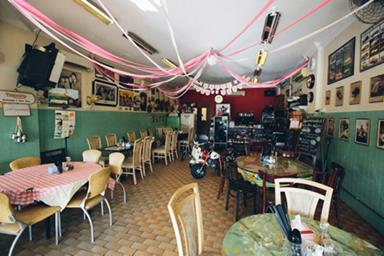 To enhance that nostalgic experience, remember to dress up in your bell-bottoms and hippie bands the next time you visit.
Type of food: Asian – Includes Singaporean dishes like Mee Goreng and Horfun, and various Thai dishes. Serves beers.
Location: 66 Yio Chu Kang Road
Opening hours: Monday: 12 pm - 11
Tuesday to Saturday: 12pm - 12 am
Sunday: 12 pm - 11 pm
3. My Awesome Café
Don't be fooled by the sign outside that says 'Chung Hwa Free Clinic'. Together with the prominent Chinese characters, you'd probably never guess that this is a café. These are just some things the owner decided to retain in his converted shophouse, and boy, do they give the place a quirky edge!
Besides the head-turning front door, its interior is also equally eye-catching with the hanging light bulbs and high ceiling. We absolutely love the recycled pipes that are used as legs for the tables and chairs!
Type of food: Western – breakfast, salads, sandwiches and pastries.
Location: 202 Telok Ayer Street
Opening hours: Monday and Tuesday: 7:45am - 9:00pm
Wednesday, Thursday, Friday: 7:45am - 12:00am
Saturday: 10:00am - 10:00pm
Sunday: 10:00am - 6:00pm
4. The Reading Room
This is paradise to a book-lover like a candy shop is to a 5 year old. With such a huge collection of books, you'd be at a loss for which to absorb yourself in on a lazy Sunday afternoon.
The tall shelves and plushy chairs provide a nice, homey environment that would make you forget about the rest of the world for a bit.
Even if you are not into reading, this café feels like the living room of a best friend's, and you'd probably still find yourself lolling peacefully for hours on end.
Type of food: Western – burgers, steaks and salads.
Location: 19 Bukit Pasoh Road
Opening hours: Monday to Thursday: 11 am - 11 pm
Friday to Sunday: 11 am - 1 am
5. Rabbit Carrot Gun
This café is every bit as whimsical as its name suggests. Tucked in a British colonial-style shophouse, its interior design is quirky without being over the top. The bits of artwork and checkered sofas give off a retro vibe, reminiscent of your grandparents' familiar home.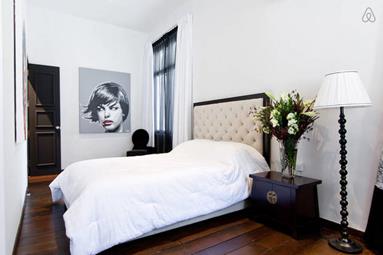 If you're the sort to suffer from food comas, you'd be pleased to know that this place also provides suites for people to catch a wink at. Like a boutique hotel, the rooms come with different themes accompanied by beautiful pieces of furniture.
Type of food: Western: Breakfast, salads and also main courses.
Location: 49 East Coast Road
Opening hours: For drinks - Monday to Sunday: 8.30am to 10.30pm
For food - Monday to Sunday: 9am – 4.30pm, 6pm – 9.45pm
6. Handle Bar
If you need a quick getaway but don't feel like whipping out your passport, head over to Handle Bar at Sembawang. The biker-themed eatery will have you wondering if you just stepped out of Singapore, and into an edgy bar off the streets of Phuket.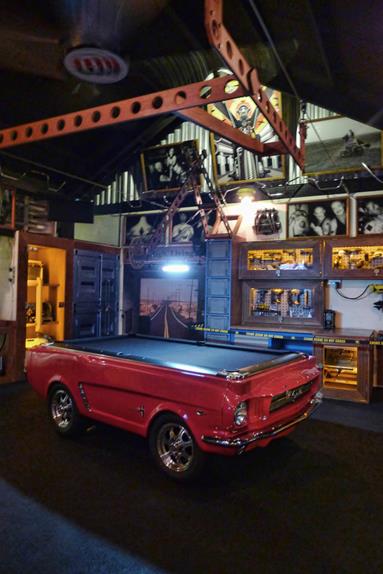 Its interior is made up of recycled motorcycle and car parts, such as Vespa seats and the vintage car-turned-pool table. The nice, laidback atmosphere comes with a gentle seabreeze that makes for an ideal hang out spot with friends!
Type of food: Western – Ribs, steaks, and wings. Serves beers.
Location: 57 Jalan Mempurong
Opening hours: Tuesday to Friday: 5pm - 1am
Saturday to Sunday: 3pm - 1am
7. The Dispensary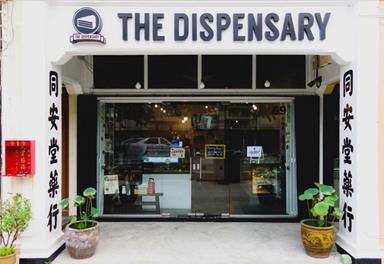 Another café that borrows inspiration from the east, The Dispensary's front entrance is sandwiched between two pillars with large Chinese words. The oriental tiles and doorways are a refreshing change from the usual café décor.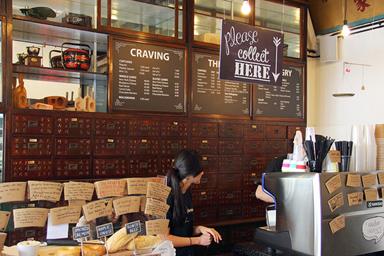 We especially love the traditional Chinese medicine drawers that remind us of olden day Singapore, and the unpolished walls give the place a rustic vibe.
Type of food: Western – Coffee, cakes, and pasta.
Location: 69 Tiong Bahru Road
Opening hours: Sunday to Thursday: 10am - 9pm
Friday to Saturday: 10am to 10pm
8. L'etoile Café
With its pretty interior, this place looks like an excellent spot for girlfriends to catch up over brunch. Located in the corner of Owen Road, the french-styled Japanese café has a quaint interior that features cute wall decals.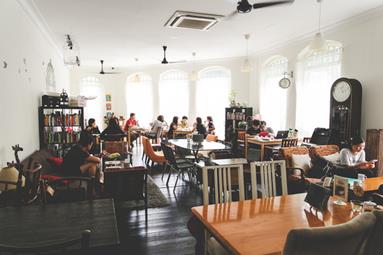 The second floor feels inviting with all the space and light streaming in, and is definitely somewhere we can imagine unwinding in over a nice cup of coffee.
The café also provides books and magazines with lovely knick-knacks in every corner, great for creating that intimate ambience.
Type of food: Western – Mains, soups, and salads.
Location: 160 Owen Road
Opening hours: Monday to Friday: 11am - 10pm
Saturday, Sunday & Public Holiday: 9am - 10pm
9. Little Prince Creamery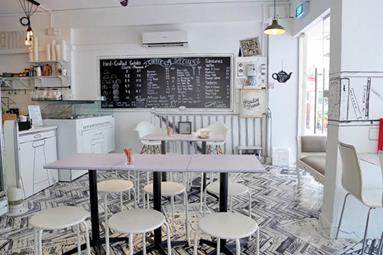 If you're a fan of the Little Prince novel, you would absolutely love this café.
The walls are decorated with drawn-on art inspired by the book, and you'd feel like you just walked into a 3D comic with all the sketches. We really like how charming this place is even without fanciful designs.
Type of food: Western: Coffee, waffles, and cakes.
Location: 47 Lor 6 Toa Payoh
Opening hours: Monday to Thursday: 12pm - 930pm
Friday to Saturday: 12pm - 11pm
Sunday: 12pm - 930pm
10. Whale and Cloud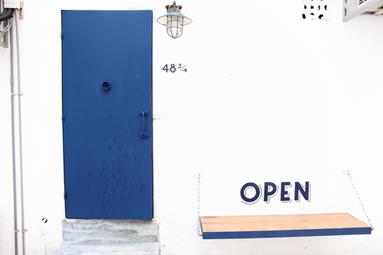 This hidden café that lies in an alley off Niven Road. The entrance is a distinct blue backdoor, and you'd have to knock on it to gain access. The outside may not seem much, but just look at how pretty and quaint its interior is!
The cosy vibe makes the whole experience feel like a private tea party. Despite the size of the café, you won't feel suffocated because of the amount of light you get from the open ceiling.
Type of food: Western – Coffee and cakes.
Location: 48 Niven Road
Opening hours: To add to its secrecy, Whale and Cloud has irregular opening hours, so do check their instagram for updates!
---
Photo Credits: Cover: Shanicekoh; 1a. Shanicekoh; 1b. Blisshouse; 1c. Beautyfool; 2a. Kombirocks; 2b. Misstamchiak; 2c. Kombirocks; 3a. Foodolicious; 3b. Squarespace; 4a. Thereadingroom; 4b. Cafehopping; 4c. Cafehopping; 5a. Ladyironchef; 5b. Airbnb; 6a. Phuachiuyen; 6b. Yvonnequek; 7a. Cafehopping; 7b. Sgfoodonfoot; 8a. Cafehopping; 8b. Misstamchiak; 8c. Misstamchiak; 9a. Danielfooddiary; 9b. Jiaksimi; 10a. Sgfoodonfoot; 10b. Pinkypiggu
Request for quotes and we'll match you with a selection of Interior Designers!
Previous
AIG Protects Your HDB Flat for Free
Next
How to Have a Million-Dollar Home With This Simple Trick