10 Most Popular Interior Design Themes For BTO Renovation (Part 1)
Interior Design & Decor
28050 views
28050 views
Plenty of BTO projects are about to TOP, and their floor plans sure look promising. If you're receiving keys to your new BTO flat, you should be pretty excited about decorating its interior. The list of renovation themes to choose from is endless – Industrial, Scandinavian, Minimalist, Contemporary etc. But the question is: Which interior design should you adopt for your own home?
Here are some 3 and 4 room floor plans of Alkaff CourtView and LakeView: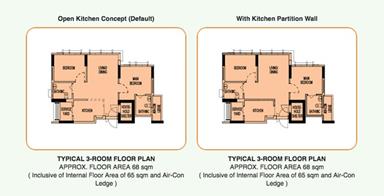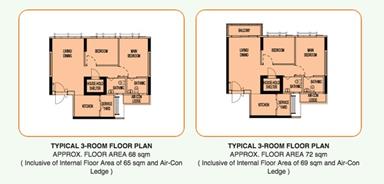 Credit: www.esales.hdb.gov.sg
To get your creative juices flowing, here are 5 interior design themes that have won the hearts of many Singaporean homeowners. Stay tuned for the next 5 in our second part!
1. Scandinavian
The clean, neutral-coloured interior style is highly popular amongst homeowners in Singapore, and was even the theme of RenoTalk's very own Only Home Fair! In a Scandinavian home design, having plenty of light is important as it brings out the white and wooden shades of the abode. The wooden elements are often light in colour, with furniture pieces in soft grey to complement them.
Project by Unity ID Pte Ltd.
2. Palatial
Imagine going home to your very own palace everyday. This luxurious theme features a lot of quilted textures and elaborate details – think carved designs dusted in gold and royal purple. Lighting wise, go with crystal chandeliers, and decorate the dining table with candelabras. Add velvety or satin drapes to complete the look, and you'll have a space that's sure to make anyone feel like a King.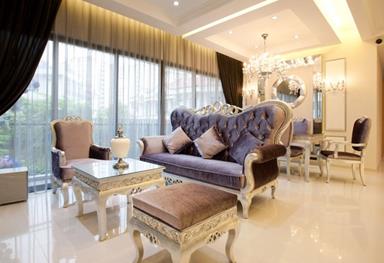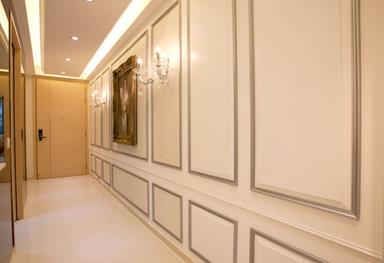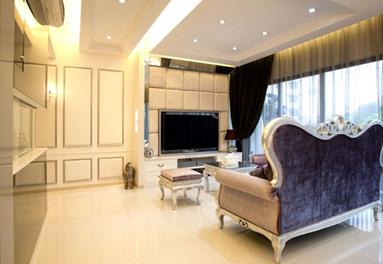 Project by United Team Lifestyle Pte Ltd.
3. Nautical
Ahoy, matey! A dwelling washed in sea foam blue calms the senses, and makes the place feel more inviting. The Nautical theme is often accompanied by quirky décor items like the ship's steering wheel or maritime-inspired furniture. Play around with shades of the ocean, or the classic blue and white stripes for your walls and flooring to tie everything together.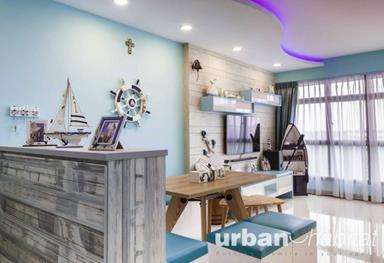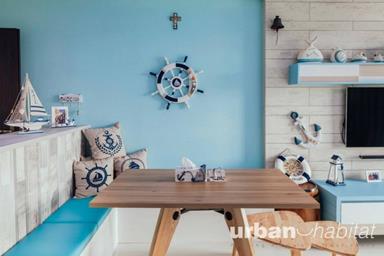 Project by Urban Habitat Design.
4. Japanese
Get ideas from the Eastern world, and festoon your home with a Japanese-themed renovation. The peaceful Zen ambience will put one's mind at ease, and create a serene sanctuary out of any residence. This style incorporates a lot of streamlined, wooden forms and traditional shoji screens that resemble the interior of a typical Japanese spa. Of course, this theme is not complete without nature-inspired details like the bamboo fixture and mini pebble waterfall.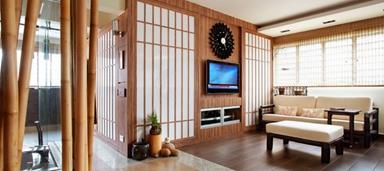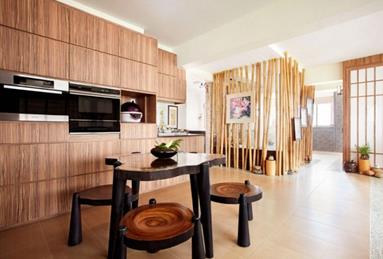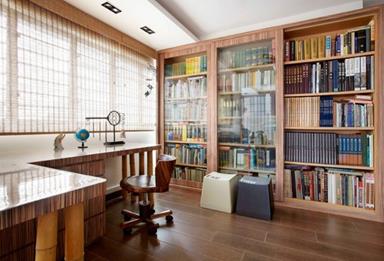 Project by Artrend Design Pte Ltd.
5. Victorian
Live in posh opulence by dressing up your pad with a Victorian interior design. This immaculate look is often matched with classy furnishings and plush upholstery. Cabinets and walls lined in white trim help to enhance the appearance, and recessed lighting allows the area a soft illumination.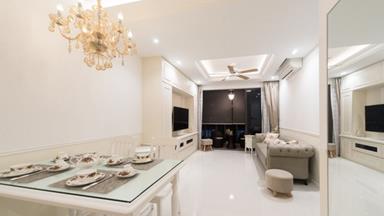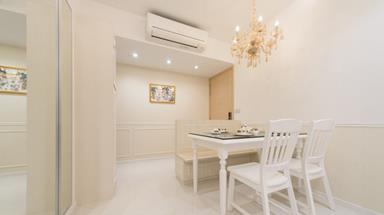 Project by Unity ID Pte Ltd.
Check back for our next 5 popular BTO renovation themes soon!
Request for quotes and we'll match you with a selection of Interior Designers!
Previous
5 Mini Renovation Makeover Ideas That Will Make A Huge Difference
Next
10 Most Popular Interior Design Themes For BTO Renovation (Part 2)