10 Must-See Ideas for Your Upcoming BTO Renovation
Interior Design & Decor
37339 views
37339 views
So, you'll be collecting the keys to your new home soon. Congratulations! Yes, we're looking at you, soon-to-be residents of Vine Grove, Palm Breeze, Compassvale Cape, Compassvale Helm, EastBank @ Canberra, Golden Mint and Hougang Crimson! But before you shop for your dream décor, why not pencil these ideas onto your list? They'll make your home look bigger and cleaner, improve your mood – and even bring you good health!
1. Make your space appear larger with transparent walls
Photo: Dreamvision Designer
A see-through panel helps to hype up the boundaries of any room while still separating it from the surrounding space (okay, you might want to avoid using a transparent wall for your bathroom!). Here, a divider carves out a study area from the living room. The resulting sections end up being compact, but the panel lets the two areas exchange light freely and misleads the eye into perceiving them as one seamless zone.
Read more: 5 More Ways to Separate Spaces In Style
2. Enhance natural light with the right paint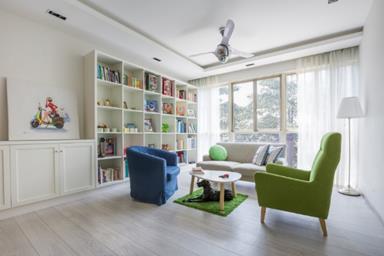 A small room that's painted in dark colours can quickly feel hemmed in even when sunlight is allowed to pour in. This is because dark colours soak up light. On the other hand, pale colours bounce light off surfaces to more effectively illuminate a room and make it feel extra spacious. An all-white interior works best, but don't hesitate to mix it up with other neutral hues like ivory and beige if you're feeling generous.
Read more: 6 Simple Tricks to Make Your Room Look Bigger
3. Complement your personality with the right colours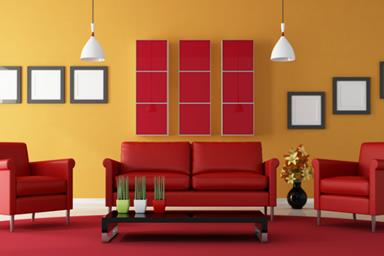 Decorating your room is as easy as painting it in the colours you like, right? Unfortunately (or fortunately), colours can sneak into your psyche and make you feel a) alive or b) listless. A décor that's bursting with hot reds and rich oranges and yellows can send your energy levels racing – great if you enjoy having guests over. Building a sanctuary? Creamy blues and greens can plop you into a Zen-like mode.
Read more: What Does the Colour of Your Home Say About You?
4. Turn on the style with a platform
Regular bed frames could be careening towards extinction sooner rather than later, especially when a platform is able to create a sleeping area as seductive as this. Adding to the statement-making appeal of the space is the cove lighting underneath, which we think stands in just fine for a table lamp too. A platform works equally great for other areas as well, so get creative and discuss possibilities with your interior designer.
Read more: 5 Ways to Separate Spaces In Style
5. Strategise your desk placement for maximum Qi
Qi, or Chi, refers to energy in Feng Shui. When properly circulated in a room, it's beneficial to emotional health. According to Feng Shui expert Joey Yap, placing or building your desk under running beams and slanting, uneven or even low ceilings can interfere with Qi circulation. Likewise, positioning your desk such that your back faces the entrance can also restrict the amount of Qi you receive.
Read more: 4 Simple Feng Shui Tips for Creating a Conducive Study Room
6. Bring a touch of old-school charm with these vintage doors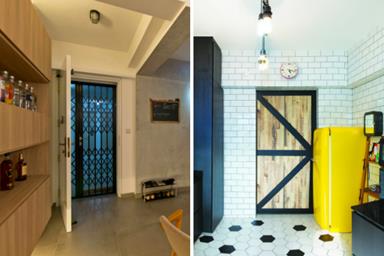 Make a unique impression by outfitting the entrance of your home with this classic shop shutter look-alike. It might not be the real deal, but it still makes us recall the rusty spring-loaded metal gates that shop owners used to guard their entryways with. An equally eye-catching option indoors is the sliding barn door. Be sure to expose the no-frills blonde wood for an extra dose of (kampung) pizzazz.
Read more: 5 Industrial-Style Home with Retro Touches
7. Choose big tiles for an easy-clean home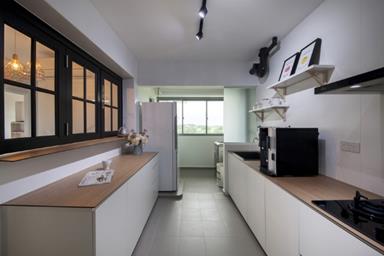 Photo: Starry Homestead
Tiles may be ubiquitous, but they're notoriously hard to clean. The culprit is the grouting in-between, which tends to trap grime and make for busy maintenance. One of the areas in which you'd definitely want to avoid using small tiles in is the kitchen, where the grout lines can transform into a magnet for grease. Large-format tiles at least reduce the number of crevices you have to mop after a sumptuous cooking session.
Read more: 5 Steps to An Easy-Clean Kitchen
8. Create grandeur with floor-to-ceiling curtains
Photo: Unity Design Consultancy
Unlined, flimsy curtains command one of the lowest prices, but they also make your home appear hastily and cheaply cobbled together. Instead, speak to a curtain specialist to create a customised solution that fits your needs and ensure that you only spend on the best quality that you can afford. Upon picking your curtains, remember to hang them closer to the ceiling rather than just above the windows for a loftier impression.
Read more: 6 Ways to Enjoy Luxury on A Budget
9. Save space with multi-purpose furnishings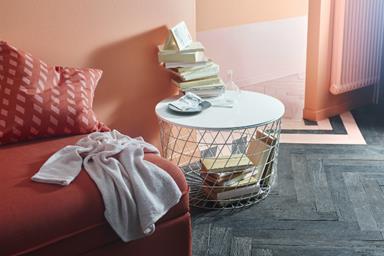 Photo: IKEA Singapore
With a compact room, there's just not enough space for more than a few pieces of furniture. We don't advocate leaving your belongings out in the open either as it's unsightly and space-consuming (oh the irony!). Luckily, we're in no short supply of furnishings that do double duty. We like this storage table from IKEA that lets us drop our books and newspapers in like we drop coins in a piggy bank. Cute.
10. Keep your home cool with thermal-resistant wall coating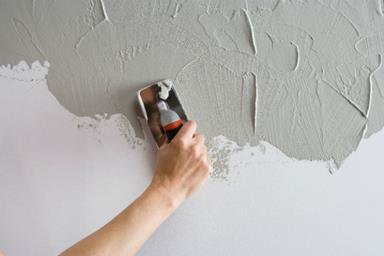 Photo: waxine.com
Concrete and bricks are dense materials prone to storing heat. They absorb the heat during the day and release it inwards during the night, warming your house. A wall coating, such as one made out of glass granules, can help to repel this heat and keep the internal cool air in circulation. Its secret? Science. Glass is simply a poor conductor of heat.
Read more: Living Well with Smart Wall Protection
Request for quotes and we'll match you with a selection of Interior Designers!
Previous
Designing With A Heart
Next
She Designs Furniture for IKEA