12 Awesome Living Room Ideas for Your BTO Renovation
Interior Design & Decor
18165 views
18165 views
Whether it's a living room; media room; theatre room; entertainment room; or family room – whatever you call it, the place where we gather to hang out with our friends and family is infinitely important.
Especially for those who will be renovating their homes this year, take a peek at 12 of the coolest setups guaranteed to give your family a great time. Designed for maximum comfort and bonding, these living rooms will encourage more family time. Watch the latest movies, or play a game of Monopoly and more, keeping everyone happy and closeknit will be a cinch!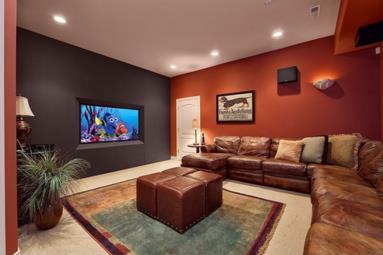 #1
The gorgeous colours, different textures, and seamless design... Need we say more? A perfect blend of sophistication and laid back vibes, this one's good to go for families who love a good time in great digs.
#2
What better way to relax together, than on a pile of plushy pillows? This unconventional living room takes the cake with its simple yet truly unique approach. Dim the lights and sink down in bliss as you catch your favourite movies together – family nights in will be enjoyable for years to come.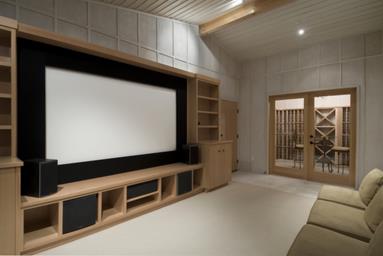 #3
For a cleaner look, this one suits those who prefer something slightly more scandinavian/industrial, or should we say scandustrial. With a console like that, you can also be sure to have tons of storage space for the family's collection of movies and more.
#4
Taking the common couch to greater lengths (pun intended), gather your friends for an ultra cool night of gaming and movies. With an upsized screen and an upsized couch, upsized fun is definitely guaranteed.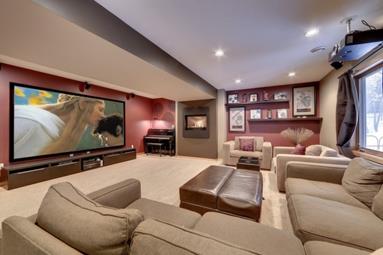 #5
How about something slightly more conventional? Utilising neutral colours with a pop of pink, this living room oozes warmth and is plush with possibilities. Movie nights aside, we'd also recommend dinner parties and soirees (for the adults) with an effective setup like this.
#6
Very modern, cosy and inviting, this family room provides an intimate setting for bonding and activities. We particularly love the carpet that was thoughtfully included to soften the look and feel of the room, while complimenting its design. Another standout feature? The ample floor space for activities like Twister or Jenga, thanks to minimal furnishings.
#7
There's no need to bust a hole in your wallets for luxurious date nights at Gold Class theatres – with a theatre/entertainment room like this, every night can be Gold Class night at home with your loved ones.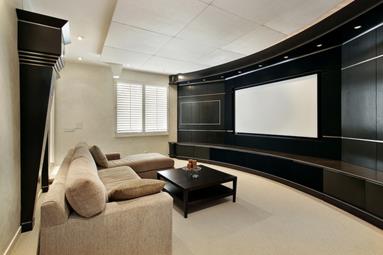 #8
Featuring a wall-to-wall console that does a great job of framing the screen, pulling focus to the TV, and creating a wonderful focal point – this entertainment room ensures that quality TV time is just a room away!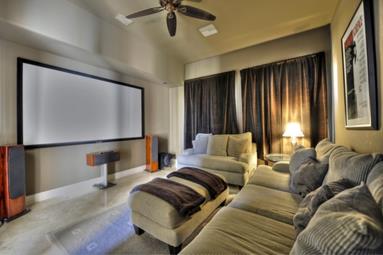 #9
What is one thing every media room needs? Answer: A solid sound system. Remember to invest in a good sound system for that premium movie experience!
#10
How many of you hate when you're JUST getting comfortable, but you're also thirsty and you (very reluctantly) have to get up to go get your drink? Here's an idea – sofas with in-built cup holders so that never happens again. ;)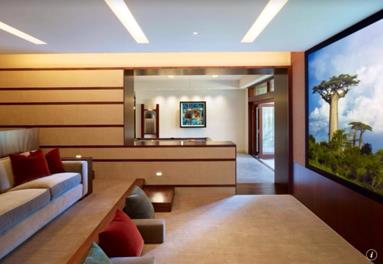 #11
Three simple things to note here. First, the screen is viewable from the dining room thanks to the wall at half height. Secondly, there are two seating levels available, giving the entertainment room a cool cinema-like feel. Lastly, cushions and seat dividers on the floor can be removed when not in use, making the room look more spacious. How's this for an ingenius setup!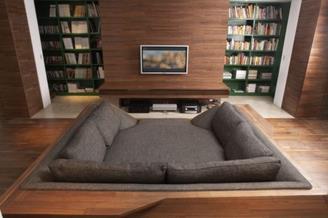 #12
How's this for a unique standout feature that encourages bonding. This cosy den-like living room showcases a built-in sofa, right smack in the middle of the room. A cross between a sofa and a bed, cuddle up with your kids, or your sweetheart, and spend some special time together.
Photo Credits: 1. Zillow; 2. Viralnova; 3. Homestratosphere; 4. Viralnova; 5. Zillow; 6. Zillow; 7. Viralnova; 8. Homestratosphere; 9. Zillow; 10. Homestratosphere; 11. Zillow; 12. Viralnova

Request for quotes and we'll match you with a selection of Interior Designers!
Previous
11 Die-Die-Must-Try Staycations for 2015's Long Holidays
Next
Top 10 Cafes in Singapore Your Kids will Love