1st Ever Storage Water Heater in Singapore with Ag+Silver Ions
Home Appliances & Tech
1745 views
1745 views
·

      

Customized design for Singaporeans' homes (HDB & Condominium)

·

      

Italian designed to suit any kind of bathroom decorations, no longer a need to
hide unsightly water heaters

·

      

Now at 30L, the Slim 30 has bigger capacity, providing more comfort

·

      

Ag+ Silver Ions with anti-bacterial properties to provide healthier and cleaner shower experience 
o Antimicrobial effects
o Disinfectant properties
o Increased protection against E.Coli. bacteria & microorganisms
o Greater hygiene protection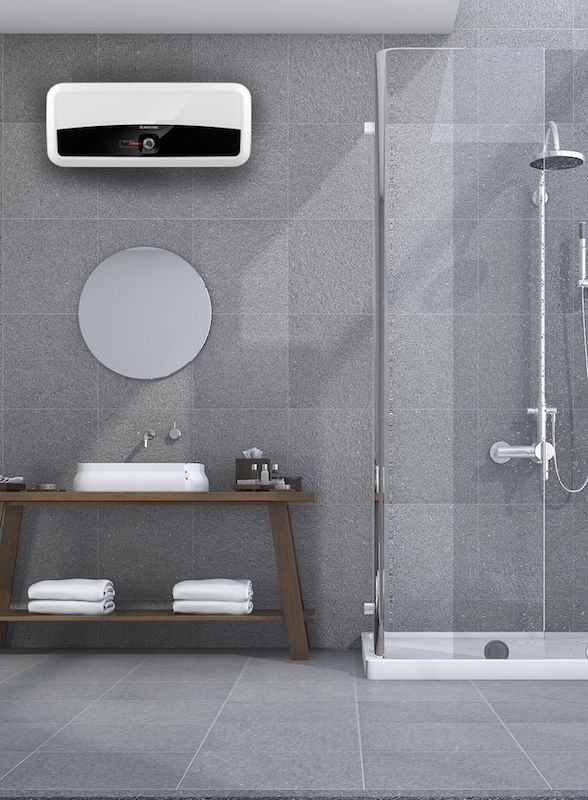 Ariston Thermo (Ariston), the number one Italian water-heating brand in Singapore, launched the first storage water heater in Singapore that comes with Ag+ Silver Ions to provide greater hygiene to its users. The new model is called the Ariston Andris Slim 30 (SL30). 
"Ariston has long been in the industry providing thermic comfort and energy efficiency. As we keep up with our promise of delivering safety, design and comfort, we ensure that we listen to our customers' needs, and bring them solutions. We heard that our customers want the same beautiful and slim storage water heater design, but with bigger capacity. Here it is – the SL30 is made especially for this group of people! We heard that our customers want improved technology for greater hygiene, and we specially designed the new SL30 to come with Ag+ Silver Ions." 
Says Mr. Richard Chua, Director of Ariston South East Pacific. 
Ag+ Silver Ions for Improved Water Hygiene 
Bacteria grow in very diverse conditions, and are commonly present in water. To step up on its ability to provide cleaner water to its users, Ariston Thermo Group developed the Ag+ technology to inhibit bacteria proliferation in its water tanks.
With the Ag+ cartridge technology, the SL30 comes with an added anti-bacterial feature to actively stop the proliferation of E-Coli, Salmonella, Legionella, Mold, Fungi and more.
Silver spheres are placed inside the tank in a customized cartridge, at the level of the water inlet pipe, allowing the water contained in the tank to receive bacteriostatic effect by coming in contact with Ag+ spheres. As a result, water produced from the SL30 water heater is cleaner and more hygienic for its users.
Slim, Elegant and Smart Use of Space
Space has always been a concern for the majority of Singaporean homeowners. The new four-room HDB flat measures around 90sqm in size, and with the tight space, homeowners have to be smart in space planning.
SL30 is made specifically to address Singaporean homeowners' concern for space and design, with the following properties:
• The slimmest 30L water heater design in Singapore. It will fit perfectly onto the beams at HDB and condominium bathrooms.
• Italian designed to suit any kind of bathroom decorations, no longer a need to
hide unsightly water heaters 
Safety and Durability
With over 85 years of history in the water-heating industry, Ariston prides itself on its Total Safety System (TSS). In fact, the water heaters have been certified by the most safety organizations in the world, and meet the world's strictest quality and safety standards such as International Electrotechnical Commission and Singapore Standards. 
The SL30 also promises extra durability through the use of a copper-heating element. The tank is made with super-ecologic insulation materials and energy can be better conserved through its improved titanium-enamel tank.
The SL30 can be purchased from all authorized dealers in Singapore (find distributors here). 
ABOUT ARISTON THERMO 
A worldwide leading company in the thermic comfort industry, Ariston Thermo offers a complete range of heating and water heating products, systems and services designed to provide the maximum comfort with the minimum use of energy. Ariston Thermo, founded in 1930, is the most global Italian company in the heating sector with 89% of its turnover coming from outside Italy.

In 2017 the Group achieved a total turnover of € 1.57 billion and sold 7 million products in more than 150 countries; it has 7,000 employees, 65 companies and 5 representative offices in 38 countries. The Group offers a full range of products, systems and services, mostly under the Ariston, Elco, Chaffoteaux, Atag Heating, Racold, NTI and HTP brands. Ariston Thermo's commitment to energy efficiency is expressed through its constant stream of new solutions based on renewable energy sources such as solar thermal systems and heat pumps as well as improvement of the efficiency of traditional products – such as boilers and water heaters – and investment in new projects for the future. The underlying objective is to offer an optimal combination of comfort, energy savings and care for the environment.
Request for quotes and we'll match you with a selection of Interior Designers!
Previous
Dyson Cyclone V10 Launch
Next
Renotalk's Life By Design Renovation Fair 2018