23 Absolutely Exquisite Living Room Renovation Ideas
Interior Design & Decor
67460 views
67460 views
With the right decor, any home can be anything but boring. Hotels are surely within reach, but why not make your home into a 24/7 staycation paradise without the hassle of packing bags and mounting bills? With the right attitude, you can transform your small home into a design mecca for your friends and family. In the outside, even though you might be living in a modern steel architecture complete with swimming pool and gym amenities, in the inside you can have it into a high-end tropical island getaway complete with luxury accommodations.
In Singapore, leasing out your apartment is one of the ways you can profit from your real estate assets. To attract renters or potential buyers on the internet, you must make sure that your home is appealing and easy to the eyes, especially in photos. If you're thinking of renovating your home for your own personal getaway or to have it rent out in Airbnb, you can check out some of our impressive tips below to inspire you to renovate your place into something that is equally delightful and captivating. Out with the old and in with the new!
@urban-habitat-interior-design-pte-ltd
1. Gold Sprinkles
Nothing beats a tasteful addition of gold accents into your home, like a wall shelf, tables, and some golden accessories. Indulge in stylish, gold pieces to infuse your space with a luxe vibe.
2. Deep Teal Accent
Speaking of accents, a dash of aqua or turquoise color can also make a good color option to fluff an all-white interior. Add a teal color to major items like a sofa and supplement it with small accessories in the same hue.
3. Brick And Rustic
Highlight the rustic appeal of your apartment by featuring a brick wall. Exposed raw wood ceiling and hardwood floors will make a fabulous companion to intensify the look of the stone wall.
4. Coveted Cove Ceiling
Inject a modern vibe to your living room by featuring a glowing ceiling effect, like a cove lighting or a recessed wall feature. Adding visual depth, cove lighting also updates the style of your home.
5. Element Of Light
Fill your condo with natural lighting simply by taking advantage of unobstructed glass windows. Achieving a glowing, ethereal look for your apartment has never been this practical.
6. All-White Interior
For that serene and calm look, you can always depend on your friendly white paint. Clean and tranquil, and with the addition of natural lighting, it will effortlessly put your taste in the spotlight.
7. Minimalist Furniture
Who doesn't love minimalist furniture? They are simple, elegant, and undoubtedly functional. Sprinkle your dwellings with statement pieces or for an added impact, get them in matching designs and colors.
8. Green Wall
Easily infuse nature into your home interior by painting your walls in earthy green paint. Cool and easy on the eyes, greens with a mix of greys can add refinement to your BTO's allure.
9. Skylight Ceiling
If you cant punch a hole in the wall to give your room natural lighting, you might want to consider putting some glass windows in your ceiling. Together with the changing color of the sun, see your home transform change hues in front of your eyes.
10. Sensual Color Scheme
Practice the art of seduction in decorating your own home through the use of selective sensual color palette. Hues like deep red, navy blue and a splash of green make an appealing and seductive living room colors.
11. Classic Inspiration
For that much-needed contrast for your condo with minimal architectural details, a lavish use of classic furniture can put the spotlight on your fabulous taste.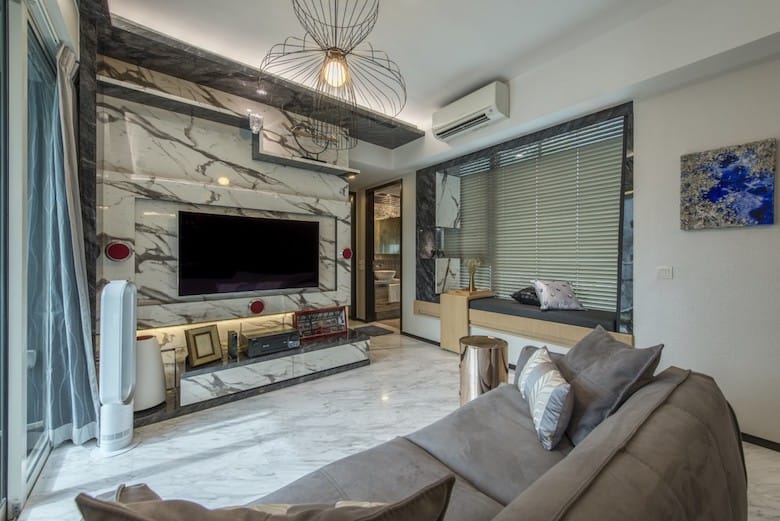 12. Art Gallery
Create an intimate home feature wall with a gallery of family photos and artworks in different frame design to inject personality and character to your quaint dwelling.
13. All Brown
You can never go wrong with brown or any neutral colors, whether in your flooring or furniture selection. Incorporate different hues of beige, cream, and amber for a sophisticated living room or dining area.
14. Reclaimed Wood
Upcycle wooden doors into a stylish coffee table or recycle old windows into a wall accent you can add to your seating area for an endearing effect. Mother Nature and your budget will thank you.
15. Featured Artist
Highlight your favorite works of art by making it as the glue that holds your living room decor together. Connect the color of your accessories and carpet to your favorite painting for a unified look.
16. Stone Textures
Bring the outside into your place by covering a portion of your wall in stone finishes usually reserved for exterior covers. Stylish and practical, works great in rustic and masculine living room interiors.
17. Crown Molding
A simple addition of thick crown molding to your ceiling can do so much to elevate the style and architectural value of your condo. Intensify the look even more by adding a trim to your doors and window.
18. Wall Panelling
Moldings can also be used to create a wall panel effect on your flat wall. Flawlessly add class and style, traditional style moldings will also add visual depth and interest to your most mundane spaces.
19. Nordic Furniture
Get on the bandwagon of current style trends and embellish your habitat with strikingly gorgeous Scandinavian furniture that features grey fabrics and raw wood finishes.
20. Garden Style
Leafy plants and flowering shrubs are always a welcome addition to any type of interiors. Incorporate organic elements and vivid colors to your living room styling with one quick swoop.
21. Bit Of French
Always on fashion, French windows will imbue a sexy, well-collected appeal in an eclectic and playful abode. Update your classic-style arch windows with full, clear glass for a modern, contemporary look.
22. Arched Nemesis
Visually divide any room and show your love for Roman Architecture with the use of a frameless arched doorway. Some cleverly designed corbels can instantly transform your boxy passages into a gateway of style.
23. Designer Pieces
If you can afford it, by all means, splurge on some fantastic designer furniture pieces to magnify the style of your home. When you're done, don't forget to send us the photos
Get help with your home renovations from our curated list of designers here.
Request for quotes and we'll match you with a selection of Interior Designers!
Previous
Minimalist Furniture With Maximum Impact Episode #001
Next
4 Reasons Why You Should have your Stay-cation in Klapstar Boutique