24 Ways to Alter Your Floor Plan for Maximum Space
Furnishings
25494 views
25494 views
Thinking of ways to alter your floor plan and maximise space in your home? How about room dividers? They're great for creating efficient layouts so your home can better meet your family's needs. Whether you want to divide one bedroom into two so your children may each have their own bedroom; conceal one space from another; or even draw attention to a particular area in the house – room dividers are a brilliant way to add character unique to your home. With different types of room dividers available, be as innovative and creative as you like, and your home will be warmer, trendier, and much more cozier.
There are basically three types of room dividers. 1) Permanent Room Dividers, 2) Improvised Room Dividers, and 3) Flexible Room Dividers. Permanent room dividers are built in and cannot be easily moved or changed without some renovation involved. Examples include walls that are half the width or half the height of a solid wall.
Improvised room dividers on the other hand, are essentially multi-purpose. Apart from dividing spaces, they have other purposes – for example, bookshelves, cupboards, and even planters. Lastly, flexible room dividers are dividers that can be freely moved to change the layout of a space at any given time. They come in a wide variety ranging from screens, panels, and even standing mirrors, to mention a few.
Without further ado, scroll on to check out 24 great examples of how to use room dividers to alter your floor plan for maximum space!
Permanent Room Dividers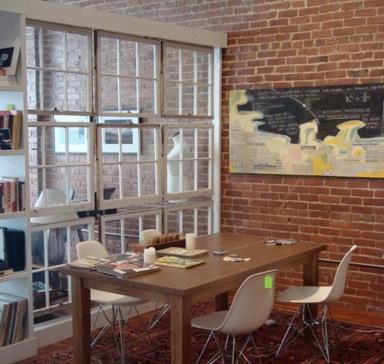 Source: Houzz
#1
An intriguing way of bringing the cafe ambience into your home, windows are a unique touch that still lets light stream through the entire room while dividing spaces.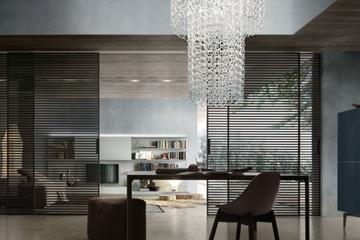 Source: Home Designing
#2
Simple and sophisticated, this floor to ceiling divider with its clean lines, helps to separate spaces without coming off as overly bulky. The application of gaps in the wood divider also allows air and light to flow through easily.
Source: Home Designing
#3
A wall at half the height is a simple way to efficiently create areas for different use. You may also mount your TV, bookshelves, or use the top of the divider wall as a display area.
Source: Home Designing
#4
Instead of having a separate room for the bathroom, this couple created a divider wall that both divides and integrates the spaces for an intimate living experience.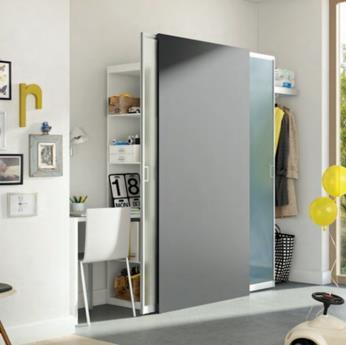 Source: Architecture & Design
#5
Sliding doors are good for concealing areas when not in need. Especially for places that tend to get a little cluttered like workspaces or study areas. 
Source: Architecture & Design
#6
Another example of sliding doors – slide open the doors when you want to enlarge the room, or close the doors if you want to shut off visitors' view of a particular space like your bedroom, for example.
Source: Apartment Therapy
#7
Another great example of a wall at half height – this helps to efficiently divide your room, so each space may be effectively utilised for different uses. Like the picture above, the wall enables the family to clearly distinguish the living area from the study area.
Source: Buzzfeed
#8
One of the top trends this year, barn doors have been replacing the typical doors in some HDB homes as seen on T-blogs on our very own Renotalk forum. Did you know they can also be used as room dividers?
Improvised Room Dividers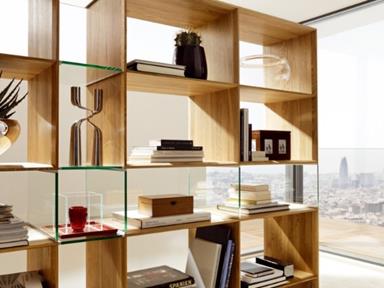 Source: ArchiProducts
#9
Why not use a shelving system to separate a room? It gives you more storage OR display options, the choices are endless!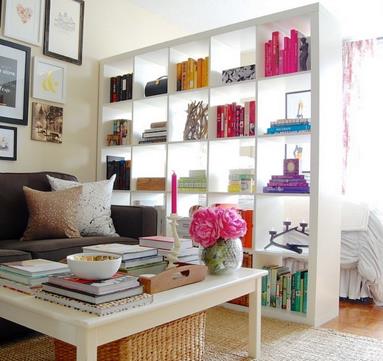 Source: Houzz
#10
Another great example of how a shelving unit (Ikea Kallax shelves anyone?) may be used!
Source: Home Designing
#11
Just in case you were wondering what a floor to ceiling shelving system may look like, here you go with an ultra-luxe example. (Pssst, some even use this as a way to store and display their collection of shoes!)
Source: Home Designing
#12
How's this for your very own art gallery? Exhibit your works (or your children's), in this simple and very gorgeous vision of a room divider.
Source: Home Designing
#13
A half-wall that extends from one end of the room to the middle of the room, the designers created a glass display within, so the homeowners are able to display their collection of art. 
Source: Architecture & Design
#14
Have you seen this around? A quirky bookshelf design that creatively divides space!
Source: Apartment Therapy
#15
Ladies and gentlemen, shoe storage in a room divider that also acts as a display!
Source: Smart Chicks Commune
#16
How adorable is this bohemian-esque set-up? Used to store different things and even display potted plants, the free-spirited homeowner with a penchant for boho-chic design is sure to love this interesting room divider!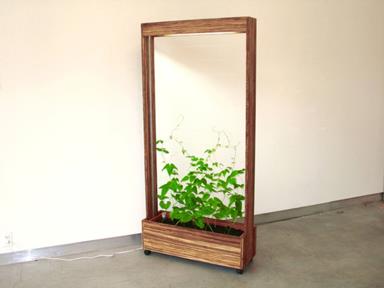 Source: Design Rulz
#17
This planter does double duty as a refreshing way to divide spaces without obscuring much from view. Urban farmers, consider this!
Flexible Room Dividers
Source: The Glove Slap
#18
As industrial as it gets, this room divider utilises metal chains to separate spaces. Good for those who love a solid industrial-themed home.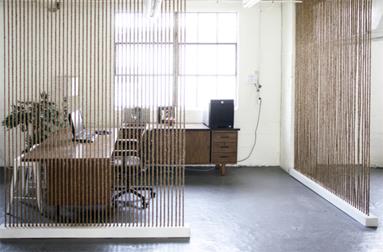 Souce: The Brick House
#19
We've seen metal-chained room dividers, now how about ropes for a nautical-styled house? Remember Xiaxue's nautical-themed home? If you loved the design of her home, then take inspiration from this great room divider idea for your very own nautical-themed home.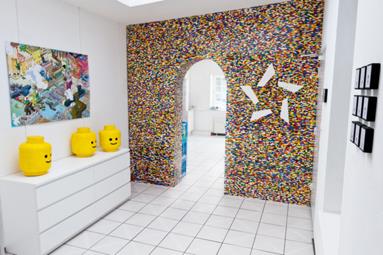 Source: Npire
#20
This one blows us away. How about a room divider made of only LEGO BRICKS. The people who owned this office wanted to dress it up and took it upon themselves to craft a room divider separating the pantry from the main area with lego. For lovers of lego, this might just be it!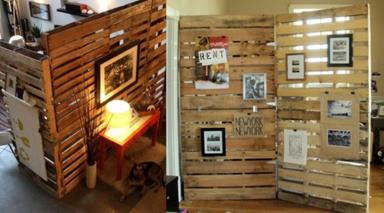 Source: My Friend Staci
#21
Another way to use pallets? You've seen them as bed frames, coffee tables, and now, room dividers too. Add some nails, and you may also put your favourite family photos up, in true blue industrial-style.
Source: Architecture & Design
#22
Fans of the nature-themed home, check out this interesting way of adding more texture into your home. Introduce this free-standing room divider comprising branches into your space for a quick and easy design solution.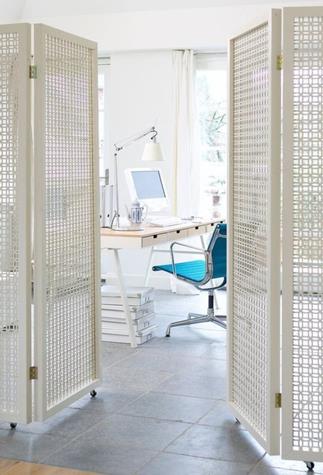 Source: Apartment Therapy
#23
With rollers on the bottom of this delightfully shabby chic set of intricately panelled room dividers, you can be sure to divvy up the space in your home easily in a pretty, and efficient way.
Source: Design Rulz
#24
We couldn't help ourselves, these cool room dividers had to be shared. Resembling the one using tree branches mentioned above, this minimalist room dividers feature fibre optics within that will light up any room in the house.
Request for quotes and we'll match you with a selection of Interior Designers!
Previous
5 Cat Cafes in Singapore
Next
5 Achingly Romantic Places to Dine this Christmas