27 Visually Appealing Small Kitchen Designs
Interior Design & Decor
13062 views
13062 views
There are a lot of exciting things that can happen when looking for a new place, like you get approved for a home loan or you found your dream BTO that fits your budget. And then there's moving in. There are a handful of things you will encounter more painful than changing your address. Would it be nice to just go on a lunch date or run to the supermarket and when you come back, everything in your kitchen is magically in its place? It can happen only if you pay someone to do it for you. But for the rest of us, that is why we have our friends to help us get through it.
Organizing your new small kitchen can be a hassle, especially if you have limited storage spaces. This is particularly true for avid cooks who hoards clunky kitchen equipment. In all likelihood, you could survive an apartment that is just one big kitchen. You can cook, eat, work, or sleep while on the couch in front of your dining table that also doubles as a work desk. On the other hand, to make the most out of your cooking area, a little smart planning and a dash of practicality can go a long way.
When going to the Ikea and taking a picture just won't cut it, here are some ideas on how to design small kitchen spaces for some needed inspiration.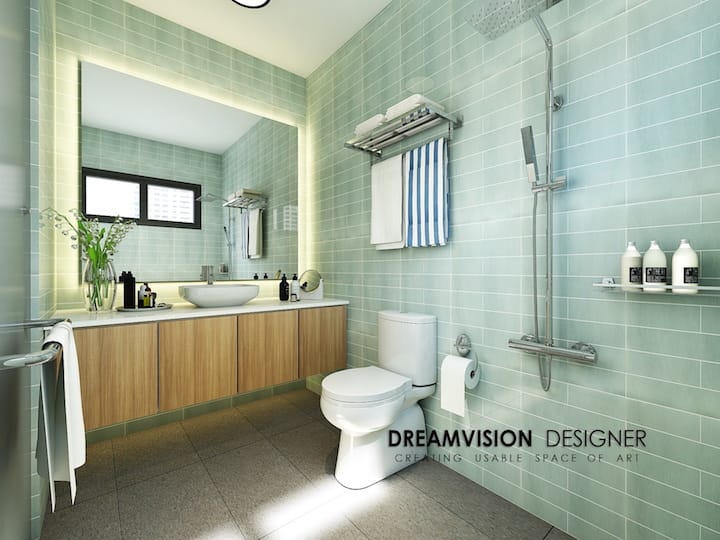 1. Get On The Floor
Small repeating patterns on the floor can help give an illusion of a bigger kitchen. Splurge on eye-catching patterns to add style to your kitchen floor.
2. Splash Of Bricks
Add a touch of rustic to your cooking area by painting your backsplash with faux bricks. It makes a great DIY project over the weekend that you can adore after and while you cook.
3. White And Checkered
For a classic appeal on your kitchen flooring, a black and white checkerboard pattern is your best bet. Classic and stylish, a wide range of materials can be used to achieve the same effect.
4. Table Flip
A table that flips and fold creates an ad hoc working space for limited space kitchens. Easily install with some durable hinges, hooks, and half cut thick wood as your table top.
5. Nearby Nook
Serve it hot from the oven to the adjacent homey breakfast nook that is just within arm's reach. A few chairs and table and you're all set.
6. Subway Station
Gleaming white subway tiles can underscore cleanliness in a tiny kitchen. Use it as a backsplash for a spotless-looking cooking area.
7. Open Shelving
Make use of open shelving to easily access frequently used dishes and pots. Create a nice display and showcase your prized collection of copper pans.
8. Location, Location, Location
A well-placed kitchen can utilize the natural lighting coming in through a window. Add some stylish roller blinds or cafe curtains for some personalization.
9. All Within Reach
Put your cooking range, dishwasher, and fridge in a single lane to maximize work in a small kitchen. Less footprint makes a more efficient cook, don't you agree?
10. Cooking Inspiration
The style of your kitchen can also benefit by imparting some of your characters displayed out in the open. Make your pans and other home collectibles as a functional decor to reflect your character in your cooking area.
11. Wood Finishes
Use the same wood finishes in your cupboard, flooring, and ceiling to create an illusion of a spacious kitchen. 
12. From Cooking To Eating
With pillows, you can actually live a kitchen that features a stylish flooring, a few chairs, long bench, and a sturdy dining table for all your non-kitchen works.
13. Colorful Accent
Spice up your tiny cooking area with a bold and colorful wallpaper as a striking accent and a fashionably-forward but toned-down tile flooring to complement an all-white kitchen interior.
14. Bone Narrow
A wooden countertop makes a narrow kitchen feels warmer and more inviting. With its exposed wood grain, a wooden countertop will imbue a rustic appeal on your cooking area.
15. Side By Side
Cook and wash, store and eat. A small kitchen makes an effective way to maximize your daily routine by having everything within reach. Easy to keep and maintain, a few boards as an open cupboard makes a space-saving solution for organizing glassware.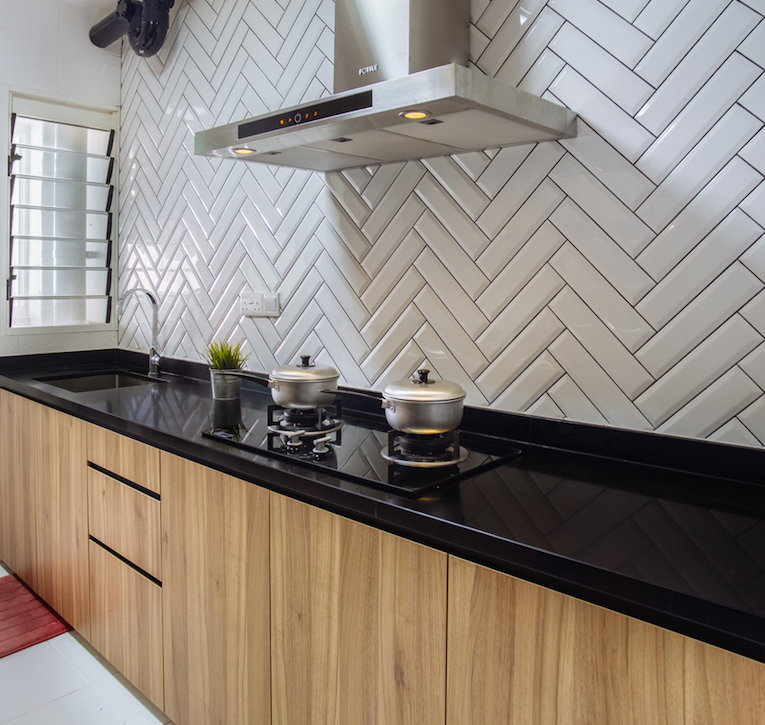 16. Emerald City
Add a dramatic aqua backsplash to easily energize a small kitchen. A few black and gold accents add a subtle glamour to inspire you even more in preparing meals for your family.
17. Captain Marble
Small and glamorous can be the theme of your next kitchen renovation by using polished marble countertop. Elegant and durable, marble can make a great kitchen island top as well.
18. You And Utensils
Display your utensils out in the open and get whatever you need within arms reach. A few hooks or perhaps a rod with rings make a great rack for your spatulas, tongs, and kitchen scissors.
19. Prince Of Persian
Colorful Persian rugs can liven up an all-neutral kitchen and the right carpet can also heighten your appetite. Choose a red color to add an exciting accent to your kitchen floor.
20. Back To Black
For a dramatic small kitchen, an all black can be your go-to color. Chic and sophisticated, a dark color scheme makes an intimate backdrop for a sensual cooking area. Works great with ample lighting.
21. Wooden Countertop
For moderately-sized kitchens, a combination of natural wood finishes and open shelving creates a delightful kitchen that is brimming with modernity.
22. Cementitious Belief
If you're after an industrial look for your narrow kitchen, a polished cement countertop is both a beautiful and practical option. Use it generously and personalize it with colorful accents.
23. Synthetic Appeal
Or for a sleek and clean look, consider using synthetic stone for your countertop with its availability and flexibility of use. Comes in different colors, the design is only limited by your imagination.
24. Bar Hopping
Create more space into your cooking area by utilizing the nearby bar that connects directly to your kitchen countertop. Make a seamless look by using the same finishes all throughout.
25. It's All Coming Black To Me
Different hues of black also make a good play of color that adds depth to cramped kitchens. Use different textures, such as gloss, semi-gloss, and matte to add interest without breaking the scheme.
26. Module Mogul
Modular cabinets are now popular as a kitchen building material for its relatively low cost and ease of installation. Choose the ones with integrated handles to save more without sacrificing design.
27. Hood Not Included
Save on space by opting to use a powerful ceiling exhaust fan than bulky kitchen hoods. Great for compact and small kitchens with low usage rate.
Stone Amperor: 100% Unbiased Advice & The Widest Range of Countertops

Request for quotes and we'll match you with a selection of Interior Designers!
Previous
7 hotel inspired interior designs for your HDB
Next
Designer Secrets In Creating Fabulous Interiors On Small Spaces