3 Newsworthy Homes On Renotalk!
Interior Design & Decor
16889 views
16889 views
3 Newsworthy Homes On Renotalk!
HDB renovation in Singapore is one of those tedious ventures that are a big payoff when done right. This is why many people take to the internet for inspiration, and find it even better when they can get personal testimonials from people who've gone through the same process. Renotalk forums are arguably the best place to show off your finished home renovations to a major audience, so today we will be featuring 3 of the most newsworthy homes on Renotalk.
1.
Pipsqueak's Humble Abode

It's amazing how even with a full wedding schedule, these new homeowners managed to carry out an amazing HDB renovation for their new home. From the comfortably homely living room that is mostly furnished with affordable items to the stylishly expressive dining area and kitchen, this home is the ultimate affordable dream come true.




The light blue pouf sofa and ottoman perfectly complement the patterned area rug and mismatched yet stylish accent coffee tables. The low-height TV console adds just the right amount of organic contrast to make the ambiance truly trendy. Add to that some pretty cool functional accessories like a tripod standing fan and a marble based copper standing lamp, and the home automatically starts to look like the epitome of stylized in an understatedly luxurious way.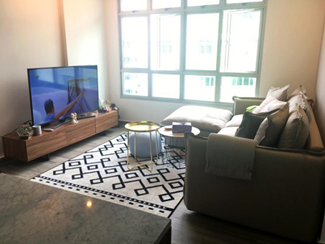 The dining area takes on a slightly kitschy vibe with its mismatched textures and industrial light fixtures. The marble topped dining table is completely juxtaposed with the plush, comfy chairs, but somehow, this contradictory look works really well together.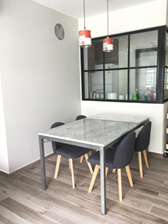 Similarly, the kitchen is a seamless blend of organic wooden laminates with sleek contemporary counter-tops and back splash. The wooden accents complement the glitz of quartz counter-tops beautifully. With state of the art appliances and chrome accents, this kitchen is the epitome of fashionable.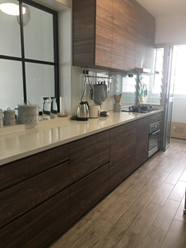 Lastly, the bathrooms, which are relatively smaller in size feature big personalities. With wonderful concrete accents and stylized vanity designs, these bathrooms look absolutely stunning within their small scale context.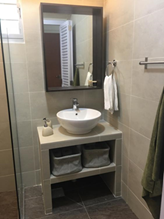 2.
Project Punggol Breeze

Cozy, warm and infinitely stylish, Project Punggol Breeze features an industrial chic aesthetic that is high on understated sophistication and unfettered in stylizing. Like most HDB renovations in Singapore, it envelops an open floor concept with trendy wall cladding and finishes. However, what truly highlights its appeal is the trendy light fixtures that create wonderful, spot on light accents throughout the space.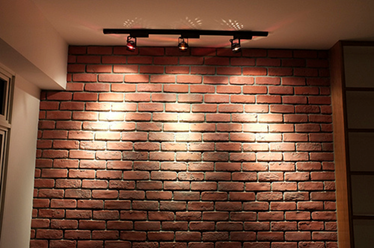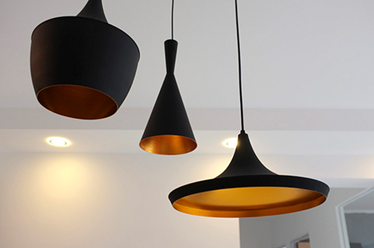 From the elegant subway tiles that adorn the kitchen to the raw, industrial beauty of the exposed brick feature wall, this HDB is a complete win when it comes to merging style with personality.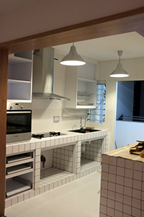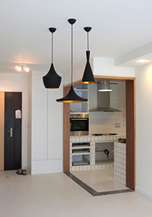 Even the retro furniture that makes up a major part of its aesthetic is extremely vintage chic. The narrow wooden accents combined with almost wishbone like carpentry lend such authentic character to the space. Altogether, each and every aspect of this home merges seamlessly to give off a snazzy, fashionable vibe.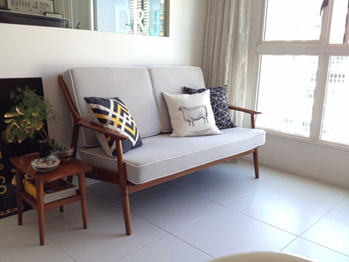 3.
The Scandinavian Haven

What's better than an elegant, fun Scandinavian aesthetic to get your HDB renovation started? The almost minimalistic sophistication of the Scandinavian style has been taking Singapore by storm for quite a while now with zero chances of slowing down. This particular HDB interior scape merges a gallery aesthetic with

Scandinavian

accents to give a beautiful and unique holistic image.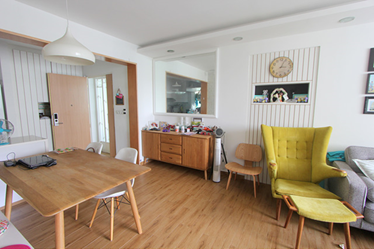 The living room has been designed against a purely white backdrop that highlights the light wooden floors to the fullest. The furniture has been specifically selected to evoke a fun, playful aesthetic to balance out the seriousness of the wood-and-whites under layers. Moreover, the playful accessorizing adds a distinct decorative value to the overall design that makes the space seem homely and lived in. moreover, a bay window at the very head of the living area provides a cozy alcove to just sit back, relax and enjoy a beautiful view of the city.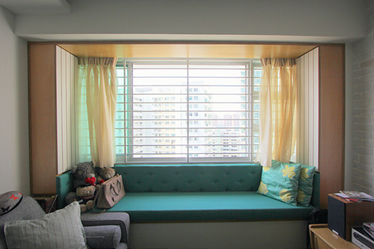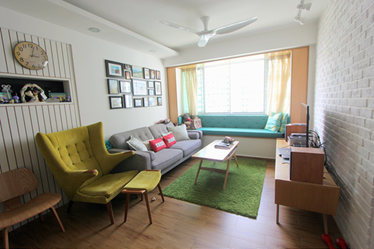 The corridors and lobbies in this home have been designed to carry out the theme even in such transient spaces. There are gallery walls, interesting light fixtures and chalk wall doors that feature stylish and colorful collages that lend these spaces some much needed personality.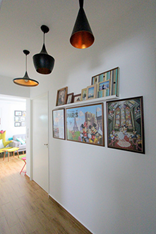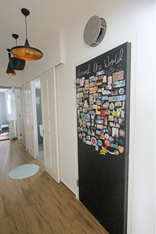 As you can see, each home in we featured highlights its own personal brand of trendy and modish aesthetics. We hope this piece helps you get a better idea and better inspirations to get your own
renovation
projects ready!
Request for quotes and we'll match you with a selection of Interior Designers!
Previous
A Chat With Dreamvision Designer, The Creators Of This Mesmerizingly Beautiful Office Space
Next
Introduce a Boho Chic aesthetic in your home with these beautiful light fixtures!