4 Clever Ideas For Spare Rooms
Interior Design & Decor
3049 views
3049 views
Most families think nothing of their spare rooms, often using them as merely an extra storeroom. It would be such a waste though, to have all that space and do nothing with it! So here are a few ideas we've rounded up, hoping you'd think twice about leaving your spare room barely done up and decorated.
1. Home Theatre
Credit: el-do.com
If you're a movie buff, consider turning your spare room into a home theatre. They're not only great for family bonding, but can easily become a favourite space to indulge in when you require a some alone time.
Invest in a stellar sound system, purchase lighting with dimmers and buy a set of blackout curtains. It'll create the perfect cozy atmosphere for a home theatre, where you can kick back and relax in a lovely enclosed space.
2. Game Room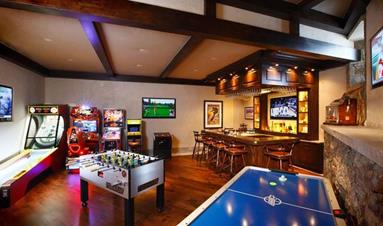 Credit: pinterest.com
Game rooms are a popular choice among large families, providing interesting group activities for some weekend bonding. Those who host multiple parties might enjoy having a game room too, since it contains a bunch of highly interactive activities to entertain guests with.
The fun part lies in the planning, when you begin deciding which games the family would like to include. Kids get particularly excited during this phase, while the adults can get a kick out of thinking up unique decorative themes.
After all, the wilder a game room looks, the better!
3. Clothing Room
Credit: hgtv.com
Ladies will love the idea of having their spare rooms transformed into a gigantic closet, one which seems to justify their constant shopping! With such a huge area dedicated to just clothes, you can even organize each and every item according to type and colour.
Also, having cupboards and drawers customized for a walk-in-closet may benefit you more than ready made ones, since you'll know best what kind of storage spaces you need most.
4. Kids Playroom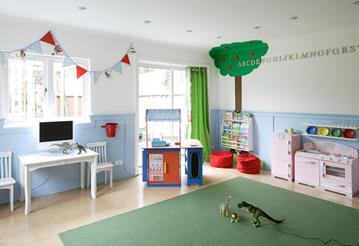 Credit: homemydesign.com
These are a pleasant addition to any home, since kids playrooms are usually bright and colourful. If you're inviting friends over, the playroom keeps both your children occupied, while the adults can have some time to themselves.
A tremendously fun project, you can hardly go wrong with the decoration. There are countless of themes to explore, the more vibrant the better! We also encourage you to childproof the space, just in case the kids become too overexcited at times.
Request for quotes and we'll match you with a selection of Interior Designers!
Previous
Top 5 Coolest Homes In The World You'd Want To Live In
Next
This Steel Container Got Converted Into A Loft And It Is Brilliant Beyond Believe