4 Design Trends To Follow In 2016
Living & Lifestyle
4358 views
4358 views
In preparation for the coming year, we've rounded up what seems to be a few of the top interior trends for 2016. In case you're planning to do up your home in the coming months, then perhaps these growing trends may give you some fresh ideas.
1. Embracing The Outdoors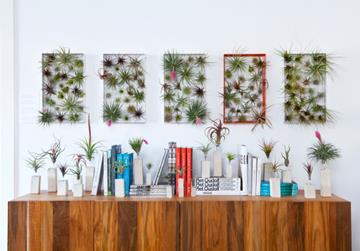 Credit: design-milk.com
These days it's not about embracing nature only while you're outdoors, it's about bringing the outdoors in. There's a growing passion for plants, and sometimes people even purchase a dozen pots of varying species to place around the house.
Some even go to the extreme of indulging in a floral wall, filling a feature wall completely with a mixture of plants and flowers. The results are breathtaking though, so we urge you to consider this if you're up for taking risks.
2. Mix Of Metallics
Credit: furnishmyway.com
Metallics are coming back in trend, all forms of it. The most popular ones are gold, silver and brass, and it'll be worth the while picking a few furniture pieces which contains metallic components or finishing.
Opt for tables with metallic legs, and fill your display shelves with metallic vases and ornaments. Metallics pop the most against a clean backdrop, so we'd suggest having your walls painted white and monochromatic flooring at most.
3. Pink & Peach
Credit: burritosandbubbly.com
Two colours seem to be in the lead for next year's trendiest colour schemes, and they're none other than peach and pink. That's probably because natural hues are all the rage right now, and these two colours come in pretty muted shades as well.
Even if you're not a fan of these two colours, we'd suggest at least trying to insert them into a few elements around the house. Pair them with dark an rich shades like teal or dark green if you feel they're a tad too light or feminine for your liking.
4. Geometric Tiles
Credit: californiahomedesign.com
Geometric tiles are definitely making their way up the list of 2016 trends, probably because of their visual nature. They also give the illusion of fluid motion, making the room stand out even more.
Geometric tiles can be used on pretty much any surface, be it the floors, walls or even ceilings, and even having a mix of patterns work too. If you don't wish to douse an entire wall in geometric tiles, then perhaps create a gradient effect so only a portion of the wall is decked in them.
Request for quotes and we'll match you with a selection of Interior Designers!
Previous
Creative Ways To Jazz Up Your Wall
Next
4 Tips To Make Print-clashing Work