4 Interior Design Tips for a More Energy Efficient Home
Interior Design & Decor
2762 views
2762 views
We all renovate our homes with the dream of creating that perfect living space for ourselves. But too often the emphasis we place on aesthetics and comfort alone means that we often overlook a very crucial aspect of home design: energy efficiency.
And as the ugly spectre of global warming becoming ever more apparent with each latest major weather pattern disruption, countries around the world including the Malaysian government (Malaysia Green Building Index) have started pushing for greener, cleaner and more efficient building design to help prevent (or at least slow) catastrophic irreversible climate change from happening...
YOU TOO can do your part by adopting clean, green home design and technologies! Oh, and it'll also save you $$$ in the process! Hey, doing our part to fix Earth is definitely a lot easier and cheaper than terraforming Mars or building a giant habitable space station around orbit, so I know which bill I'd rather pay for!
1. 1. Light-Emitting Diodes (LEDs) – Save electricity and keep the environment safe and healthy
Image via Wikipedia

Light-Emitting Diodes have come a long way since they were first introduced and are now brighter and more power efficient than most other types of lighting, including popular compact fluorescent lights (CFL). It is also about six times more efficient than incandescent lighting.
Also, while LEDs and CFLs are similar in power efficiency (10W to run an LED light versus 14W for a CFL, incandescent = 60W) and cost about almost 4 times more on the initial purchase, they have triple the lifespan of CFLs (LEDs = 23,000 hours, CFLs = 8,000 hours, incandescent = 1,200 hours). This means that they don't have to be replaced as often as CFLs and are far more energy efficient than incandescent lighting.
But the best thing LED lighting has to offer over CFLs is absence of toxic materials used in its construction. CFLs contain mercury, a highly toxic heavy metal that not only becomes an environmental hazard when disposed improperly but could also pose an immediate health hazard if the lamp breaks and the mercury inside gets out!
Clever placement of lights in a room can also transform an otherwise utilitarian-looking bore into something more special. Interior designers in Johor Bahru are known for quality service at affordable prices so if you're in the vicinity then you're in luck.
_________________________________________________________
Ready to go green for the Earth?? Hire a reliable renovation contractor in Johor Bahru to get it done for you!

_________________________________________________________

2. 2. Properly Insulate Roofs and Walls – Passive heat management of your living space
Image via Pixabay

Ideally, your home should be hermetically sealed, insulated with fortress-thick polyurethane panels containing a vacuum-barrier rated R-45 on insulation scale and equipped with an internal air-pump system to keep the air-pressure inside your home higher than its exterior to prevent unwanted inflow of germs, pollutants and … more germs.
Or REALISTICALLY, cover the walls and roofs of your home with any of the many commercial insulators available, including fiberglass (probably the most common), cellulose, mineral wools, insulating plastics and even natural fibers.
So why insulate? For good reasons.
The first (and focus of this article) is, of course, to save electricity! Because insulation retards the movement of heat into or out of your home, it means that you won't have to waste energy to, say, run your air-conditioner all the time to keep the room cool (it'll cool more easily and stay cooler longer).
Ideally, a perfectly insulated room will stay cooler even if its blazing hot outside, and the only source of heat raising its temperature should come from the people metabolizing and breathing in it and/or their mobile devices. Actual results may differ, but with the crazy heat and longer, hotter evenings in Johor Bahru at the moment anything to help us cool off is good, no?
The second reason is sound-proofing. Many good insulating materials also help muffle noise coming from outside. A good night's sleep anyone?
Oh, and you don't have to leave those walls boring. You can always beautify it with a 3d wallpaper of your liking or give it a nice, bright coat of paint.
________________________________________________________
3. Use window blinds
Image via Pixabay

This one's a bit of a dilemma. We love our big windows that let in natural sunlight that illuminates, sterilizes germs and fungi - all absolutely free – but not the heat that comes with it.
So here's a suggestion for those of us who still want our big, pretty windows: window blinds. Window blinds make it easy way to control the amount of sunlight and heat getting into a room, and white blinds are probably best as they filter the sun's rays into a more pleasing colour.

If you're feeling experimental you could try to get your hands on this cutting edge window film made from vanadium dioxide and tungsten. Recently developed at University College London, this high-tech film has the interesting property of letting all the sunlight in but keeping about half of the heat out. It has a flaw and that it loses this ability it gets hotter than 70 degrees Celcius. It probably isn't cheap yet, either.
Natural sunlight also beneficial effects for your health and wellbeing. Check out our short video about natural light and what it can do for you :3

________________________________________________________
4. Use energy-efficient appliances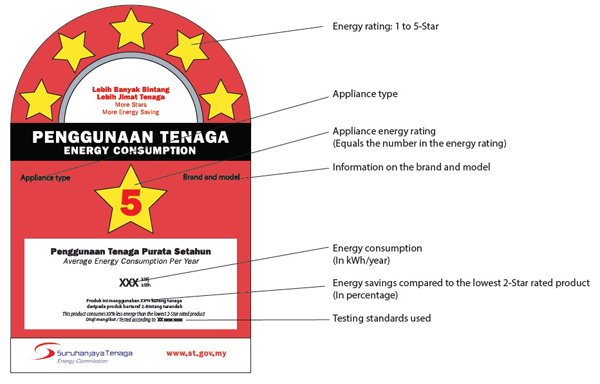 Nothing uses more electricity than the electrical appliances in your home, and if you're running old, inefficient ones then you're wasting a lot it (potentially up to 73% for appliances that are around 15 years old) so get them replaced! You'll be saving hundreds of ringgit each year.
Before buying, find out how energy efficient they are. All electrical appliances in Malaysia should come with star rating from 1 star (worst efficiency) to 5 (best), so make sure you double check it.
Only use air-conditioners that are cool and energy efficient! Get one from an air-cond supplier in Johor Bahru today!
Request for quotes and we'll match you with a selection of Interior Designers!
Previous
How To Create The Perfect Playroom For Your Kids
Next
Tips On How To Design A Home With Dogs In Mind