4 Methods To Liven Up White Walls
Interior Design & Decor
3457 views
3457 views
White walls have always been one of the most popular picks, but for some home owners it might begin feeling like too flat a choice after awhile. To prevent this from happening, these are some suggestions you can consider, be it pre-renovation, during, or even after you've shifted in.
1. Textures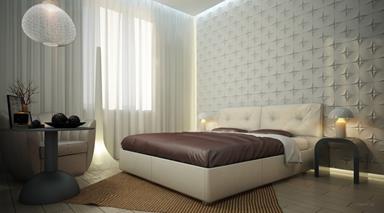 Credits: home-designing.com
If your home is about to undergo renovation and you're pretty set on white walls, perhaps you could attempt a bit of texturing. Brick walls create quite a gorgeous backdrop, and you can just coat them with white paint after.
Or, you could ask your contractor to create an interesting wall texture depending on your decorative theme, so it won't feel so mundane. This also works as a feature wall, since you wouldn't want too many textured walls overwhelming you in one room.
2. Shelves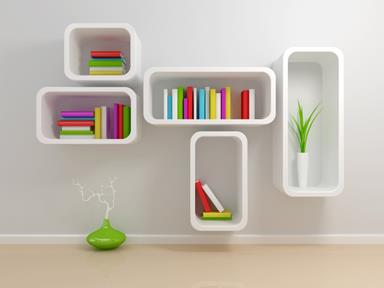 Credits: richardathome.com
Purchase a series of wall shelves, and fill them up with a bunch of colourful items. Depending on your room's colour scheme, buy an array of ornaments which match, but make sure there are multiple colours in the mix.
It'll be best if the items are bright, so they'll pop against your white backdrop. Even something as simple as colourful boxes will do; it doesn't matter if they're redundant, since they're just needed to add that extra oomph.
3. Wall Decals
Credits: esmagia.tumblr.com
If you've already shifted in before realizing your walls feel a little plain, wall decals are a great solution. You can easily find sleek designs at wall decal stores, and they will not only elevate the room, but also make it extra modern.
If you've chosen white walls because you wanted a more toned down or monochromatic palette, fully black wall decals featuring silhouettes will make a beautiful addition to the space.
4. Rustic Furniture
Credits: abate08.com
Filling an entire room with rustic furniture not only takes the attention away from plain white walls, it's also a very trendy and current decorating scheme for modern homes. Wooden furniture is probably the easiest to find of the lot, so you can slowly take your pick and fish for the most suiting pieces.
Other examples you can try are terracotta or rattan items, which will flawlessly go with the colour scheme. If you'd like, feature a few plants as well; a little greenery definitely complements the overall rustic look. Or, if you feel the green breaks the rustic vibe, perhaps using dried flowers might work.
Request for quotes and we'll match you with a selection of Interior Designers!
Previous
4 Unusual But Awesome Materials You Need To Try
Next
5 Important Steps To Creating Your Dream Nursery