4 Simple but Creative Ways to Organise Your Wires
Interior Design & Decor
5831 views
5831 views
No one likes wires. But they are an inescapable part of that home appliance that you just spent hundreds on. Fortunately, with just a little creativity, you can still make your wires work for your decor if putting them out of sight isn't a solution. Here are some ideas to get you started (because trunking wires is just so passé!).
1. Label them
Credits: yesmissy.com, popsugar.com
For the connected household, identifying the right cable for each device can be a messy endeavour. Although masking tape works just as easily, we prefer these neon-coloured strips because they inject a much-needed personality to our wires. They are also a blast to create with a label maker, which lets you customise the fonts and add symbols for extra oomph. If you aren't as inclined to spend on a label maker, reusing bread clips achieves a similar eye-popping effect too. Have fun experimenting!
2. Turn them into wall art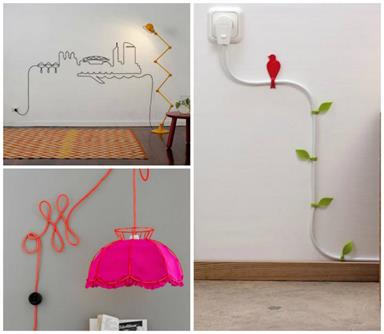 Credits: woohome.com
If you can't beat them, join them! When no amount of disguise works to conceal the cables streaking across your wall, consider infusing them into your decor. A bare outline works against a clean backdrop for an understated look. On the other hand, a tanned surface is better served by a denser motif for a louder aesthetic. The whole design takes just a couple of cord clips and adhesive strips to hold up, so don't be afraid to go big.
3. Bundle them
Even the most careful set-up is prone to chaos if the stray cable isn't properly managed. Holding your cords together with plastic cable ties gets the job done, but we like the more elegant solution of packing them into a metal coil or plastic binder to create a more uniform look. Best of all, it doesn't cost much to stock up on these wire-holding trinkets. If you ask nicely, the auntie at your neighbourhood printing store might sell them to you for pocket change.
4. Stash the sockets away
Where displaying your wires isn't an option, look to reduce the travel between the sockets and your devices. An oft-used method is to house a power strip within the drawer, but needing to leave a unsightly crevice for built-up heat to escape means this solution isn't nearly as functional and expressive as having a cable management box. In keeping with the DIY spirit of this article, however, we're going to suggest custom building a hub from a shoebox.
Request for quotes and we'll match you with a selection of Interior Designers!
Previous
7 Colour Combinations You'll Fall In Love With
Next
Beautify Your Home With These 8 Creative Pegboard Ideas