4 Simple Feng Shui Tips for Creating a Conducive Study Room
Living & Lifestyle
9360 views
9360 views
A study room is perfect for work. It's also ideal for rest, contemplation and rejuvenation. Because the study room plays such a diverse role at home, choosing the right location for it and deciding its makeup can be tricky. We talk to a Feng Shui consultant to learn more about the workings of metaphysics and how you can use it to design a conducive study room.
THE FENG SHUI EXPERT
Photo: Joey Yap
Joey Yap, 39, founder and chief consultant of Joey Yap Consulting Group, which has offices in both Malaysia and Singapore. Yap, who has been practising Feng Shui since he was 20 and still a student undertaking his accounting degree in Australia, has to date authored over 160 books on metaphysics. He also speaks internationally and conducts seminars for the public and corporate clients.
1. Ensure that Qi can enter your home and eventually, your study room
Photo: Source
Qi, or Chi, refers to energy in Feng Shui. It sets foot in your home via the main door, so it's important that your entrance is well-poised to welcome as much Qi as possible. This means keeping your doorway clear of a mirror, which can reflect Qi back out of your home if it's facing the entrance. Qi can also escape through the bathroom if its doors are not kept closed.
2. Pick a brightly lit space for your study room
Qi, when properly circulated, is beneficial to emotional health. Light helps to keep Qi radiating from the entrance, so Yap recommends setting up your study room in a space where the windows are habitually opened and natural light is allowed to stream in. If this is not possible, keeping the space sufficiently illuminated helps too. Likewise, during the night, turning on the lights maintains the quality of the Qi.
3. Be mindful of where you place your furniture
Avoid placing your desk under running beams and slanting, uneven or even low ceilings as they can create a feeling of pressure above you and interfere with concentration. Positioning your desk such that your back faces the entrance can also restrict the amount of Qi you receive. The placement of other furniture pieces like bookshelves doesn't affect the circulation of Qi unless it clutters the space (Qi circulates best in spacious rooms).
4. Create strong focal points for Qi using the water element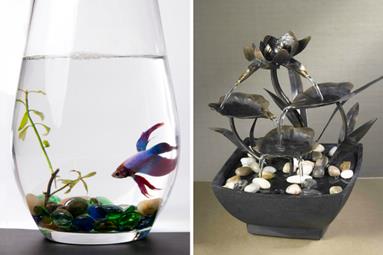 Photo: yardify.com (right)
Qi travels from the peak of mountains and collects in water. Hence, decorating your study room with water features such as an aquarium or a tabletop fountain doesn't just liven up the space – it helps to 'trap' Qi and improve its circulation. However, placing your water feature in an unsuitable location may invite adverse effects, bringing in wealth, for example, at the risk of compromising your health.
---
For more information, visit www.joeyyap.com.
Request for quotes and we'll match you with a selection of Interior Designers!
Previous
6 Reasons We Love This Modern BTO Flat In Punggol
Next
5 Fun Home Decoration Ideas for the Book Lover