4 Spots That You May Have Forgotten to Decorate
Interior Design & Decor
14148 views
14148 views
There are plenty of spaces in our homes that we'd love nothing more than to decorate – the living room, the dining area and our bedrooms. But not all spots within these spaces are built equal, so we tend to leave out some areas – or even some rooms entirely! What may surprise you is that accessorising these spots can lend your home a breath of vibrancy and personality.
Kitchen
Photo: Sky Creation
Cooking and doing the dishes can be some of the most thankless tasks in the world, especially after a long day at work. To break the perception that the kitchen is just another "place of work", Ken Beh, founder of Kenso Art Interiors, recommends hanging art pieces. "When you cook and do your dishes, the mood is different," he explains. The kitchen's limited size in a BTO flat also prevents it from being configured as freely as other rooms, leaving art as one of the few ways you can express yourself.
Read more: He Brings Artwork Into the Kitchen
Bathroom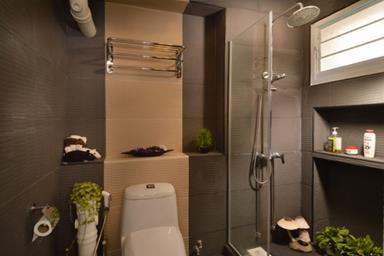 Photo: Urban Habitat Interior Design
Guests won't be seeing much of the bathroom in your master bedroom, but this doesn't mean you shouldn't make it feel inviting. Plants make great accessories in the bathroom not only because they can survive a splash, but also because they have a calming and invigorating effect on our bodies. "Plants filter out chemicals and trap dust, creating a more breathable environment," Aster Law, project manager at Prince's Landscape & Construction, says.
Read more: Bringing Nature Home
Uneven corners of the room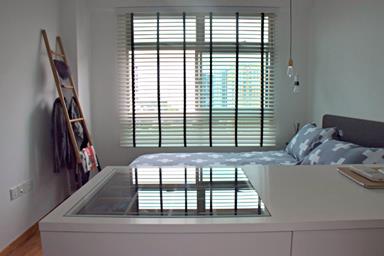 Photo: Loh Yong Jian
When Amos Hui took over his four-room resale flat, he revamped the master bedroom, but not before he came to grasp with an awkward corner that has a protruding column. Unable to fit a wardrobe or a TV console without leaving an unsightly gap and eating up too much valuable space, he opted to use a ladder-style rack. The chic storage solution handily holds his magazines, clothes, belt and cap while maintaining a compact and portable frame.
Windows
Given their unassuming appearance, windows are usually glossed over with blinds or curtains. For Danny Li, however, the windows are an integral part of a comfy nook for his cats. Don't worry if you don't have the thickest of ledges to house your knick-knacks; the window grilles work great as a lattice for your accessories to climb onto. Here, Danny furnishes his windows with self-grown microgreens for a natural and beautiful look unlike any other!
Read more: House Tour: A Purr-fect House for Cat Lovers
Request for quotes and we'll match you with a selection of Interior Designers!
Previous
5 Burning Renovation Questions, Answered
Next
Turn Your Walls Into Works of Art