4 Super Smart Methods To Deal With Awkward Corners
Living & Lifestyle
2156 views
2156 views
Have you ever encountered a problem with awkward corners? Where there's not enough space to do anything major with a corner, yet it looks strange and bare when left empty? Here are four simple solutions we have for such situations.
1) Frames
Credit: stephandben.com
It's probably one of the easiest methods, and also the cheapest. Placing an array of frames in an awkward corner actually helps extinguish the fact that the corner looks a little too sparse. They're also easy to purchase, and we urge you to get a few in varying sizes.
Consistency will make your home look a little neater, so we would advise getting frames of the same colour, and filling them with images of the same theme. If you're able to find frames which seem to round the corner itself, that's a bonus, since it has a unique factor.
2) Large Sofa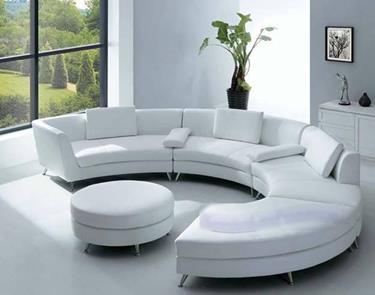 Credit: happilyeverbefore.net
If your living room setting starts looking like it will leave a corner unoccupied and awkward looking, invest in a curved sofa large enough to fit around the area. They're an uncommon accessory, which is a plus point, and also really classy looking.
If you don't quite feel for a curved sofa, perhaps an L shaped sofa would work better, slotting it right where the corner is, making it quite the perfect fit and eliminating the empty corner. We would say the larger the sofa the better effect as well, be it curved or L shaped.
3) Decorative Table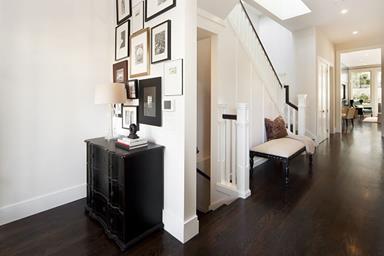 Credit: nicoleshome.net
If you really can't think of anything to add in a random corner, go for a decorative table. There are different ways to go about this, but all work just as well. You could purchase a low table, and then hang a mirror on the wall above it, which covers quite a bit of space.
You could also purchase a taller display table that contains a chest of drawers, which fills up quite a bit of the area as well. Display a few ornaments on the surfaces of these items to add a more decorative effect, which will end up making the space look more beautiful than awkward.
4) An Armchair
Credit: housetohome.co.uk
Armchairs are great for awkward corners, not to mention they're super practical too. It makes the corner a cozy place to idle in for hours, while you settle into the armchair with a book in hand. Guests will probably love occupying that space as well when they're over.
You could decorate the space with smaller items like interesting floor lamps and maybe a tiny bookshelf as well, making it a full fledged relaxation corner for people in the household.
Request for quotes and we'll match you with a selection of Interior Designers!
Previous
COMBAT THE HAZE: Mobile Apps And Products That Will Help
Next
5 Incredible Movie Apartments You Will Definitely Want To Live In