4 Super Solutions For Small Spaces (Part 1)
Furnishings
4616 views
4616 views
Space constraints can sometimes cause a problem for home owners, but there are ways around what may initially seem like an impossible issue to solve. A smaller home doesn't mean less to experiment with, and they can have their pros too.
Here are some ideas you can try out, which may actually bring out the best of small spaces.
1. Keeping It Clean
Credit: Weiken Interior Design Singapore
To create the illusion of space, sometimes the cleaner your design the better. Stick to a basic colour palette; white does it best but other pale or light colour schemes work the same too. This allows the area to look more sparse and spacious, and a lot brighter too. Probably one of the most effective methods to make a home feel more breathable, it helps maximize space as well.
2. Go Crazy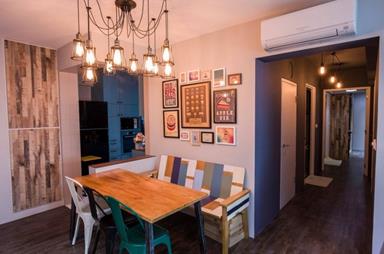 Credit: 9 Creation Pte Ltd
If having too clean a space doesn't sit well with you, then we encourage you to do the exact opposite: go nuts with ideas.
Brainstorm for unusual themes, then get creative with colour schemes and furniture buying; the more quirky the better. The key here however, is not to overbuy. Although your concept may be wacky, prevent yourself from bringing back too many products to prevent cluttering.
Instead, purchase stand-out pieces that fit the theme, because quality definitely overrules quantity in this case. Even with limited products, especially if they each carry out your theme well, will turn your home into an incredibly beautiful and cohesive haven.
3. Smart Storage
Credit: Design 4 Space Pte Ltd
The most frustrating part about space constraints could very well lie in the lack of storage. Because no matter how you go about designing the outlook of your place, it doesn't help in the storage department.
This is where you think smart. For starters, make use of any wall space you have. Create stands for items to be mounted on, for example bicycles, in larger areas like the living room, which adds a unique touch to the space.
Invest in slide and hide elements; an extra table top pulled out of the kitchen counter when you require it, only to be stowed away once you're done. Even constructing hidden shelves in your ceiling could work, creating an area for items you don't regularly need.
4. Keep The Unneccesary Out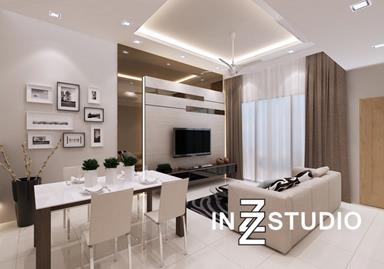 Credit: Inzz Studio Pte Ltd
Every square inch counts, so everything you place in your home should have a purpose to serve. If you scrutinize closely enough, you may realize there are things you don't necessarily need, so taking them off your to-buy list may be wise.
The most apparent, and space consuming, example is a coffee table. It has its perks of course, but forgoing the coffee table leads to a more spacious living room, which comes in handy especially when there are guests. Instead, purchase a small side table you could place next to your sofa; a smaller yet more effective solution.
Mounting is key. We'd say strip your home of any television consoles and display shelves you don't require. These items only contribute to an aesthetic purpose, but do not have any necessary function. Purchasing a mounted television, and opting for mounted displays like paintings, will help save you some space.
Planning for a home with tight spaces may not be the most fun, but with effective solutions and the occasional nip and tuck, it could still work out to be one of the most rewarding challenges to solve.
Request for quotes and we'll match you with a selection of Interior Designers!
Previous
Original Moments 2015: Build A Home You Can Truly Call Your Own
Next
Beautiful Renovation Projects Under $40,000