4 Unusual But Awesome Materials You Need To Try
Interior Design & Decor
2610 views
2610 views
There's more fun in decorating your home when you experiment, so we say forget the conventional ideas and typical materials! Instead, explore more uncommon choices around you, and here are some cool suggestions we hope you'll be interested in!
1. Faux Leather Walls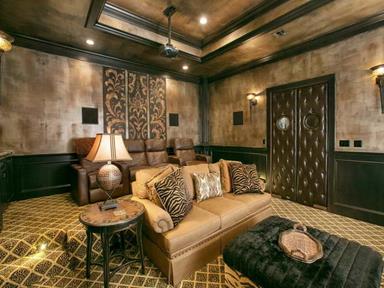 Credit: autometropolist.com
You rarely see faux leather being utilized in any home, but it does create a very luxurious setting. It's available in natural, chocolate and black shades, which are great to pair with rich colours like burgundy.
Faux leather looks awesome on walls, but if the effect seems too strong, you can always tone it down by only allowing the faux leather to occupy only a portion of the area. You could try using it for just a feature wall, or paneling it throughout the space with another solid colour.
2. Laminated Glass
Credit: na.en.guardianinglass.com
This one is probably our favourite, since it's the most funky one among our list of ideas. Laminated glass is actually made of two sheets of glass, with a flat material or product pressed in between.
This means you can have all the fun with it, browsing through all the options, choosing which pattern you'd like being sandwiched in the middle! If your budget allows it, you could even customize, giving you a beautiful effect at the end.
3. Woven Vinyl Flooring
Credit: wisefloor.com
Rarely seen in homes, woven vinyl actually makes a pretty option for flooring. It gives the space a more homely feel, since it looks as if the entire area is carpeted. We wouldn't suggest using this for the entire home, but perhaps featuring it in one of your rooms.
If a single colour seems too dull for your taste, make it look a little more modern by using several shades to make a pattern. Simple ones like stripes of various colours will do, instantly brightening up the space.
4. Stainless Steel
Credit: furniturearcade.com
Stainless steel is a great option if you're going for a more industrialized effect, something which many home owners are beginning to fall in love with. It's also a truly versatile option, able to blend into multiple settings and themes.
We love furniture entirely made out of stainless steel; imagine the modern vibes of a full dining set with a stainless steel table and chairs! But of course that option might not sit well with everyone, so pairing it with other materials like glass makes your home look sleek as well!
Request for quotes and we'll match you with a selection of Interior Designers!
Previous
4 Trendy Colour Combinations For 2016
Next
4 Methods To Liven Up White Walls