4 Unusual Ways The 'Unfinished' Look Work
Interior Design & Decor
2687 views
2687 views
It sounds like pretty warped reasoning, wanting an unfinished look for your home because it looks more stylish. But seeing as the trend of leaving homes looking as raw as possible has been picking up tremendously, we guess it must look gorgeous.
Here are four ways you can achieve the unfinished look, while keeping your house modern.
1. Pipes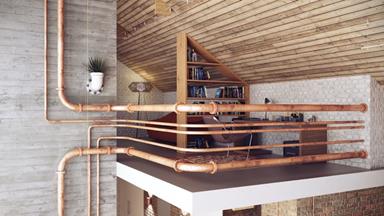 Credit: blackxhouse.com
The though of unsightly pipes being bared to the world probably makes you scrunch your face up in disgust, but it surprisingly gives homes a lovely rustic feel. It definitely adds a raw edge to your place, even if it's one of the last things you'd think of leaving out in the open.
We suggest placing pendant lights with your pipes, because their lines automatically leads someone's sight to your hanging lighting, allowing them to notice it at the end of the pipe trail. One note of caution though, just ensure that your contractor double and triple checks the safety of the pipes, lest they burst after you've moved in.
2. Bare Lighting
Credit: onekingslane.com
There's no need for exquisite or extensively decorated lighting, you could choose something really simple like a lightbulb attached to bare wires. Hanging a few of these from the ceiling, especially if there is a mix of colour within the wires, gives it a quirky vibe.
They can work as table lights too, with the lights plugged into an electrical source from the floor and then looped around a hook on your wall. Of course ensure your electrician has approved of the safety standards, and that your lights and wires are safe to use.
3. Wooden Beams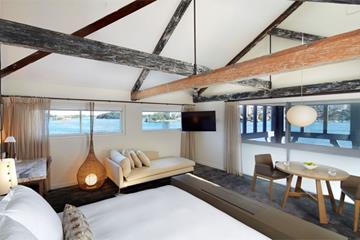 Credit: indesignlive.com
Wood, especially the darker ones, are great to use as beams, especially when you have a high ceiling. They give your space a more unique look, while still retaining its homely feel. The richness of the wood adds more character to your home too.
Wood works because of its versatility, it's able to seamlessly fit in with just about any colour scheme and theme, so we're pretty sure you'll have no problems trying to add it to your current design in mind. Just a tip, we would suggest placing wooden beams against a fully white background and ceiling for the best aesthetic effect.
4. Concrete
Credit: erniefletcher.com
The most raw a space can get is when concrete gets added to its design. There are many ways in which you can use it on a large scale in your home, either for the floors and walls, or even for kitchen and table tops. Concrete is a great medium to work with because it leaves your home look pretty edgy and timeless.
It's unnecessary to make concrete look pristine as well, so you don't have to worry about the wear and tear or being absolutely careful with it like you have to with more polished elements. It's the best fitting or industrial and minimalistic homes too.
Request for quotes and we'll match you with a selection of Interior Designers!
Previous
A Stunning Swedish Interior Design That Will Inspire You
Next
5 Cleaning Hacks That Will Save You Time