4 Ways To Cosy Up Big Houses
Furnishings
3945 views
3945 views
Large spaces are great; you always have room to move around and storage is never a problem. But sometimes, we forget to think about their disadvantages before hacking down walls and combining rooms, only to realize after that now the space looks a little too big and bare.
No worries though, there are several easy (and stylish) ways to make huge rooms look smaller, and way cosier too!
1. Duo Coloured Walls
Credit: pinterest.com
Using a single solid shade for your walls makes the room look as spacious as it really is, since the colour runs from floor to ceiling. However, if you try painting your walls two different tones instead, it makes the ceiling look lower.
Splitting the wall equally into two, filling them with two separate shades, creates a divider which doesn't make your wall look rather endless. It benefits your home's aesthetic too, since now you get to have a more unique look.
2. Play With Colour
Credit: greensprayonline.com
Colour easily affects the outlook of a room, and there are several ways to go about cozying up a large room with the appropriate shade. You could try red, yellow and orange based colours for a more warm feel, or pair earthy tones and neutral shades with warm colours to pump up the coziness.
Darker colours also makes any room look smaller, so purchasing navy or black furniture can help too. A tiny tip: the larger the furniture, the smaller you'll make your room seem. So apply this if you want to shrink your space!
3. L Shaped Sofa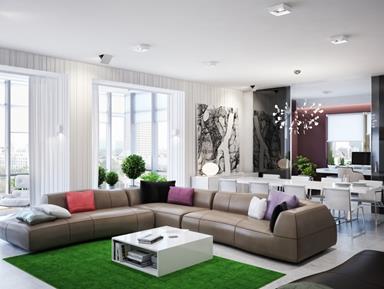 Credit: home-designing.com
Filling up large rooms is no easy feat, but adding an L shaped sofa to your room is definitely going to help heaps. This works the best when it's placed in the middle of your room, since it acts as a divider, creating an illusion that the area isn't as big as it seems.
Besides, an L shaped sofa has practical benefits too! It allows more guests to pile on during gatherings, and even when you and your family are alone, these sofas are great for TV nights together.
4. Reading Corner
Credit: houseandgarden.co.uk
If a room still looks too bare, yet you can't think of any other furniture to fill it up with, perhaps you could try a reading corner. Having a shelf full of books with plush one seaters surrounding it will definitely make the space feel ten times more cosy.
Not to mention, this creates an intimate and separate section from the rest of the area, making your room look tinier in a second!
Request for quotes and we'll match you with a selection of Interior Designers!
Previous
Unusual Christmas Gifts You Can Get Under $30
Next
4 Trendy Colour Combinations For 2016