4 Ways To Create A Chic White Kitchen
Interior Design & Decor
2650 views
2650 views
You've planned out your living and dining areas, and have even collated some stellar ideas for your room. But when it comes to the kitchen though, you're drawing a blank. And the last thing you want is a lackluster cooking space placed next to your awesomely thought out home.
We've got a method which may help decorate your kitchen, one which is both easy to execute and won't quite burn a hole in your wallet. The first step starts with stripping everything down to white, so you've got a clean palette to work with. The next four ideas though, are suggestions for a pop of colour, leaving you with a gorgeous kitchen by the end.
1. Coloured Island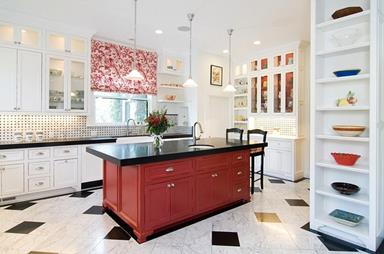 Credit: decoist.com
So the surrounding areas of your kitchen are white, and you've got space in the middle of it all to place an island. This is the perfect opportunity to insert colour, so we suggest you take your time to hunt out the best possibilities.
Survey your home and see which colours fit best, and then start searching (or customizing) an island relating to those shades. Having it avoid clashes with the other rooms is key, s keep in mind the theme of your home and purchase an island which complements it.
2. Work With Tiles
Credit: addodecor.com
Tiles are a fun way to inject some personality into any home, and the best part is you don't have to stick to merely one design. Whether you prefer utilizing just a single pattern, or rather mix and match a bunch of tiles, they will both produce equally mesmerizing results against your white kitchen.
Think of what you'd like to tile, like your cabinets or walls, but don't overdo it because it will end up killing the simplistic vibes you began with. Just tiling one area will do, garnering enough of a pop to make a statement.
3. Using Brass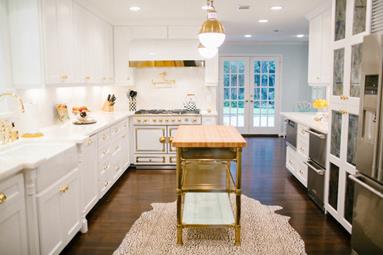 Credit: decorpad.com
Brass will pop against your white based kitchen, and also give it a sleek modern feel. You don't necessarily need a lot of brass elements in the space, just a few accents here and there will do the trick. 
We suggest you start with the lighting, selecting simple pendant lights with brass finishing should be ample enough to create a statement. Use brass knobs for your cabinets, or even hang brass pots and pans to further enhance the look. There are countless ways in which you can add a touch of brass to the kitchen, which at the end will leave it looking pretty classy.
4. Combination Of Materials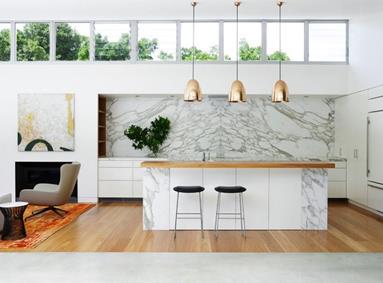 Credit: decoist.com
We love anything that includes playing around with combinations, enjoying the kick of mixing and matching. Try materials which match the overall vibes of your home, and pair them with other materials containing complementary colours.
For example, wood and copper are an easy combination, as well as metal and marble. Even mixing all four in small quantities produce a polished result. For even more of a pop, try adding a bright colour which will complement the materials you've chosen, but only in sprinkles.
Stone Amperor: 100% Unbiased Advice & The Widest Range of Countertops

Request for quotes and we'll match you with a selection of Interior Designers!
Previous
5 Awesome Child-Friendly Ideas
Next
8 Best High-tech Restaurants Around The World