4 Ways To Get Rid Of Bugs Hovering Around Your Lights
Living & Lifestyle
30672 views
30672 views
Although the rainy season is providing us with a break from Singapore's usual humidity, it does come with its own set of problems. For starters, many homeowners are noticing an increase in the number of bugs hovering around their lights at night. If this is an issue that's particularly frustrating for you, these solutions listed below may be able to help.
1. Changing Your Bulbs

The two factors you want to take most notice of are heat and brightness. The hotter and brighter a bulb is, the more bugs it attracts. Avoid buying bulbs with high wattage and those that use glowing filaments.

Like humans, insects can't detect the entire spectrum of light. Colours like red, orange and yellow have wavelengths too high for them to see. Purchasing bulbs that emit yellow light will probably be your best bet -- yellow compact fluorescent lights (CFL) are perfect because they create more illumination but at a lower wattage.

Not a fan of yellow light? White LEDs are just as effective. Insects love ultraviolet (UV) light, something LEDs don't emit, so chances are they'll steer clear of most LED lights. However, make sure your LEDs aren't anywhere close to 6,000 Kelvin (K) in temperature, because they'll start to have a blue tint that bugs really love.


2. Homemade Heroes

Citronella candles have been known to chase away bugs, and they're fairly easy to make from scratch. Simply follow these instructions, and in no time you'll have your personal stash of candles to take out and use whenever a rainy day approaches. Place them under your lights and at entrances like windows and/or doors.

Garlic sprays are also pretty effective. All you'll need to do is seep several close of garlic in hot water for 15 minutes then pour the mixture into a spray bottle. Spray it onto your bulbs every few days; when they're turned on and heated up, it'll emit a faint garlicky smell that drives bugs away.


3. Try Tinting

Try tinting the your windows if you really, really hate the idea of bugs flying into your home. This allows less light to shine through, and your house will appear darker from the outside that it really is, attracting less bugs than it normally would.


4. Call Pest Control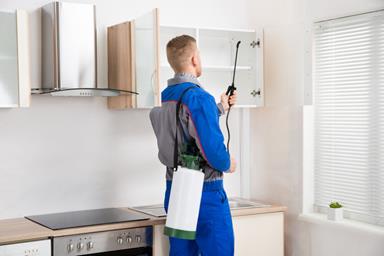 Sometimes, these bugs come from inside your home. Have pest control conduct regular checks to ensure no nests are present. Also, de-clutter once in a while. Insects love dark, secluded corners which can be eliminated if you keep your home mess free.
Request for quotes and we'll match you with a selection of Interior Designers!
Previous
6 Reasons to Stay At This Gorgeous Boutique Hotel in Bugis
Next
2017 New Year's Resolutions For The Home You Must Follow