5 Awesome DIY Ideas For Your Home
Furnishings
3669 views
3669 views
Nothing feels quite as satisfying as putting hours of hard work into a DIY project. It definitely gives your home a more personal touch, while constantly challenging your creativity skills. Sounds like heaps of fun, doesn't it?
We've compiled several DIY ideas scoured off the net, hoping they'll encourage you to begin your very own DIY journey as well.
1) Door Trays
Credit: Good Housekeeping
Before throwing an old cabinet out, detach its pair of doors and salvage them. They make for quirky food trays once they're cleaned up a bit. Despite the seemingly hard work, we guarantee it produces gorgeous results.
Give the doors a fresh coat of paint, before leaving it out to dry for a couple of hours. Drill holes into the two ends of each door, before screwing simple handles into them. Once that's complete you have a pretty unique tray to use, a definite conversation starter when entertaining guests.
2) Fabric Board
Credit: Pinterest
Cork boards are common products in most households. They're great for displaying photos or even pinning schedules and to-do lists. But sometimes a simple cork boardc an seem a too normal and dull, so why not up its aesthetic factor a bit?
You can do so by replacing the cork area of the board with a colourful paper or fabric background, but remember to avoid designs which look too over complicated. Once that's done you'll have a much more attractive notice board, and we're sure utilizing it is going to be way more fun as well.
3) Washi Tape Cables
Credit: Designlovefest
Cables have proven to be rather unsightly, especially when they by no means match the colour scheme of your room. There is a way around this though, by using washi tape to decorate them.
How you do it is entirely up to you. You may wish to indulge in covering your cables with patterned tapes, or gathering a bunch of plain tapes to use for colour blocking instead. Whichever choice you make, we'd advise you to stick to the same arrangement throughout the same room to avoid mismatched clashes.
4) Origami Decorations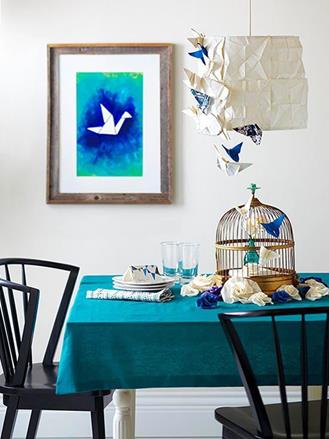 Credit: Pinterest
This one's a little more graphic and extensive than the rest. Origami is a great element to add to your home, helping to elevate rooms which look much too plain and simple for your taste.
Go all out by adding a bunch of origami to your purchased furniture, selecting colours and shapes which bring out the theme of your space. This idea works particularly well here because the origami have been attached to a paper lamp, so it looks like a seamless continuation from the product itself.
5) Tabled Garden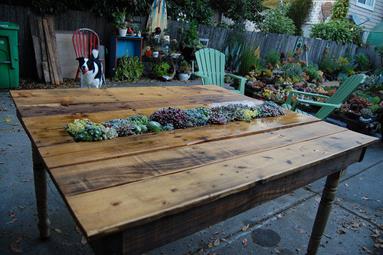 Credit: Far Out Flora
This idea actually requires you to take your table apart, and then add a depressed compartment in the middle for your plants. it's definitely going to take an excruciating amount of work, but if you're really liking the look of it we highly encourage you to go ahead and do it.
If you're good with carpentry then give it a try at home. But if you're nowhere near confident with the laborious work required, we suggest paying for it to be done instead. That's not quite as DIY as you may like, but if a carpenter can get it done for you perfectly, you're going to have a really swell looking dining table at the end.
Request for quotes and we'll match you with a selection of Interior Designers!
Previous
Renovation Story: A Quirky Open-Concept Home
Next
A Stunning Swedish Interior Design That Will Inspire You