5 Fun Home Decoration Ideas for the Book Lover
Interior Design & Decor
4955 views
4955 views
A burgeoning literary collection can be as much of a bookworm's nightmare as it is of a gleaming pride. What happens to the extra books once you inevitably run out of space on the bookshelves in your room? Do you stack them into the crowded crevices of your wardrobe? Or do you box them up and ship them off to that musty corner of your storeroom or bomb shelter? Neither. These classy storage solutions don't just enliven your home – they let you hide your books in plain (gorgeous) sight.
1. The cliffhanger
Photos: Etsy.com
Never leave yourself hanging in the middle of a chapter again with this rack that's handmade in Iceland. We love the whimsical book holders that double up as page dividers. The holders are also adjustable along the length of the rack, so you can accommodate books of varying thickness. But what gets us most is the convenience of being able to unpeg them from the rack and carry them around as makeshift bookmarks. Cute.
Order it from Etsy for $293*.
2. Growing books on trees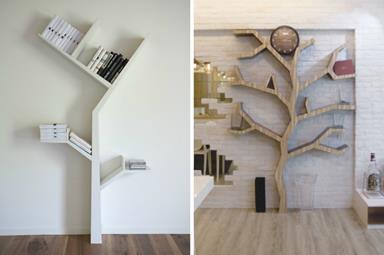 Photo: kostasyrtariotis.tumblr.com (left)
David Gan (no, not the celebrity hairstylist) from Northwest Interior Design came up with this larger-than-life bookshelf (pictured right) that fuses the ethereal beauty of the great outdoors with the down-to-earth sensibilities of a modern design. The result is a shelf that gives out a soothing vibe perfect for reading. Tip: Use it to crown your feature wall!
3. Colouring books
Photos: apartmenttherapy.com
Instead of arranging your books by alphabetical order or genre, try organising your books by the colours of their spines for a visually arresting effect unlike any other! Suddenly, that towering shelf in the living room that's bursting with encyclopedias, cookbooks and disused textbooks doesn't have to look like it's locked in chaos anymore. Don't worry too much about massaging the colours into your décor. Instead, you want to accessorise your home with an orderly look.
4. Pipe dream
Photo: Etsy.com
Revamping your home to sport an industrial theme? These fuss-free book holders custom-made from plumbing pipes will fit your bill to a T. They emanate a rawness and intensity that go hand in hand with exposed brick walls and unfinished wood surfaces, both perennial hallmarks of the dream industrial look. Planks can be tacked on for more support, but who's stopping you from letting loose a little adventure in your home?
Order it from Etsy for $116* (left design) or $60* (right design).
5. Reading chair
Photo: Source
Can't decide where to put your books? Don't sit on the decision. Or maybe you should. Apart from letting you snag bragging rights for having the most unorthodox couch, building a bookcase into the frame of your seat frees up valuable floor space. Does it make your sofa more fragile? No. In fact, the resulting lattice creates a stronger support for your chair and a more durable furnishing overall.
* Prices accurate at the time of this writing.
Request for quotes and we'll match you with a selection of Interior Designers!
Previous
4 Simple Feng Shui Tips for Creating a Conducive Study Room
Next
5 Industrial-Style Homes with Retro Touches