5 Ideas For A Livelier Bathroom
Interior Design & Decor
3459 views
3459 views
Bathrooms are typically kept simple, usually no one thinks to extensively decorate their bathroom area. It seems rather illogical to be spending a load of money on a space which the world isn't quite going to see as much as say, the living room or kitchen.
If you're one of those who's weighing the pros and cons of doing up your bathroom, you may want to try one of these easy and inexpensive solutions.
1) Plants
Plants seem to be a great decorative solution no matter where you place them, and the bathroom's no exception. They instantly brighten up any space, an effect you'll soon begin to realize, even if you weren't that enthusiastic about plants before.
It's most ideal if your bathroom has a large window and a ledge, potted plants can be placed there and have no problems getting their share of sunlight. If your windows are significantly smaller and are absent of a ledge, perhaps tinier pots of cacti might work instead.
2) Full Length Mirrors
Credit: juneschild.wordpress.com
If your bathroom has ample wall space, we'd suggest adding a full length mirror. It pumps up the style factor, and it's best if you search for one with a unique frame. Perhaps something which looks a little more luxe, or if you're lucky, one with a vintage touch.
In the end, it all boils down to what suits your bathroom best, but having a full length mirror in there has great practical purpose too. You get a full view of your planned outfit the moment you get out of the shower, instead of having to trot over to your room. This also helps when you're selecting suitable colours from your pile of makeup, in an attempt to match them with your clothes,
3) Decorative Ladder
Credit: wowbathroomideas.net
It's almost unheard of, placing a ladder in a bathroom. But a it could actually help level up your bathroom's aesthetics, giving the space a more quirky and vibe. It isn't a difficult item to source for either, and we'd suggest looking for something lean with a single colour tone.
It's not only great for a display piece, because you can actually make use of it to hang your towels too. This gives it a more personal touch, and if you'd like, you could even start hanging little baskets, filling them with toiletries.
4) Frames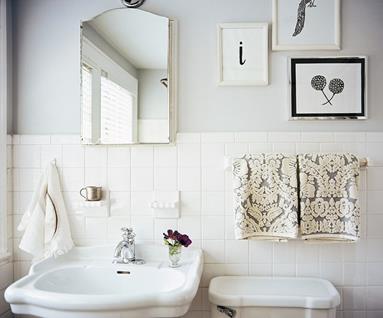 Credit: lonny.com
To add a little more character to your bathroom, perhaps you could add in a frame or two. Then, fill these with images or photographs of your liking. Even simple ideas such as monochromatic illustrations, or abstract doodles, can actually make your bathroom look more interesting than before.
Just make sure the frames aren't too big, so they don't eat up too much wall space. The result you're hoping to achieve is a bathroom that's a little more scenic without looking too cramped.
5) Pendant Lights
Credit: minimalisti.com
They're rarely used in bathrooms, especially since it seems unnecessary to have such fancy lighting in there. But these could actually add a more luxurious touch, even if you only have space for one.
We'd say stick to a simple design; the fact that they're hanging off the ceiling is already statement enough. If space allows, you could even have a few pendant lights littered around the bathroom, perhaps with a shorter cable length so as not to make the whole setting feel overwhelming.
Request for quotes and we'll match you with a selection of Interior Designers!
Previous
4 Important Factors When Buying A Home
Next
5 Themed Hotels That Will Knock Your Socks Off