5 Industrial-Style Homes with Retro Touches
Interior Design & Decor
16930 views
16930 views
Singapore is today a thriving city, but it had begun life as a collection of kampungs. To celebrate #SG51, we visit these industrial-chic abodes that pay homage to the yesteryear in more ways than one. With raw, exposed fixtures aplenty and the paraphernalia of the past making a comeback, these handsome homes deliver too-cool-for-school edginess and rustic charm in equal parts. Who says new can't be old again?
Hangout for a lazy afternoon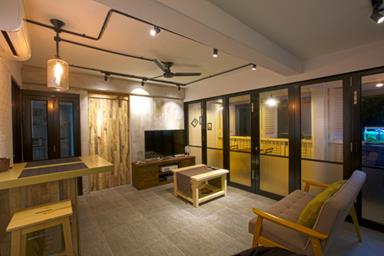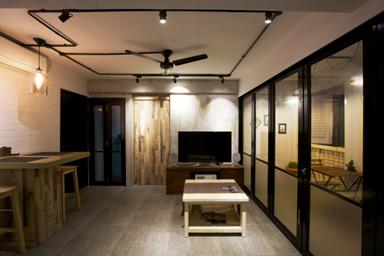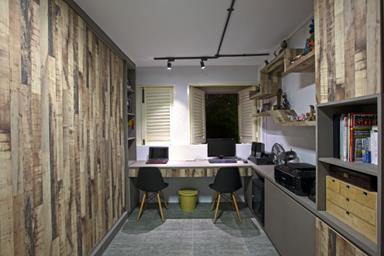 Who Lives Here: A bachelor in his early 40s
Space: Three-room resale HDB flat
Location: Toa Payoh
Cerused wood furniture and surfaces and bare pipes scurrying overhead flirt with an otherwise pared-down interior made out of tidy tiled floors and clean white-kissed walls, adding a much-needed dollop of masculinity befitting this cosy bachelor pad. The real highlight, however, is the balcony carved out of the pre-existing living room. Here, old-school louvre windows push out to offer operations manager Nyik Hew a panoramic view of the neighbourhood while he sips his cuppa and people-watches.
Doors to a bygone era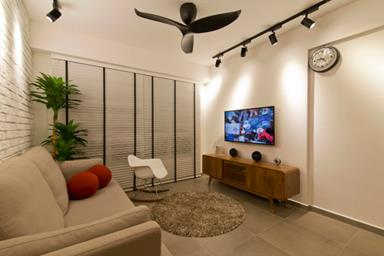 Who Lives Here: A couple
Space: Four-room BTO flat
Location: Boon Lay
Do first impressions count? Couple Ken and Claris, who chose to guard the entrance of their matrimonial home with a gate resembling the shop shutters of yore, seem to think so. Once inside, visitors are treated to Ken's eclectic parade of vodka bottles on customised shelves. Elsewhere, the old-fashioned door hiding the common bathroom opens to unlock even more vintage flair with a generous helping of monochrome tiles. These go hand in hand with the home's economical colour palette.
A rainbow of knick-knacks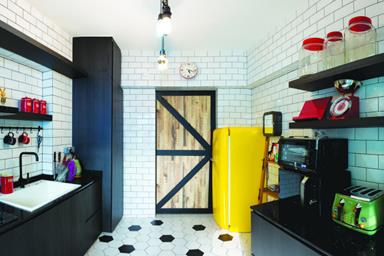 Who Lives Here: A couple
Space: Five-room BTO flat
Location: Yishun
With a red-stained brick wall and an escort of naked light bulbs that seem to sprout wildly around the space, this home boasts the quintessential industrial look. But homeowners Taufik and Michelle weren't content to rest on their laurels, so they went ahead to tog out their dwelling with a variety of knick-knacks, including this cute barber chair imported from Bangkok and a luscious Smeg fridge that's proven to be a feast for our eyes. The latter sits just beside a barn door, which supplies even more oodles of personality.
Home is where the café is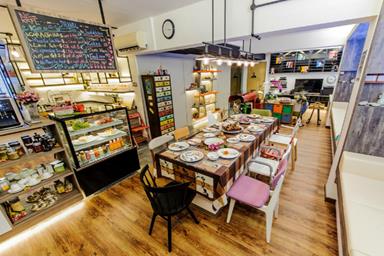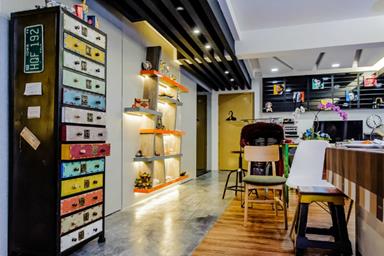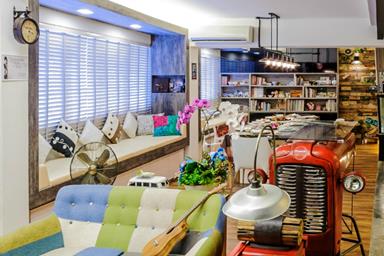 Who Lives Here: A bachelor
Space: 4A resale HDB flat
Location: Choa Chu Kang
Bare concrete and wooden surfaces usually beam with details, but their energy drowns in this peculiar home that's pregnant with colours and bric-a-brac. It's a testament to the lively personality of homeowner Aeden, whose penchant for playing host to his whole fam bam inspired him to build a café-esque nook right in his home. A bedroom wall was sacrificed to accommodate the central artery of the space, a communal table, which Aeden hopes will promote conversation (à la pre-smartphone days).
Makeshift wonderland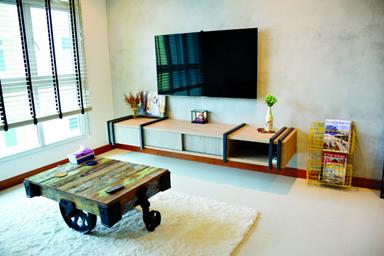 Who Lives Here: Husband & Wife in his early 30s and her late 20s
Space: Four-room BTO flat
Location: Undisclosed
Homeowners Roland and Valerie originally wanted a beach-themed sanctuary, but light and space constraints meant they had to surrender to a Scandinavian-Industrial interior. Not that we're complaining since the couple managed to channel this resourcefulness into their furniture. The results are quirky. The coffee table, for example, is fashioned out of a pallet bedecked with wheels, while a wood ladder doubles up as a clothes rack – contraptions that will no doubt be approved by our enterprising forefathers. 
---
Looking for more inspiration? Check out more styles here or head over to our Reno T-blog chat to be enamoured with the renovation journeys of our forum members. 
Request for quotes and we'll match you with a selection of Interior Designers!
Previous
5 Fun Home Decoration Ideas for the Book Lover
Next
5 Charming Old-School Cafes to Hang Out At