5 Inexpensive Ways to Personalise Any Home
Interior Design & Decor
4920 views
4920 views
Planning to keep costs down for your upcoming renovation? A feature wall wrapped in luscious marble may be at the top of your wish list, but it surely won't discipline your budget – neither will a complete makeover if you're taking over a resale flat. Luckily, there's still a handful of ways to give your home a unique identity without breaking the bank.
Dress up your front door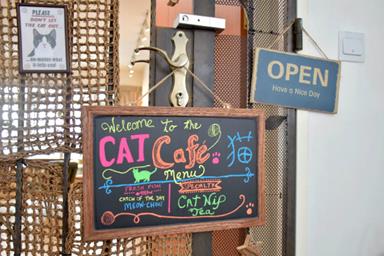 In a sea of familiar HDB home entrances, it's easy to make your home stand out with a personalised doorway. In the example above, a default gate is spruced up with a variety of trinkets that – besides announcing the theme of the house – add a touch of whimsicality to the porch. Giving your door a fresh coat of paint also works – as does fitting it with a door knocker for a fun, interactive effect!
Display your collection
Your home should feel like an extension of your life, so don't shy away from imbuing it with your personality. If you're an avid reader, you can work surprises into your décor by tucking your books into various spaces around the house. A few books on a kitchen shelf, for example, don't just serve as witty decorative pieces – they act as a great conversation starter as well.
Hang art that speaks to you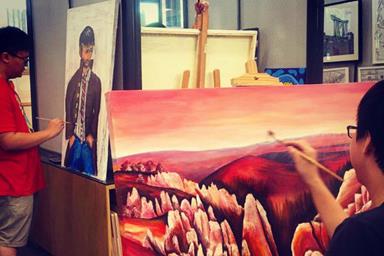 Photo: Facebook / The Art Faculty by Pathlight
A lovely piece of artwork can add a focal point and rejuvenate an entire room. But to borrow the adage 'home is where the heart is', your room should also rejuvenate your spirit. The Art Faculty by Pathlight offers art created by people with autism and related challenges. Now, you can empower your home with a social message while still making sure it looks pretty.
Make space for your keys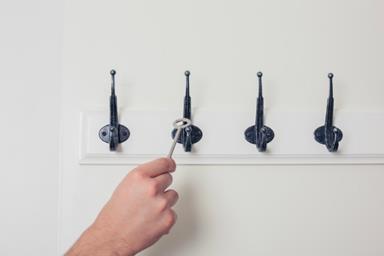 Amidst the chase for a beautiful home, it's easy to overlook the fact that your house also needs to be laid out in an intuitive manner. You won't want to make your way out, only to realise that you can't locate your keys and waste precious time searching for them. Installing a row of small hooks or laying a tray or dish near the entrance for your keys will make heading out a much more convenient process!
Perk up with plants
Photo: Urban Habitat Interior Design
Besides adding colour to your home, plants are able to filter out chemicals for fresher air. Varieties like basil and rosemary also give off an aroma that not only perfumes the space, but also wards off mosquitos. Use a mixture of plants to give each area a distinct fragrance and make your home feel more dynamic. Small potted plants that don't require much sunlight can easily work in bathrooms, replacing synthetic air fresheners.
Read more: Save Yourself from the Zika Virus with These Anti-Mosquito Plants
Request for quotes and we'll match you with a selection of Interior Designers!
Previous
Quiz: Which Home Decor Style Suits You?
Next
Renovation Story: Couple Brings A Fireplace into their HDB Home