5 Magical Monochrome Designs That Will Make You Jealous
Interior Design & Decor
2115 views
2115 views
The popularity of monochrome designs has reached dizzying heights, and is predicted to become even more popular in time to come. Adore it or abhor it, you cannot deny that minimalist homes make for some excellent #aesthetic. Minimalist designs have a muted, understated elegance about them which make them extremely sought after by homeowners and design connoisseurs.
Shimmering, Shining, Splendid
There's so much to love about this masculine, polished décor. Even though the colour palette is visually limited, each element is utilized to the maximum, and is consistent. The silvery-grey hue of the sofa and the marbled spatter of the cabinets serve as a foil to the black shelves and table cloth.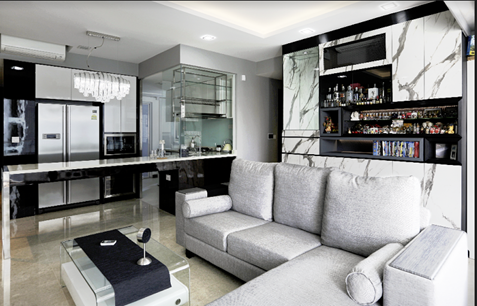 Interior Designer: Northwestern Interior
Gorgeous Greys
To those who feel that monochrome is boring and lifeless, this wintery bathroom is proof that black, white and grey can produce magical results. The fern walls seem realistic against the stone grey backdrop.
Interior Designer: Ken Home
Child's Play
There's something morbidly satisfying about the way all of the toys in this room are black. Even though white and cream are the primary colours, the black accessories: the stuffed animals, the scooter, the carpet and the typography manage to steal the lime light away from the whitewashed backdrop.
Interior Designer: H20 Interior
It's a Fine, Fine Line
The streaked granite counter acts as a stark contrast to the pristine white of the surrounding cabinets; what's not to love about this kitchen? The level of detailing in these cabinets is incredible, and the sleek black lines delineating each drawer greatly compliments the clean vibe of the place.
Interior Designer: Sky Creation
Lost In Luxe
Who said that monochrome cannot be luxurious? The white leather sofas, complete with plush black pillows and the solid marble pillars mounted onto black panels make the living room seem like it came straight out of a deluxe suite.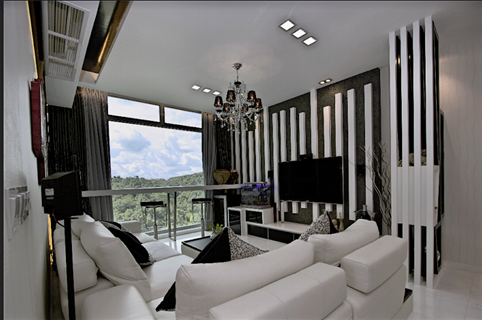 Interior Designer: Northwest Interior
Cover Designer: B-Two Interior
Request for quotes and we'll match you with a selection of Interior Designers!
Previous
Romantic Homes: How To Get That Fairytale Look You've Always Wanted
Next
These Dreamy Pastel Homes Will Leave You Wanting More