5 Splendid Damage-free Decoration Tricks
Interior Design & Decor
2592 views
2592 views
Certain decorative decisions, such as drilling holes for shelves, tiling floors with vibrant motifs or wallpapering an entire room, can feel too permanent for some of your liking. These won't work if you're the sort that needs a change every once in awhile, or worse, you live in a rented apartment and have zero intention of damaging anything.
Thankfully, there a few decorative ideas that don't require any hint of permanence at all, yet manage to stand out marvelously. And whether you apply one idea or you apply them all, at the end of the day they won't ever leave a hint of a trace, no matter when you decide to remove them from your home!
1. Curtain Wire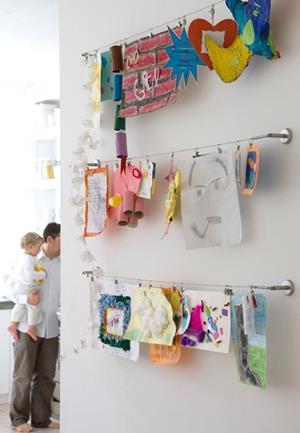 credit: blogarredamento.com
Curtain wires could work as a pretty spectacular display setup for different decorative items like photographs and kids' art. And they won't stick onto your walls permanently if you use damage-free tape (3M has quite the selection!). For extra support, you could purchase larger damage-free adhesive hooks (can also be found at 3M!) and slide them under the wire.
We would suggest using about three curtain wires to create more visual impact, but make sure not to go overboard with the amount of weight you're hanging on them! Once you've finished, take a step back and you'll see how the vibrancy of the artwork and photographs improve the look and feel of the room!
2. Wall Decals
credit: decoist.com
Wall decals peel off pretty easily, so they will in no way damage your walls. And what's wonderful about this idea is the plentiful selection of amazing decals you can find in stores and online. And if you're lacking inspiration, many sites will have brilliant decal pictures to help you craft a unique idea of your own.
Decide which wall your decals will be going on before shopping, and do note you can spruce things up by mixing different types of decals to create a larger masterpiece! But of course that'll work only if each decal aesthetically goes hand in hand with the rest!
3. Hanging Tapestry
credit: pinterest.com
If you're down with things looking a little bohemian, then hanging some lovely tapestries across the walls will not only add colour, but beautiful character to your cosy little home too! Your best bet would be purchasing tapestries that create contrast against your current wall shades, so they stand out and are instantly noticeable.
It's also a bonus if you're the sort who loves vibrancy, because you'll be able to go all out with other items around the house too! So along with those gorgeous tapestries, throw in furniture of varying shades to make your abode look extremely lively, because who said there's anything wrong with pairing blue walls and pink tapestries with orange armchairs and emerald carpets!
4. Dried Flower Wall
credit: brit.co
This particular idea involves a little bit of DIY, but we promise it's worth it. First off you'll have to buy a bunch of flowers (get as many species as possible!) and dry them out. Once that's done, tape them up in rows with colourful and easily removable washi tape, so you won't leave any stains or tears in the future.
We know dried flowers may not retain their colour forever, but here are a few ways to make it last as long as possible: Cut your flowers just before they are fully open, then tie them in bundles and hang them upside down. Make sure you choose a dry, dark and warm location because light will bleach the colours out! Also, blue and yellow flowers will retain a whole lot of their colour when air-dried!
5. Portable Bar Cart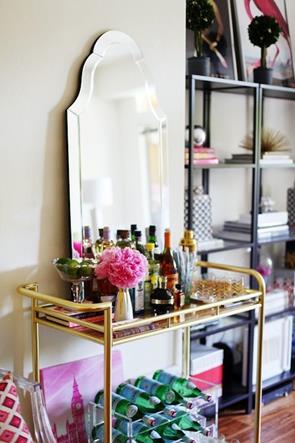 credit: pinterest.com
Instead of purchasing shelves to stick onto your walls, invest in a bar cart! They're completely portable, so you can change their location whenever you feel like it. One moment it could be in your living room holding and displaying mementos, while the next it could on your balcony, host to a few of your loveliest plants.
And whenever guests come over, you can also effortlessly remove whatever contents are on it, and start utilising the bar cart to serve food and beverages. It's literally a contraption with dual function in our opinion, and since they usually look so sleek it will no doubt bump up the general aesthetic of your home!
Request for quotes and we'll match you with a selection of Interior Designers!
Previous
Easy Solutions For Common Interior Issues
Next
5 Different Bathroom Ideas You Could Try