5 Super Simple Christmas Decorations Using Jars
Living & Lifestyle
2114 views
2114 views
Once December hits everyone's in a frenzy, especially if you're hosting your very own Christmas party. 24 days is hardly enough time to get presents, food and decorations in order, so here are several easy decorations you can try, all revolving around jars.
1. Ornaments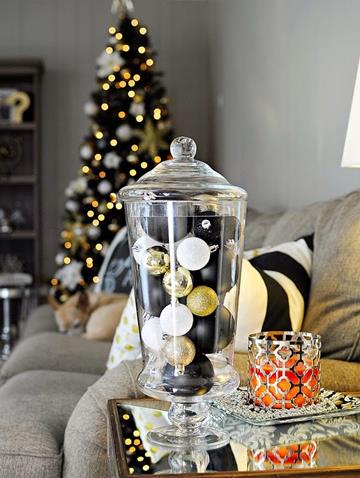 Credit: monicawantsit.com
Let's start with an easy one. Filing jars with Christmas ornaments aren't too difficult a feat, so they're perfect if you're really short on time or need a last minute space filler around the house.
Buy a clear jar large enough to fill roughly 20 Christmas bobbles, and select one that is more unique in shape so it'll stand out. Fill it with ornaments of varying sizes, sticking to a maximum of three different colours and textures, ensuring they match your holiday colour scheme.
2. Christmas Tree Branch
Credit: oaxacabom.com
Not too keen on putting up a big tree? A single branch works too. It may sound like an odd idea, but trust us it looks really modern. The hard part though, is sourcing for a mere Christmas tree branch. We'd say your best solution would be to pester friends until they agree to snap one from their own Christmas trees.
Then, purchase a jar or mug, clear ones work best, and simply place the branch inside before filling it with water. It'll look both festive and elegant, and if you'd like to spruce things up a little, add a more contemporary pop by wrapping paper around it and ending off with a piece of twine.
3. Candy
Credit: greatdiyprojects.com
If you're a huge fan of colour, you'll probably love how this one turns out. Buy an assortment of glass jars, preferably differing in shape and size. Then, head down to your favourite candy store, and knock yourself out picking out a variety of coloured sweets or Christmas themed goodies.
Place them into your newly bought jars, each type of candy per jar, and play around with how filled you want them to be. Do note that if your home happens to have a colour theme for Christmas, only choose candy which matches.
4. Hung Ornaments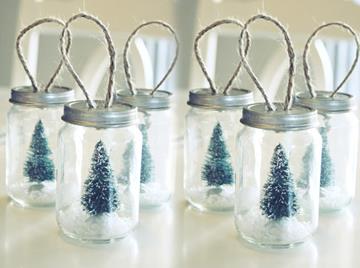 Credit: putitinajar.com
Head down to your nearest craft store and pick up a bunch of mini mason jars. Carve tiny holes on their lids, before stringing a piece of twine through, ensuring the twine you use is thick enough to hold at least a little weight.
Now, begin decorating the insides of the jars, filling the base with salt so it'll look like snow. Add little Christmas knick knacks in after, such as mini trees or wooden letters, or you could even try small candy canes. Be as creative as you can, and have fun since this is where the fun part begins.
Once you're done, simply hang these around your Christmas tree and marvel in its beauty.
5. Fairy Lights
Credit: fairylightidea2.blogspot.com
These are tremendously gorgeous at night, and are fairly simple to make. Purchase mason jars which are rather large in size, as well as a few strings of LED fairy lights which operate on batteries.
Start off by taping the lights' battery packs to the bottom of the jars, preferably using electrical tape for safety. Then, cover the battery pack with a piece of burlap, before slowly filling every jar with a string of fairy lights each.
Once you're done, turn all your lights off at night to test these decorations out, and be prepared to be in awe. Also, if you've lucky enough to find fairy lights of varying colours, it adds to an even stronger atmosphere!
Request for quotes and we'll match you with a selection of Interior Designers!
Previous
How To Make A Super Easy DIY Wine Bottle Lamp
Next
5 Things We Love About This Waterfront Waves Home