5 Tips for Caring for Wood Furniture
Maintenance & Repair
5322 views
5322 views
Wood furniture boasts ornate details, which make it an easy pick for the sophisticated home. The drawback is that the natural material it's made out of can be notoriously delicate. Whether you're a collector of vintage pieces or a proud owner of freshly minted wood furniture, bearing in mind these pointers will help extend the life of your treasure, if not keep it in tip-top condition.
1. Keep away from heat
Avoid exposure to direct sunlight and minimise contact with hot items. If you absolutely need to place your wood furniture next to the window, be sure to shield it with a curtain or a blind. Using trivets and coasters also defends your wood table top against sizzling pans and warm coffee mugs. Prolonged interaction with heat can cause the protective finish – such as varnish or shellac – on the wood furniture to fade over time.
2. Control the moisture
Water isn't friends with wood, but cleaning your wood furniture with a damp cloth and a mild soap solution is okay. Just remember to rinse often and not soak any one area with too much water. This is especially important when cleaning older wood furniture, where the finish might have faded in some parts. Water can seep into these naked sections and expand the wood, causing the furniture to crack. Before calling it a day, wipe with a dry cloth as you don't want moisture sticking around.
3. Wax it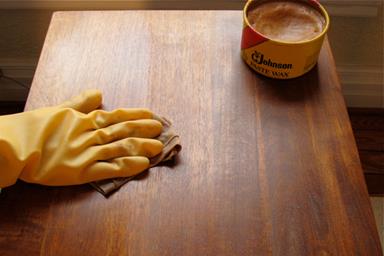 Photo: wearegeeksnotnerds.com
Applying paste wax to your wood furniture is an inexpensive way of papering over minor scratches and other small areas where the finish is lacking. Even if there're no blemishes on your furnishing, paste wax can still offer an extra layer of protection atop the finish and a beautiful sheen. Paste wax can maintain its effect for as long as two years, although you might want to wax heavier-use furniture once per year.
4. Look out for a termite infestation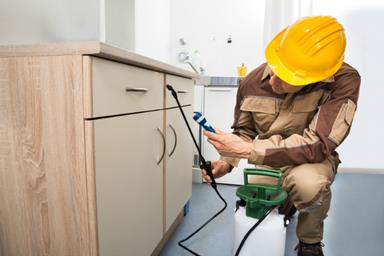 Termites are one of the largest enemies of wood furniture, but they don't give themselves off easily. Signs of a termite infestation include holes in the furniture and a feeling of hollowness when you knock on the wood. Termites are attracted to cellulose and moisture, so stacking a few strips of wet cardboard near the place where you think the termites are makes a perfect trap. Although this bait doesn't completely eliminate the termite infestation, it'll at least buy some time till pest control arrives.
5. Don't be afraid to overhaul
You don't necessarily have to throw out your damaged wood furniture. Instead, talk to a good vintage furniture store to find out how you can refurbish your aging furniture. Options include replacing old paint or a fading finish with a fresh coat of protection, sanding the wood, bathing the furniture in chemical and even reupholstering chairs with a new cushion, foam or fabric of your choice. By the end of the process, your wood furniture will be as good as new!
Request for quotes and we'll match you with a selection of Interior Designers!
Previous
5 Steps to An Easy-Clean Kitchen
Next
6 Ways to Enjoy Luxury on A Budget