5 tips to organize your kitchen and get more space
Interior Design & Decor
2410 views
2410 views
(Guest Writer: Jeremy Hood)
Clutter. There is nothing worse than a kitchen full of clutter. I remember my days of having to nose dive into a mountain of pots and pans to find that one last non-stick fryer that cooks my eggs just the way I like them. Or having wade through a sea of peelers, graters and garlic crushers to find that one can opener that still has a little life left in it.
What's the secret to an organized kitchen - you may ask? I know you have heard it all before, but less is definitely more, especially if you are working with a smaller space. So, instead of having three, four or maybe even five frying pans that really aren't that great, burn your food and frustrate you, why not keep hold of just one or two that really do a good job, one to use and one to wash. Perfect.
Ok, so maybe you feel like you have already decluttered your kitchen as far as humanly possible, and you are really down to the essentials, but still find that getting around the kitchen is a bit of a tight squeeze. Have a look at the following 5 tips that will help you to get the kitchen back in order and create more space in the most important room in the house.
1. Start Hanging Around
Kitchen cabinets and cupboards are the perfect places for storing kitchenware, but the time has come for you to max out your kitchen cabinet and cupboard space. You could purchase adhesive racks and hooks which you can use to hang kitchen utensils, pot and pan lids or even support rolls of cling film or aluminium paper on the inside of the cabinet and cupboard doors.
2. Get Hooked
Another way of creating more space in the kitchen is to use hooks. Try screwing half a dozen hooks under some of your kitchen cabinets and you will be able to use them to hang drinking mugs, small tea towels, large wooden spoons and other kitchen utensils.
3. Go Digital
I know cookbooks are lovely, everyone loves the feel of a thick cookbook, filled with tasty recipes that you love, and they do make a kitchen look homely when stacked neatly on a countertop, but do you really need all of them? Instead of hanging on to old cookbooks that you are not really using, donate them and you will have so much more counter space.
4. The Sky's The Limit
When we think storage space we often think of cupboards and drawers that are just above eye level and below, but more spacious kitchens will have storage fixed on other levels. Try fixing a pot and pan rack to a space on a free wall that is just out of arm's reach, then add some hooks to the base of the rack and hang pots and pans on the hooks by their handles so they dangle just out of reach of your head (or that could be quite dangerous) but within arms reach so that you can access them easily. You could try placing it over a sink or over the cooker.
5. Rise Above Them All
Use shelf risers inside cupboards so that you can get more items stacked inside them without the danger of everything capsizing. Try popping a handful of plates or bowls underneath the riser and then stacking a few more on top, that will help you to maximize your cupboard space.
As you can see, there are quite a few things that can be done to help organize and maximize the space in your kitchen cupboards and the best part is, they are not expensive solutions. Put them into place as soon as possible and really see the difference!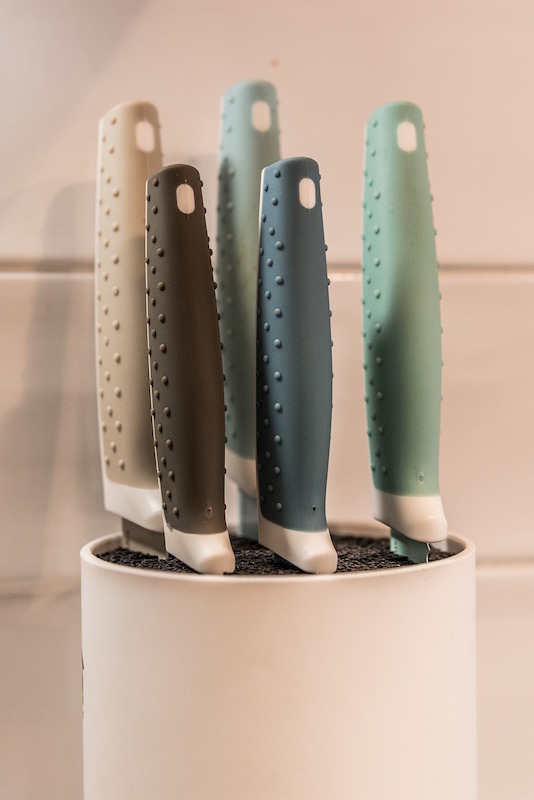 Request for quotes and we'll match you with a selection of Interior Designers!
Previous
Granite vs Quartz - Which is better?
Next
Top Tips when Restoring Antique Furniture