5 Ways To Create A Home Filled With Happiness
Interior Design & Decor
3242 views
3242 views
A house isn't a home until it's filled with warmth, accompanied by an overall sense of happiness a family can easily bask in. The littlest of things can actually provide happiness in the most unusual ways, and here are some examples of how.
1. Yellow Or Green Walls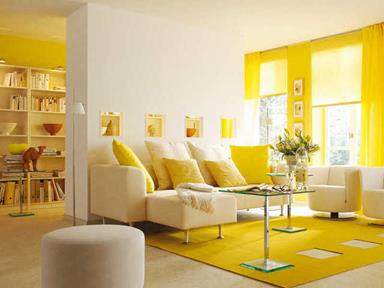 Credit: home-designing.com
These are two very bold and bright wall colours, but through studies have been proven to evoke the most happiness. They might not be the easiest colours to work with in your abode, but if they'll make you feel happier, it's worth a try.
There's no need to fill every room with hues of both green and yellow, but perhaps injecting it into a couple of spaces in the form of feature walls might do the trick.
2. Photographs
Credit: decoist.com
This one's pretty much a given. Photographs of your family have the power to create a variety of positive feelings, so having them placed all around the house will definitely make you feel much happier.
They don't have to overpower any of your interior decorations, but can be added in in subtle forms, like on a nightstand, or framed along your home's corridor.
3. Pets
Credit: dog-milk.com
Keeping a pet at home can be one of the most rewarding experiences. Bonds between pets and their owners not only welcome a large amount of happiness, it can also provide meaningful support. And while nurturing them, you will slowly begin to tag your pet as an essential part of the family.
But before bringing a pet home, make sure you research about them, as well as ensure you have enough time and resources to take care of them.
4. Candles And Scents
Credit: alifewithaview.com
We all know scents can calm us down, so if you're looking to purchase some for your home, try vanilla candles or floral scented perfumes and air fresheners. They will not only help you relax, but increase feelings of happiness.
You can do a mix of both around the house, filling your entire home with these fragrant smells that help make your family that much happier.
5. Decrease Clutter
Credit: designstudio210.com
The saying "less is more" definitely relates to this one. It's been proven that women tend to feel more stress when a home is filled with too many things, since they begin associating it to being both messy and a failure.
So removing things that aren't essential and decluttering are key, creating an environment that feels neat and clean.
Request for quotes and we'll match you with a selection of Interior Designers!
Previous
9 Dreamy Hammocks You'd Love to Chill Out In
Next
Chinese New Year Customs You Must Follow To Bring In Luck And Fortune