5-Step Guide to Creating an Industrial-Chic Interior
Interior Design & Decor
3981 views
3981 views
Forget polished surfaces, modern gadgets and ritzy furnishing. An ever-growing trend used in commercial spaces, apartments and modern homes around the world is creating an industrial interior, a style that embraces the rawness of stripped-down infrastructure and results in a uniquely beautiful "warehouse" look.
While it sounds simple, it takes careful and thoughtful planning to give your place a raw, unfinished but aesthetically appealing finish. We've scoured through hundreds of design ideas and narrowed them down to this handy 5-step guide to industrializing your home. Try it yourself!
Leave the walls bare
Credit: H2O Interior Renovation
The industrial style is known for emphasizing exposed architecture and proudly displaying the original building materials that many try to conceal. Show off the skeleton that supports the structure of your home - think unfinished walls, aged brick, exposed beams and piping. Remember to also keep your floors bare by avoiding flashy marble tiles. Instead, go for concrete or dark wooden flooring.
Wide open space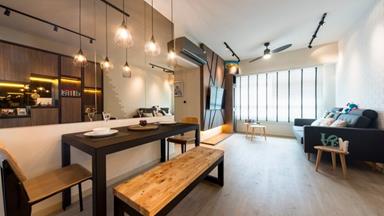 Credit: Unity Unity ID Pte Ltd

Replicating an industrial style requires creating an illusion of large, cavernous spaces found in warehouses. You can achieve this feeling, even in small spaces, by keeping windows bare, minimizing furniture pieces and editing the number of pieces in the space. Use long, hanging lightbulbs on high ceilings to complete the look.
Muted color palette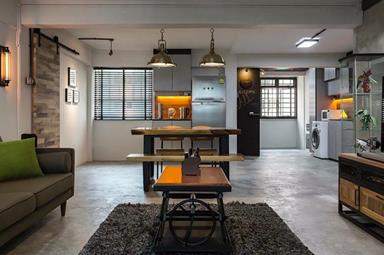 Credit: NID Design Studio Pte Ltd
Industry colors call for neutral tones, often muted shades of browns and greys. Expose any wood and metal surfaces and get inspired by plaster and exposed brick, copper plumbing, and worn leather when choosing your home's color palette. At the same time, ensure that you don't dull your rooms with overly grey and gloomy paint. Brighten up the space with natural lighting and hints of color in your furniture.
Edgy, natural accents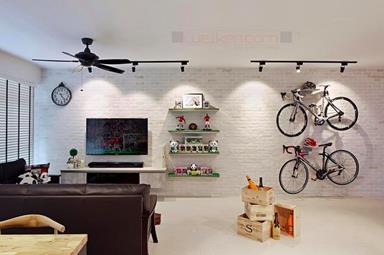 Credit: Weiken.com
The industrial style calls for raw, natural decor without excess frills or adornment. Furnishings must match the overall edgy, structured look of the space, so clean lines and simple forms are a must. Opt for black and white photos in simple, contemporary frames and simple, wide, rectangular mats will win every time. Furnishings that are fundamental, no-nonsense pieces.
Use Salvaged goods
Credit: DIY Show Off Blog
The final step to completing the industrial look is adorning your home with actual pieces found in industrial workspaces. It's about choosing decorative pieces that are as much about function as style. Almost any salvaged metal object fits in with this style, such as vehicle parts, pipes and machinery. Repurposing them into furniture is an excellent way to lend your home a functional, cool appeal.
Industrializing your home and giving it that raw appeal takes time and effort, but the result will be worth every nut and bolt.
Request for quotes and we'll match you with a selection of Interior Designers!
Previous
Exploring Different Types Of Wood
Next
8 Amazing Ideas For Your Garden