6 Interior Design Ideas That Could Increase Your Home Value
Interior Design & Decor
15640 views
15640 views
6 Interior Design Ideas That Could Increase Your Home Value
Buying a home is a cause of excitement for many homeowners. After all, there are plenty of ways to turn a property into a dream home. Soon enough, you'll find interior design ideas brewing in your mind. But, hold on a minute, one consideration that warrants your attention is how long you plan to stay in your condominium, apartment, or landed property.
Do you have the intention to sell your home within the next ten years? It might be helpful to consider investing in renovations that might add to your home value instead of wasting hard-earned cash on those that don't. Many potential home buyers take into consideration the condition and quality of the existing renovations. That's because it might mean saving money on renovations and being able to move in with less hassle. Here are the ways you can renovate your home to increase your home value in the eyes of future home buyers – while having a home you love.
Make the Entrance Good
Interior designer: Renozone
If you live in an HDB or condominium apartment, there's not much you can do to the area outside the apartment. However, one of the things you can do to make your home stand out is to repaint the gate or door. Once inside, and where possible, consider allocating space for a foyer with storage solutions that can accommodate shoes and other items.
A Well-Organised Kitchen

Interior designer: Sky Creation
The kitchen is where we prepare meals and perform cleaning tasks. That makes the kitchen the area most exposed to dirt, grime and disorder. A well-designed kitchen with excellent craftsmanship can last for many years to come. Consider investing in a kitchen with ample and varied storage solutions that help keep clutter at bay. Opt for low-maintenance and long-lasting materials such as stain-resistant counter-tops and quality hardware to keep the drawers and cupboards running smoothly.
Bathroom Beautiful
Interior designer: H20 Interior
With the busy lifestyle that everyone leads and homes becoming smaller, the bathroom is increasingly seen as a sanctuary where one can enjoy moments of solitude. Consider turning the bathroom into a spa-like sanctuary with quality showers and faucets. Water bills are set to rise, so go for water-saving showers and taps. Look into incorporating customised storage solutions to maximise the space as well.

Hardwearing and Beautiful Flooring
Interior designer: Icon Interior Design
One of the first things potential homebuyers look at is the flooring. That's because overhauling the flooring can take up a significant chunk of the renovation costs. Also, beautiful flooring draws attention effortlessly in a home. Materials like marble and wood flooring continue to be much-loved flooring materials. While wood flooring does require care to maintain it, it can be sanded and repaired easily to make it look like new when it's time to sell your home. Tiles are universally loved for being easy to maintain. And with a host of tiles to choose from these days, take the time to choose tile designs that look good. Avoid trendy colours though. Neutral coloured tiles and wood-effect tiles are universally liked options.
A Walk-In Wardrobe Or Not?
Interior designer: Darwin Interior
There are pros and cons to having a walk-in wardrobe if you intend to sell the home in future. That's because everyone has different priorities and a walk-in wardrobe, especially one that takes over a whole room, may not suit some potential homebuyers. That said, many homebuyers would love a walk-in wardrobe. How do you make the decision then? The key is not to look at its future value, but stay present to prioritising whether you would love a walk-in wardrobe yourself. After all, you'll be living in the home for a stretch of time, so it has to be something you'd enjoy as well.
Smart Lighting Solutions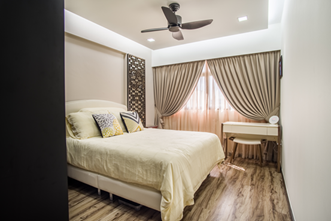 Interior designer: Unity ID
From recessed lights to cove lights, electrical works for lighting can be a time-consuming and messy affair. Potential homebuyers notice when proper lighting is in place. So, have recessed and cove lighting if you have the budget for it. Setting up the lighting works for energy-saving lights like LED lighting is a booster as well because LED lights last much longer as well.
What To Do and Not To Do
While some improvements can be made the DIY way, one of the mistakes that homeowners make is not engaging an interior design professional for their home renovations. Instead of wasting money on renovations that potential homebuyers might find distasteful or not useful, having an experienced interior designer can be helpful in advising you on enhancements that would add value or improve the spatial experience in your home. Also note that while quality materials can bring value to your home, excellent workmanship is just as important. Find a professional interior design company that suits your style and budget here. https://renotalk.com/professionals/category/interior-design-companies

Request for quotes and we'll match you with a selection of Interior Designers!
Previous
In Conversation With Litewerkz, the creators of Tessellations Of Time
Next
5 Ways To Improve Your Sleep Quality