6 Kid-Friendly Ideas for Your Home
Interior Design & Decor
7793 views
7793 views
Most kids crave huge amounts of movement because staying still is well … boring. But their voracious appetite for exploration is actually designed to develop their still-immature nervous systems and foot-eye coordination skills. Needless to say, this can take a toll on your home if you're not prepared. Here's how to keep your interiors fresh and chic while still keeping your little ones out of harm's way.
Keep the walls lightly painted
Photos: Starry Homestead
Kids tend to favour a colourful surrounding, so it seems absurd to keep the interiors pale. But they're as likely to outgrow that 'Barbie pink' paint swatch before you even realise it. Instead, rely on furniture, accessories or even wallpapers and rugs to bring in colour. This lets you go crazy over the palette without worrying whether you'll be able to reinvent the room in a few years' time. If you must paint, go for toned-down versions of the colours your child chooses (hot purple just doesn't cut it!).
Use loose furnishings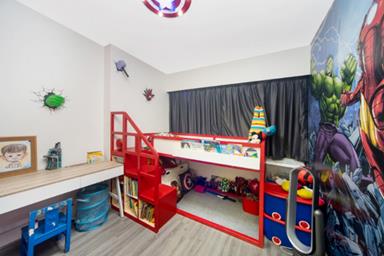 Photo: Renozone Interior Design House
Although a cute built-in cabinet may look like a great choice for your kid's room, it can quickly outlive its usefulness once your child grows up. Using non-permanent pieces such as a chest of drawers and a wardrobe allows you to easily upgrade the furnishings to fit your child's ever-changing needs. Consider a star attraction like a loft bed (pictured above), which lets you create a cosy nook that your kid can use for reading or playing.
Start a gallery wall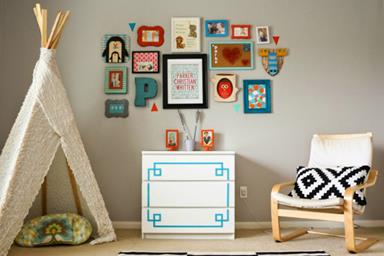 Photo: akailochiclife.com
An empty wall is the perfect canvas for your child's works of art. No, we're not talking about giving your child free reign to doodle on the wall (which you totally can! But more on that later). Let your child know that you're proud of their works by displaying them on the wall. This way, you can keep track of their progress as well. You can frame your child's artwork, but you can also try rounding them up with washi tape, clipboards and even clothes hangers!
More ways to start a gallery wall here.
Protect your surfaces with washable paint
Your spotless walls probably aren't a match for the crayons in your child's hands – unless well, you can erase those blemishes. When shopping for paint, be sure to only choose paint that's non-porous. Most major paint manufacturers offer this feature in their more premium ranges. While careless food and drink spills will generally be shrugged off, be sure to keep a close eye on heavier stains, which still need to be wiped off before they have any chance of penetrating the paint.
Upholster your seats in leather
Photo: Urban Habitat Interior Design
Like your surfaces, your chairs are at the mercy of your child. Given its susceptibility to moisture, a bare wood bench or even one that's draped in fabric isn't going to last very long. For the best results, turn to synthetic leather, which is surprisingly more resistant to stains than authentic leather. The former is a breeze to clean, needing just some mild dish soap and a damp paper towel to maintain its pristine condition.
Stow your TV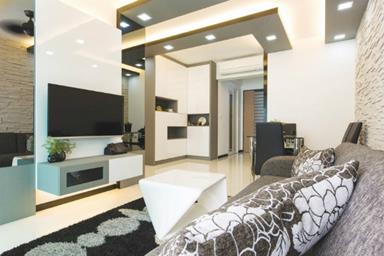 Photo: The Wooden Platform
The TV is an undeniable source of delight for kids, and we're not just referring to what's on the screen. This hulking device can be perilous for the young ones if it's affixed on a stand as it may topple over with just a tug. To baby-proof the entertainment zone, mount your TV on the wall or keep it away from sight in an armoire.
Request for quotes and we'll match you with a selection of Interior Designers!
Previous
6 Important Things to Do Before Renovating Your Home
Next
5 Burning Renovation Questions, Answered