6 Scenarios Where Lalamove's Delivery Services Can Help
Living & Lifestyle
1132 views
1132 views
These last 12 months have been a year like no other which drastically changed our regular lifestyles in many ways, and made daily home deliveries the norm. These days, whether you're still staying at home, venturing outside or balancing a bit of both, there are many ways that local delivery services can make life easier.
Lalamove specialises in deliveries of every shape, size, timing, and location, making their app the perfect port of call for all your logistical needs, and we're not just talking meal deliveries and couriers bookings. Here are some common scenarios that probably sound familiar:
1. Moving Furniture and Household Items
"I can't wait to get into my new home, but I have so many belongings to shift!"
If your new home is fully renovated and ready for occupancy, you're bound to want to get in there as soon as possible, but what about all your bulky furniture and household items? Moving furniture, especially big bulky items like sofas and cupboards, takes up a lot of time and energy and can seem quite a daunting task.
Whether you're shifting a bed, wardrobe, sofa, dining table or all of the above, Lalamove is perfectly equipped for each and every request. Their range of vehicles comprises motorcycles, cars, Multi-Purpose Vehicles (MPV), vans, and lorries, stretching up to a 14-foot lorry which can easily accommodate even the bulkiest of items.
In addition, since they have their own in-house vehicles, Lalamove is likely to be notably cheaper than other logistics companies, so you can save your money for decorating your new pad.
Price Chart for Vehicles © Lalamove
You can check out Lalamove's vehicles and fees here. All listed prices are transparent with no hidden cost, with prices calculated based on how big your delivery is.
2. Sending Items Off For Assessment or Repair
"I need to fix my sewing machine, but the repair shop is on the other side of the island!"
"I have some items I want to give away to charity and recycling centres, but I don't have time to be dashing all over the island."
In the new era of sparking joy, sustainability, and upcycling, people are increasingly looking for ways to give their old or unused belongings a new lease of life, rather than hoarding them at home or just dumping them in the bin.
But sometimes, repair centres and donation banks can be in inconvenient locations, making the process very time-consuming. So why not use the Lalamove app to deliver those items to those places on your behalf?
Lalamove provides same-day delivery and 24-7 customer services with the most flexible collection timing for you, so you can pack up your items and have them delivered within 24 hours, all without needing to leave your home!
3. Delivering Purchases
"I just snapped up some outdoor furniture at a bargain price, but they don't do delivery and now I have no idea how to get it home."
If you want to purchase items online or at a store or fair, but the merchant doesn't offer any delivery options, you can still indulge in an on-the-spot impulse purchase by using the Lalamove app to deliver your new belongings home.
This is made even better by Lalamove's competitive rates, starting at just $10 for an on-demand service, so you can relax knowing that your bargain purchase will still remain a bargain after the delivery costs.
4. Delivery for Home-Based Businesses
"My home has a big kitchen that I can use to finally get my home bakeshop started. But how can I deliver my goods to my customers without racking up too many costs?"
If you're running your own business from home, a lot of your set-up may already be taken care of. But you still need to work out how to get your products to your customers in a timely manner.
Thankfully, you no longer need to own a vehicle or employ a driver as Lalamove offers flexible services that can enable you to deliver to many different locations in one day.
Racked up lots of orders from a single region? You can save time and energy with the Lalamove app as it offers a multi-stop option that enables you to arrange a series of up to 19 deliveries in just one booking. You just need to key all the details into the app and Lalamove will do the rest, so you can focus on growing your business.
Or, if you want to make life even easier, you can even link your interface with Lalamove's, so deliveries are processed automatically as orders come in.
5. Delivering Gifts to Loved Ones
"My friend just landed her dream job! But I can't be there to celebrate in person, so I really need to send something special!"
"I totally forgot it's my aunt's birthday today! I need to find a way to send her cake or some flowers."
Who doesn't love getting gifts? While we are not always able to meet up with our loved ones, especially in these times, long distances should not stop us from spoiling them rotten, especially on certain special occasions.
Lalamove is your go-to gift courier when you want to send a present to your loved one, especially when it's in a hurry. They can collect from a wide array of establishments and can transport any item, apart from people and pets, so you can let your imagination run wild when choosing gifts.
6. Urgent Deliveries
"My supervisor urgently needs the USB drive with all our pitch documents, but it's with me at home and he is in his office!"
Deadlines are the worst, especially when you're under pressure, balancing multiple tasks and pushed for time. Sometimes, our hectic schedules may be the catalyst for forgetting important tasks, and the only solution is a quick fix.
Luckily, Lalamove specialises in urgent same-day deliveries, with 'ASAP' collection, so you can be assured that your stress will be relieved in double-quick time. Lalamove will match your delivery request to a suitable driver in just three seconds, saving you precious waiting time. The app will then provide a live tracking function so that you can check your delivery's progress and be instantly notified once it's complete.
Conclusion
Lalamove provides much more than just last-minute deliveries and their team offers flexible, fast, affordable, convenient, and safe service, so you know your belongings, however big, small or awkward, will always be in good hands.
Benefits of the Lalamove app include:
- Same-day delivery
- 24/7 instant delivery
- Fast delivery for personal customers at any time to anywhere
- Speedy matching order in nine seconds
- Transparent pricing with no hidden costs
- Wide variety of vehicles
- Safe delivery – professional and trained drivers to ensure your good safely reach their destination
- Real-time tracking, even for same-day deliveries!
It just takes a few simple steps to set up an account and you're then ready to go!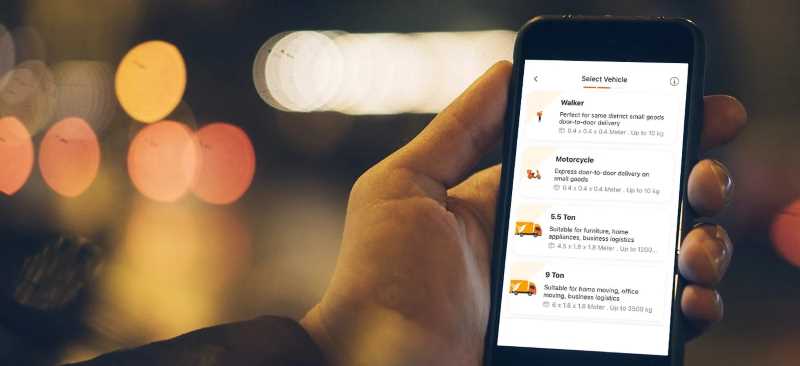 Image © Lalamove
To start you off on your Lalamove adventure, enjoy the ongoing Lalamove It! Campaign with some delivery coupons to sweeten the deal! Enjoy these promos, whether you are a new Lalamove user or an existing one, until 31 October 2021!
New to Lalamove? Take 50% off your first three deliveries when you quote "LALAMOVEIT" on the Lalamove app.
If you are already using Lalamove, here's a nice promo for you too! Enjoy 20% off your next three deliveries with the coupon code "LALAMOVEIT" on the Lalamove app.
New and existing users alike, better use these coupons quick, as they lose their validity come 31 October 2021.
It's time to make your deliveries smoother with the Lalamove app, and take advantage of the above coupons to make them even better!
Request for quotes and we'll match you with a selection of Interior Designers!
Previous
5 Ways To Bring Natural Elements Into Your Home Decor
Next
Exercising More Autonomy Over Your Home Space