6 Tasteful Kitchens Your Inner Domestic Goddess Will Love
Interior Design & Decor
5439 views
5439 views
Besides eating, cooking takes up part of the joy that food brings. It's fun to whip up meals together with your loved ones, but it's even more fun to do it in a stunning and organised cooking area. We found 6 invitingly gorgeous kitchens that not only win in the culinary department, but will also inspire the hidden chef in you!
1. Industrial
Renozone Interior Design House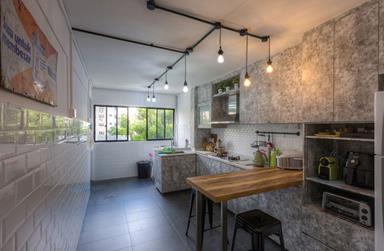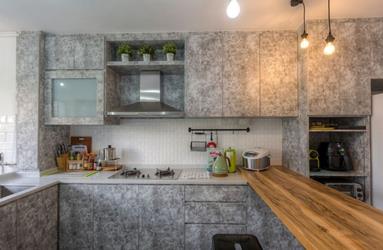 While it adopts an industrial interior style, this 4-room HDB resale flat's kitchen utilises grey in a different way from its conventional counterparts. Instead of including metallic elements, it features speckled grey cabinets that give the theme an even edgier vibe.
2. Airy
Weiken.com Interior Design Pte Ltd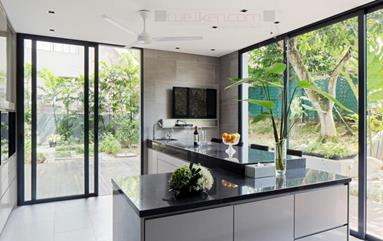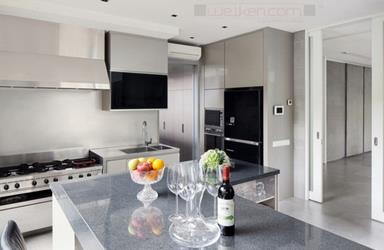 Looking airy and bright is this open-air kitchen that faces the home's outdoor deck. The floor-to-ceiling sliding doors bring light into the space, and complement the elegant décor inside. Not only does the L-shaped Island provide the homeowners with more flexibility, it can also be converted to a breakfast table or bar when needed.
3. Rustic
Dreamvision Designer Pte Ltd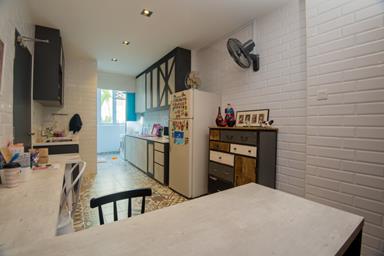 This is one kitchen that utilises the countertop in an ultra creative way. Built low against the white brick walls, it also doubles as a table for the homeowners. Warm hues and nostalgic Peranakan tiles make up most of its interior design, with barn-style cabinets to complete the rustic appeal.
4. Modular
Titantt Pte Ltd
Almost looking like it belongs in a dollhouse, this modular kitchen is as functional as it is pretty. If you're wondering why the cabinets are so shiny, it's because they have been sprayed with a deep gloss piano finish. Like a dream come true for the domesticated ones, the layer of protection keeps laminates from peeling, making it perfect for people who spend a lot of time cooking.
5. Retro
Inzz Studio Pte Ltd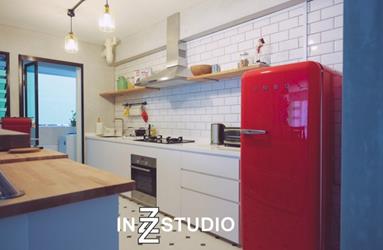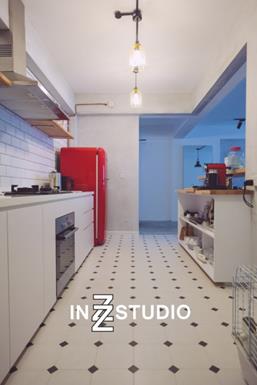 This cheery interior design is sure to brighten up anyone's morning with its colours and patterns. Sporting a retro theme, the kitchen adds a quirky touch to the nostalgia with its floor tiles and vintage fridge. Plus bonus points to the designers for integrating the chimney hood into the look!
6. Minimalist
Dreamvision Designer Pte Ltd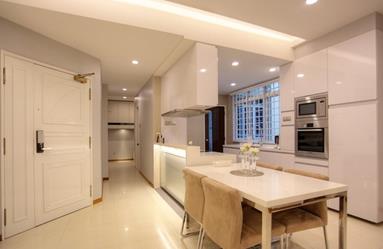 If you're a fan of all things minimalist, you'll love the chic appeal of this apartment's kitchen. At first glance, one may be confused by its layout, but it is exactly what makes it so unique. The absence of a divider creates a flow from the kitchen to the living area, and together with its neutral colour palette, help to elevate the contemporary ambience of the space.
Stone Amperor: 100% Unbiased Advice & The Widest Range of Countertops

Request for quotes and we'll match you with a selection of Interior Designers!
Previous
The Do's And Don'ts When Planning A Wedding
Next
Your Eyes Aren't Playing Tricks On You. This Is An Actual Hotel Room