6 Unique Features for a Beautiful & Practical Bathroom
Furnishings
8075 views
8075 views
The bathroom may be a narrow space, but dressing it with elegant yet practical elements is no less important – given that the bathroom is where you begin your day, and are likely to make a beeline for after a long day at work. These ideas, as seen in real bathrooms, deserve your attention not just for their unique looks, but also for their incredible functionality.
Pedestal bathtub
In a space-starved bathroom, the exposed frame of a free-standing tub such as the pedestal bathtub creates an easy focal point. It also gives the bathtub a less bulky appearance than a built-in tub, making the bathroom feel more cavernous. Because it's not permanently fixed to the floor, the bathtub can be rearranged on the fly to fit a new look or make cleaning the area around it more convenient.
Open concept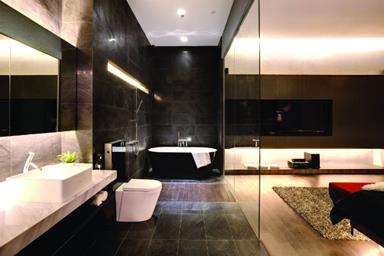 Photo: 3D Innovations
Recreate the luxe appeal of a hotel bathroom with the help of glass dividers or sliding panels. We like the design by 3D Innovations, which spends a pinch of cove lighting and a dark colour palette for a sultry effect. The bathtub, draped in equally deep black, adds to the seductive look befitting a personal spa. Don't forget to install blinds for privacy.
Super long fixtures
Photo: The 80's Studios
Elongating fixtures can aid you in cheating the perception of space. In the vintage-inspired bathroom above, an edge-to-edge mirror and vanity counter make the area look larger than it really is. The openness is further accentuated with exposed shelving and an extra lengthy washbasin. The shadow box is especially useful, adding plenty of real estate that a traditional mirror cabinet simply can't afford.
Double basins
Photo: Interior Affairs
Can't decide who gets first dibs on the basin? You won't have to with this handy set-up from Interior Affairs. Its stylish façade hides a spacious storage compartment, letting you and your other half share the bathroom in perfect harmony.
Under the sink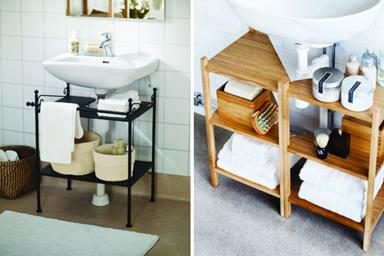 Photo: IKEA
Most bathrooms in BTO flats come with sinks that have pipes running below them, making it impossible to slot an ordinary cabinet in. If hiring a contractor to build a custom storage space isn't an option, consider these purpose-built shelves from IKEA. Their minimalist looks make them a cinch to combine with other furnishings in the bathroom.
Folding shower screen door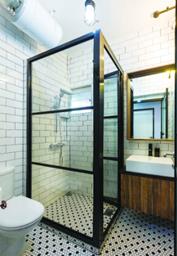 A shower cubicle is useful for keeping the bathroom dry. It's usually guarded by a sliding door or a swinging door, but such a door just won't be able to function properly in the compact bathroom above. Enter the folding door, which collapses into itself and ensures that there's still enough space to manoeuvre about whether you're getting in or out.
Request for quotes and we'll match you with a selection of Interior Designers!
Previous
4 Benefits of A Storage Water Heater
Next
Quiz: Which Home Decor Style Suits You?