6 Walk-in Wardrobe Styles You'll Instantly Fall In Love With
Interior Design & Decor
31406 views
31406 views
No longer a luxury only the rich can afford, walk-in wardrobes have become a norm in most Singaporean homes. The fact that so many are willing to convert an entire bedroom into a walk-in wardrobe shows how much of a priority it has become for homeowners in Singapore. How yours should be styled and decorated depends on your preferred lifestyle. Here at RenoTalk, we've put together six dream walk-in wardrobe looks.
1. The Fashionista's Dressing Room


The chic fashionista with a flair for putting together stylish ensembles will appreciate having a walk-in wardrobe surrounded by mirrors — especially when outfit planning for special occasions. Since you'll need every detail of your ensemble to be on point, adequate and good lighting is extremely essential. Illuminate the entire area by adding lighting behind mirrors and beneath your cupboards on all four walls. Appeal to the senses by incorporating plush carpeting.


2. Convenient & Functional


Are you exceptionally particular about your outfits being neat and crisp before wearing them out? When it's time to renovate your walk-in wardrobe, incorporate a pullout ironing board within the space. It will save you the time and hassle! Every time a piece of apparel feels a tad too wrinkly, you won't have go too far to have its creases straightened. We suggest installing the ironing board near a window with lots of natural light for better visibility.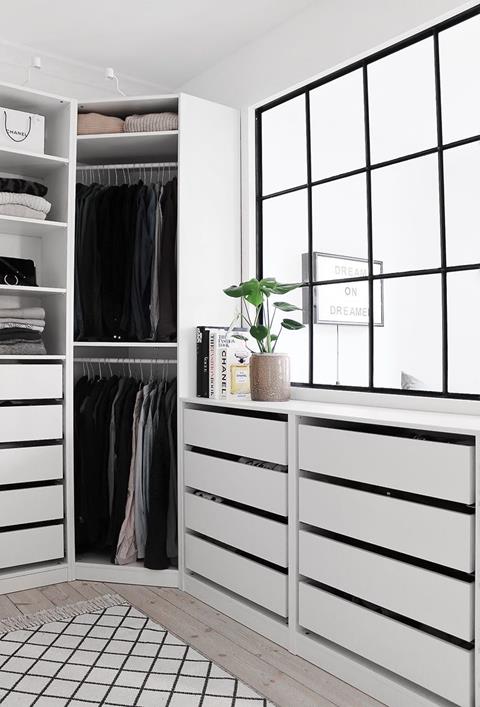 3. A Minimalist's Dream


Go for an all-white walk-in wardrobe if you're a fan of the minimalist interior design. Opt for light wood floors to complement the rest of the space and decorate with a monochrome rug to add a little texture. To prevent the space from looking dull, add accessories like potted plants or books.
The one thing we love most about an all-white walk-in wardrobe is the ease at which you'll be able to find your clothes. Every piece of apparel will easily pop against the white backdrop so it won't be difficult to locate items you need.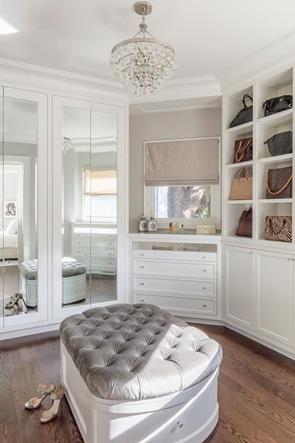 4. A Posh Space For A Posh Lady


Need an exclusive space for all your designer bags? Give them a home that's luxurious in nature because they deserve nothing less. Colour wise, choose a palette that looks like it's made for royalty when renovating your walk-in wardrobe. Rich purples will go nicely with grey while dark blue will complement gold tones. However, if you want something lighter, pink, white and grey make a lovely combination.


5. Go Big Or Go Home


If you have tons of space to play with, go all out to create a cosy, enclosed area you can feel relaxed in. When doing the renovation, make sure every bit of space is put to good use by having at least three walls that feature closet space while setting up a small lounge area in the middle. Furnish the space with luxe furniture for that high-end boutique look.



6. Scandi-Inspired Haven


Whether it's for an HDB BTO or condominium apartment, Scandinavian interiors are all the rage for home renovations. So are Scandinavian-inspired walk-in wardrobes. They're mostly doused in white and accompanied by wooden accents. Other than that, the area is mostly kept free from interior accessories. Flooring should also be light in colour whether you have decided on wood or carpeting. For those exploring space-saving options, a pullout shoe cabinet may be ideal.
Request for quotes and we'll match you with a selection of Interior Designers!
Previous
What Type Of Bedroom Best Suits Your Personality? Interior Design Ideas to Consider
Next
6 Reasons To Use Soft Furnishings