6 Ways to Enjoy Luxury on A Budget
Interior Design & Decor
18592 views
18592 views
Not every one of us has the luxury of a deep pocket. But that doesn't mean we don't want our living space to sport an upscale look. Luckily for you, we've compiled a cheat sheet of budget-friendly ideas that could help transform your home from feeling lived-in to ultra luxe.
1. Dress up your windows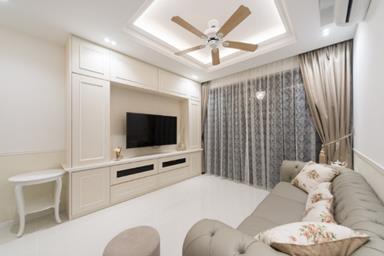 Photo: Unity Design Consultancy
Unlined, flimsy curtains command one of the lowest prices, but they also make your house look hastily and cheaply put together. Instead, speak to a curtain specialist to create a customised solution that fits your needs and ensure that you only spend on the best quality that you can afford. Once you've picked your curtains, remember to hang them closer to the ceiling rather than just above the window for a loftier impression.
2. Swap out the default knobs
New flats come with knobs which are purchased in bulk and therefore standardised across all units. If you're chasing a custom look that can make your flat stand out among your neighbours', their utilitarian nature might not appeal to you. Fortunately, hardware shops and specialty stores offer tons of wallet-friendly options that let you quickly inject a touch of luxury to your home. We like these modern, posh-looking knobs.
3. Go big on cushions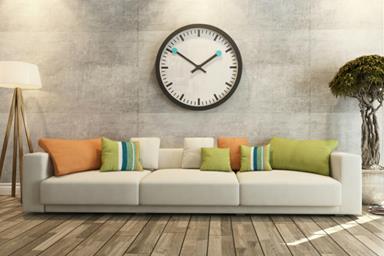 Cushions make lovely accompaniments to your sofa or chair because they make the seat look more inviting. You want your cushions to make a statement, so mixing up a handful of big throw cushions with some smaller pieces works more effectively than simply overcrowding your sofa with a collection of petite pillows that are neither functional nor luxurious enough. To create extra imposing cushions, try overstuffing your pillow cases with slightly larger inserts.
4. Paint it light
Photo: Starry Homestead
White, or lightly coloured, walls are popular with hotel room interiors for good reason: they bounce light off surfaces instead of absorbing it like dark colours do, making the typically crowded room look grander than it really is. Walls that are lightly coloured are also low-key, making them the perfect foundation for arranging upscale, centre stage-worthy furnishings and accessories.
Read related: 6 Simple Tricks to Make Your Room Look Bigger
5. Coordinate your containers
Photo: crateandbarrel.com
Nothing spells hotel chic quite like a set of matching containers in the bathroom or on your dresser. Transfer your shampoo and conditioner into a dispenser, and house cotton swabs in a coordinating ceramic container for visual harmony. The trick is as much about enlivening your home with an eye-catching accessory set as it is about selling yourself the feeling that you're on a lavish vacation.
6. Moderate your decorations
Photo: H2O Interior Renovation
Gold is synonymous with prestige and wealth, but that doesn't mean you should use gilded frames, brass lighting and golden trinkets all in the same place. At best, the arrangement can end up seeming recklessly hammered together. At worst, it can look garish. Instead, aim to mix and match pieces such as a pot of affordable posies from your neighbourhood florist, a cute plastic figurine from the pasar malam and even a small bottle of scent for an eclectic, yet polished vibe.
Request for quotes and we'll match you with a selection of Interior Designers!
Previous
5 Tips for Caring for Wood Furniture
Next
5 Essential Tips for Organising Food in Your Fridge