7 Best Kitchen Interior Designs
Interior Design & Decor
14869 views
14869 views
They say that the kitchen is the heart of the home – and we fully agree.
It is where we prepare food to fuel our bodies everyday;
where we go to have breakfast before beginning our daily activities;
where we teach our children the family recipes;
where they learn to be self-sufficient as they begin to pick up basic cooking skills;
where we prepare the surprise candlelit dinner for a romantic night with our spouse;
and so much more.
Having a thoughtfully designed kitchen suitable for your unique needs is important and so we present to you 7 of the best designed kitchens we've seen thus far! If you're in the process of figuring out the right combination of features and fixtures for your kitchen, or if you simply enjoy looking at other people's kitchens, this one's for you.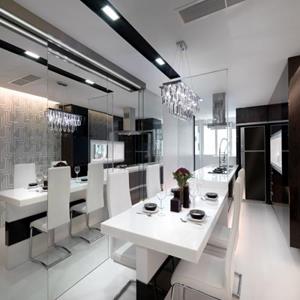 What We Love:
The seamless blend of the kitchen and dining area with a glass panel utilised to separate the two areas.
The mirrored wall contributing to a spacious look.
Use of sleek lines and glossy surfaces like glass, mirror, and metals to create a sophisticated and streamlined feel.
What We Love:
Despite its odd shape, the fittings and fixtures were efficiently put together in a convenient layout that works.
It has all the amenities one could possibly need in this small space – again efficiently put together.
Refreshing choice of colours worked really well to open up the space.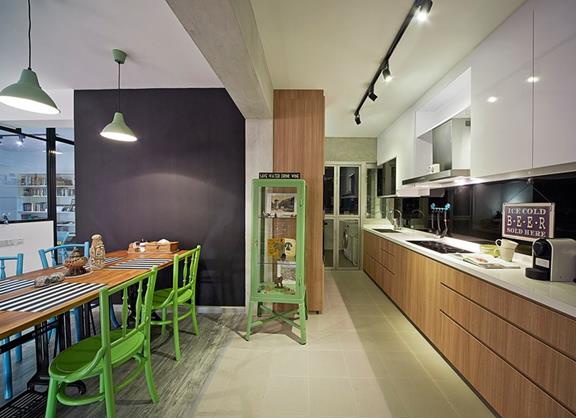 What We Love:
The open kitchen concept truly opens up the home, for a more spacious and luxurious look and feel.
With the bulk of the kitchen running alongside one wall, it gives options for plenty of storage in drawers below and overhead.
The glossy black backsplash can be easily cleaned of grease and stains.
What We Love:
Again, the mirror used to create an illusion of space and greater depth.
An inspired swinging bar counter that doubles as an entryway and kitchen island.
Bar area for meals and drinks!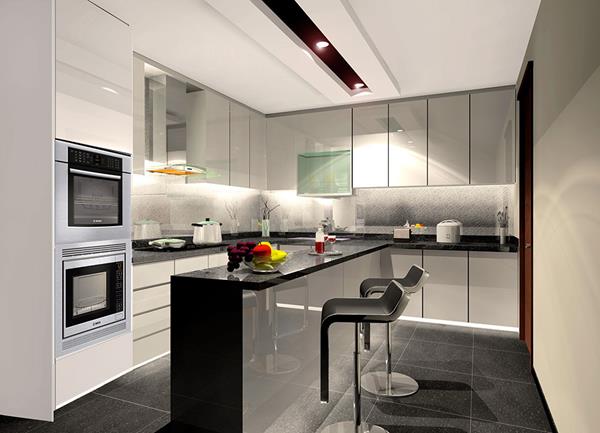 What We Love:
Its simple design requires no hacking, while providing form and plenty of function.
The kitchen island that doubles as a dining space.
Closed kitchen concept utilising a door, so that smoke and greasy smells don't get to the rest of the house.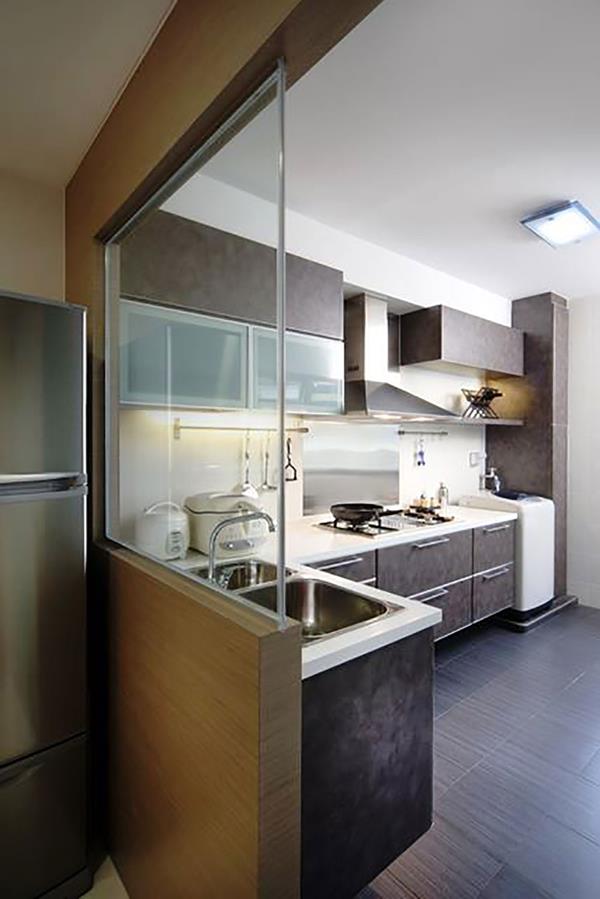 What We Love:
Did you notice the fridge standing outside the kitchen? Its unconventional placement provides more space for the family chef, and better snack access for the rest of the family!
Glass panel subtly separates the kitchen from the living area, while allowing the cook to keep an eye on energetic kids.
Cleverly placed rod for convenient storage of cooking utensils.
What We Love:
The minimalist look that minimises barriers between spaces in a home for a more spacious look. (Space is everything, right?)
Plenty of space on the kitchen counter for prepping ingredients, or even setting trays of baked goodies to cool!
Ease of access for the cook to bring freshly cooked food, from stove to dining table.
There are so many ways to design one's kitchen, with everyone looking out for different things. These 7 kitchens were the best we've picked out, with a summary of the things we loved in each.
If you enjoyed this, do look out for our article on kitchen renovation tips, coming up next!
Photo Credits: 1. Northwest Interior Design Pte Ltd; 2. A2Z Interior Design Pte Ltd; 3. The 80s Studio; 4. Focus Studio Pte Ltd; 5. Piuttosto Gallery Interior Design; 6. Triple S Interior Pte Ltd; 7. 3D Innovations
Request for quotes and we'll match you with a selection of Interior Designers!
Previous
Get the Luxe Look: Druzy Crystal Accents
Next
How to Manage Renovation Costs?!