7 Best Picnic Spots in Singapore That Are Instagram-worthy
Travel
10259 views
10259 views
Spring is here! Okay, so the seasons in Singapore are almost non-existent to begin with but hey, at least it's the end of the monsoon period. And the end of the monsoon period means more chances for outdoor activities.
Besides cycling and roller-skating, you can engage in something more relaxing like a picnic. The Singapore Botanic Gardens is a scenic place, but it is also the first thing that pops into every Singaporean's mind when they see the word 'picnic'. You don't want to have the same photos as everyone else, do you?
Here are 7 picnic spots in Singapore that can double as photoshoot locations for your next Instagram post.
Bishan-Ang Mo Kio Park
This park features a meandering river that extends more than 3km, and even has a dog area so you can bring your mutts along to your picnic!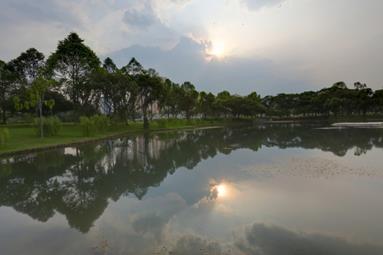 The tranquility of the river, coupled with the abundant space, will ensure you have a good time with your cucumber sandwiches and jam tarts.
Location: Along Bishan Road and Ang Mo Kio Ave 1
Sengkang Riverside Park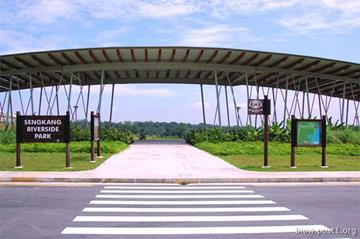 We spend so much time during the weekdays in offices or school buildings. It is nice to escape the city life once in a while. Sengkang Riverside Park is an area far from all the urban developments, and comes with a wide variety of aquatic plants and marshes. Sounds like the perfect spot for nature lovers!
Since it is not as 'commercialized', this park is usually low in human traffic even on the weekends. Therefore, you will have lots of privacy for your picnic, and can indulge in endless photo-taking sessions.
Location: Anchorvale Street abutting Sungei Punggol
Marina Barrage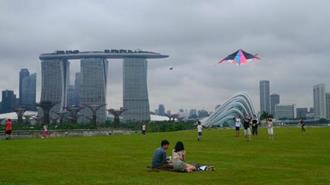 If you can't get enough of Singapore's skyline and want to include it in your picnics, Marina Barrage is good for those city views. It is even more beautiful at sunset, and you'll also be able to see the lights of Marina Bay in full glory.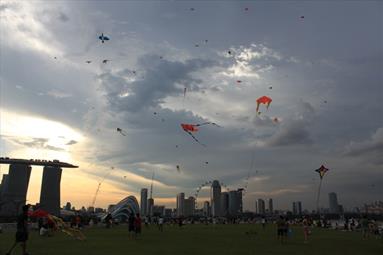 Because it is situated on a rooftop, it is generally quite breezy and an ideal spot for kite-flying, a great accompanying activity for your picnic! So whip out those colourful kites and watch the 'likes' on your Instagram photos fly.
Location: 8 Marina Gardens Drive
West coast Park
This is always a favourite amongst kids because of the large play areas, which include rope pyramids, plenty of swings and slides, and even Flying Fox! After playtime, you can head over to the quieter Eastern Section of the park at Area 1 for your picnic.
If West Coast Park is too far away for you, there's Pasir Ris Park at the other end of the island that also has a similar adventure playground.
Location: Parallel to West Coast Highway
Chinese garden
If you want to add a bit of culture to your picnic affairs, consider visiting the Chinese Garden. The oriental architecture and landscape will create a different experience for you, and the Pagoda structures will have you thinking you just got transported back in time to Ancient China.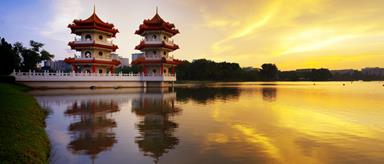 The picturesque design of the garden is a popular area for wedding photography, so you might be able to see the photoshoots in progress. Here's a suggestion, to keep in theme with the garden, pack dim sum for your picnic instead!
Location: 1 Chinese Garden Road
Hindhede Nature Park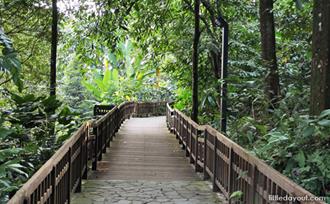 Filled with lush greenery and smooth trails, this park is excellent for hiking if you want to include proper physical activities to your picnic. The Hindhede Quarry is a must-see spot and good for photo-taking as well.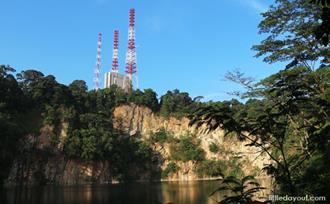 The park is home to a lot of cute creatures such as terrapins and fish, and if you're lucky, you might even catch the Plaintain Squirrel in action.
Location: Along Hindhede Drive
Kusu Island
If you are feeling adventurous, take your picnic out to Kusu Island. It has a rich background story that embodies the cultural mix-pot of Singapore. Legend has it that it was named after a magical tortoise that turned itself into an island to save 2 sailors, a Malay and a Chinese.
This is why there are 3 Malay holy shrines and a popular Chinese temple on the island. Besides the interesting sites, Kusu Island also has various lagoons and beaches that are nice picnic spots.
Location: Go to Marina South Pier and take the Singapore Island Cruise ferry
---
Photo Credits: Cover: Theguardian; 1. Muaythaisg; 2a. Australiandesignreview; 2b. Nparks; 3a. Tripadvisor; 3b. Worldnomads; 4. Kidsandparenting; 5a. Panoramio; 5b. Ourshutterjourney; 6. Littledayout; 7a. Singaporeheliservices; 7b. Yoursingapore
Request for quotes and we'll match you with a selection of Interior Designers!
Previous
10 Home Interior Illusions That Will Take Your Breath Away
Next
Top 10 Feng Shui Tips For Your Bedroom That You Need to Follow