7 Brilliant Ideas For Your Balcony
Interior Design & Decor
25674 views
25674 views
Like every other space in a home, the balcony can be transformed into anything its owner desires. A second dining area, a relaxation spot, or a play space – you name it.
Not only are the following balconies functional, they are beautiful to boot! If you have no idea what to do with yours, these awesome balcony designs will probably give you a headstart in the right direction. The important thing is to create one that suits the lifestyle of you and your family members!
1. Combine It With Your Living Room
Credit: Urban Habitat Design
Create an extension of your living room with the balcony! We love how the transparent folding doors here separate the two spaces, but also bring them together when needed.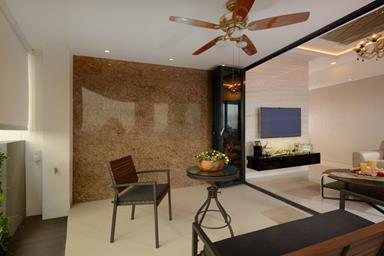 Credit: Urban Habitat Design
This concept is great for family gatherings as guests can easily move in and out, and it also opens up the area for people to mingle in.
2. Grass Patch
Credit: Unity ID Pte Ltd
Lay the ground with synthetic grass so you can have the pleasure of owning a lawn without the hassle of the real thing.
Credit: Unity ID Pte Ltd
It provides a nice spot for relaxation after a long day's work, especially when there are comfy seats to recline in.
3. Dining Area
Credit: Design 4 Space Pte Ltd
Alfresco dining in the comfort of your own home? Sounds like a dream come true! If you have a balcony that's large enough, consider fitting in a good-sized dining table complete with a hanging pendant lamp.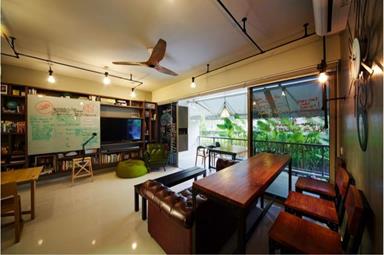 Credit: Design 4 Space Pte Ltd
Imagine having pancakes in the sunshine, or dinner with your family in the evening breeze. It will definitely make meal times feel more heartwarming.
4. Potted Plants
Credit: Renozone Interior Design House
Be one with nature, and complement our garden city with potted plants on your balcony. The greenery looks especially good in a contemporary-themed home as it helps to soften the whole look.
5. Display Cabinet
Credit: Unity ID Pte Ltd
What do you do when you have too many knick-knacks that you would like to showcase? Extend them to your balcony area by building a display cabinet! It brings life to the wall, and makes for a great centerpiece.
6. Swing
Credit: Unity ID Pte Ltd
Swings bring us back to our carefree, childhood days where the only worry was submitting homework in time.
This fixture makes an abode feel cosier, and serves as a reminder for us to take a break in life as we sway back and forth and watch the world go by.
7. Play Area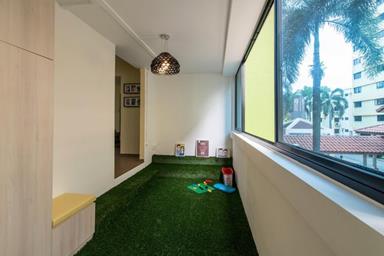 Credit: Ideal Design
If you prefer enclosed spaces, convert the balcony into a mini play area for the kids (or for yourself)!
This is ideal for smaller dwellings since it doesn't take up an entire room. You can even mount the television onto the wall and make it into a gaming spot! Decorate the space however you like, and let it become a comfortable nook for you and your family.
Request for quotes and we'll match you with a selection of Interior Designers!
Previous
4 Hacks For A Neater House
Next
4 Tiny Things You May Not Realise Your Guests Notice