7 hotel inspired interior designs for your HDB
Interior Design & Decor
20924 views
20924 views
7 hotel inspired interior designs for your HDB's
Singapore residents are always looking for the latest, trendiest and freshest inspirations for their HDB interior designs, and nothing can ever quite stimulate a small scale interior design more than beautiful Hotel. Hotels are world renowned for their intrinsic architectural and aesthetic charm. Since they're specifically designed to evoke a sense of comfort, camaraderie and stylishness in their aesthetic, you can easily find tons of hotel interior design inspirations for your HDBs. So today at Renotalk, we'll be featuring 7 hotel interiors you can emulate in your own home designs.
1. Understated Trendy
Hotel interiors usually use deep, dark and understated colors to evoke a sense of elegance in the overall design. The Black Forest Hotel in Liberty is a great example of such sophisticated interior schemes. You can definitely find inspiration from their dark, alluring color palates to create your own mood boards.
2. The Best For The Lobbies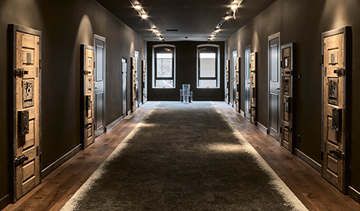 Since HDB's usually come with a limited amount of space, much of the focus is put on the actually defined spaces. Lobbies, foyers and corridors are usually left untouched. You can draw design inspiration from various hotel lobbies and corridors around to world to emulate a more relevant aesthetic for them. Yes, these spaces are transient, but that doesn't mean they should not treat them accordingly.
3. Accessorize To The Fullest
No interior design is ever complete without the right accessories, and hotel interiors are the best places to get inspiration from. The Black Forest hotel uses chic, simple accessories like modern side table lamps and cross-stitched throw pillows to accessorize their rooms in straightforward but effective ways. You can use similar techniques for your own HDB interior designs.
4. Best Material Combos
If you're confused about capturing the right aesthetic with your material palate then a hotel bedroom interior is the best place for you to get inspired. You'll find that they use materials that are simultaneously trendy, unique and comforting. Just look at this bedroom from the New Luxury hotel in Zermatt – the use of plaids and natural textures is pretty amazing.
5. An Airy Layout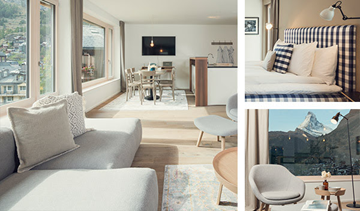 A hotel suite layout can be the best place to get inspiration from when you're planning your HDB interior design. Most of them are bright and airy. They evoke an inherent sense of spaciousness in a limited amount of space – which is quite relevant in the context of Singapore.
6. Galvanized Aesthetics
If you're looking for the kind of interior design styles that will suit the small-space designing of your HDB's, then take a look at some renowned hotels. This wonderful classically inspired living room suite from the Nobis Hotel in Copenhagen seems like the best idea for an open floor concept HDB design.
7. Best Luxury Bathrooms
If you're striving to find the best luxury bathroom inspirations for a small bathroom, then your best bet is browsing through hotel interior design ideas. Just look at this gorgeous minimal-contemporary bathroom design form the Nobis Hotel Copenhagen; it features an understated luxurious look in a small amount of space!
As you can see, there is a lot to get inspired from when you carefully observe the strategically crafted interior designs found in hotels. Now you know where to look most while you're planning your HDB interior design!
Good luck with your renovation!
Request for quotes and we'll match you with a selection of Interior Designers!
Previous
Awarding Excellence In The Built Environment Industry (BEI) The BEI Asia Awards 2017
Next
27 Visually Appealing Small Kitchen Designs