7 Unreliable Floorings for the Elderly (To Avoid & Discover The Best For Them)
Flooring
2875 views
2875 views
If homeowners are living with their elderly parents, a safe flooring material tends to be something that ranks high in their priority list in order to prevent slips and trips from happening.
However, it doesn't need to be complicated, either. There are just some major factors to focus on for each type of flooring when it comes to choosing one that is risk-free. They are namely slip resistance, ease of travel, cleaning and maintenance, comfort and cushion properties of a flooring material.
For instance, a bathroom flooring should be of non-slip material that is easy to walk on and is easy to clean and maintain. On the other hand, a living room flooring should put ease of travel as well as comfort into prior consideration.  
In this blog, we list out seven types of flooring that are not recommended for those homeowners who are staying with aging parents at home.
Carpeting
Image via homeflooringpros.com
In terms of cleaning, carpeting does not excel in wet and dirty areas like bathrooms and kitchens. It easily stains and is difficult to deep-clean, and this usually requires a professional carpet cleaner.
In addition, the fibers of carpeting tend to collect dirt and dust that floats through the air, and it is difficult to remove all dirt with a vacuum cleaner. This can pose a risk for elderly who has severe allergies or respiratory sensitivities.


Cork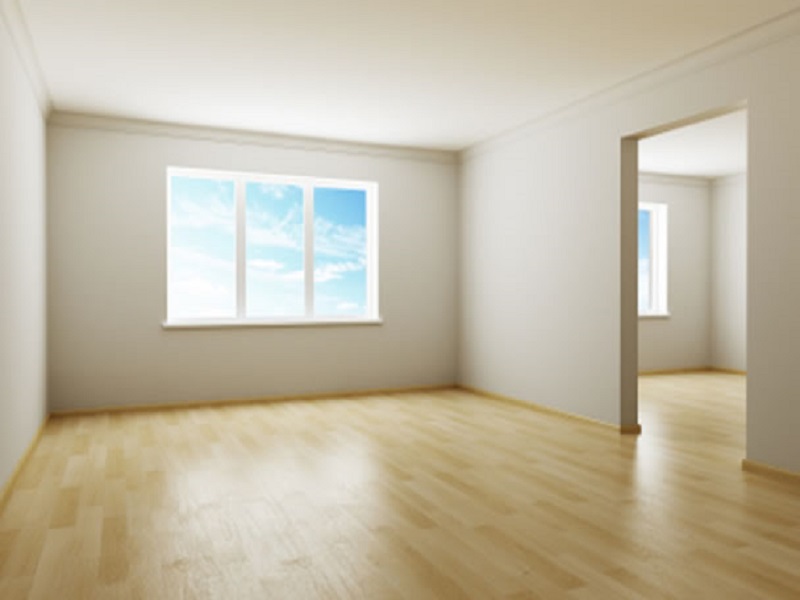 Image via jacobrealty.com
Due to the softness of cork flooring, it is likely to be easily damaged by punctures from furniture legs, walking stick, or any sharp object poking or scraping its surface.
Moreover, it only has moderate resistance to water. Therefore, spills should be wiped up immediately because standing water can seep into the seams of the flooring tiles or planks and damage the core of material.
Vinyl
Image via renotalk.com
Vinyl flooring is generally used in kitchens and bathrooms thanks to its outstanding durability. Despite that, its durability is incomparable to tiles if the inlaid area is subjected to constant high traffic.
On top of that, vinyl flooring is prone to scratching as well. So homeowners should not drag heavy furniture around or expose it to harsh usage.
Wood
Image via danzcohardwoodfloors.com
Wood flooring can last for many years, but it is not water-resistant enough for moisture-high areas like kitchens and bathrooms. This is because standing water can lead to permanent staining and damage the wood composition.
Despite their longevity, hardwood is vulnerable to scratching and dents, so it is normally not recommended for areas and zones of heavy usage.

Laminate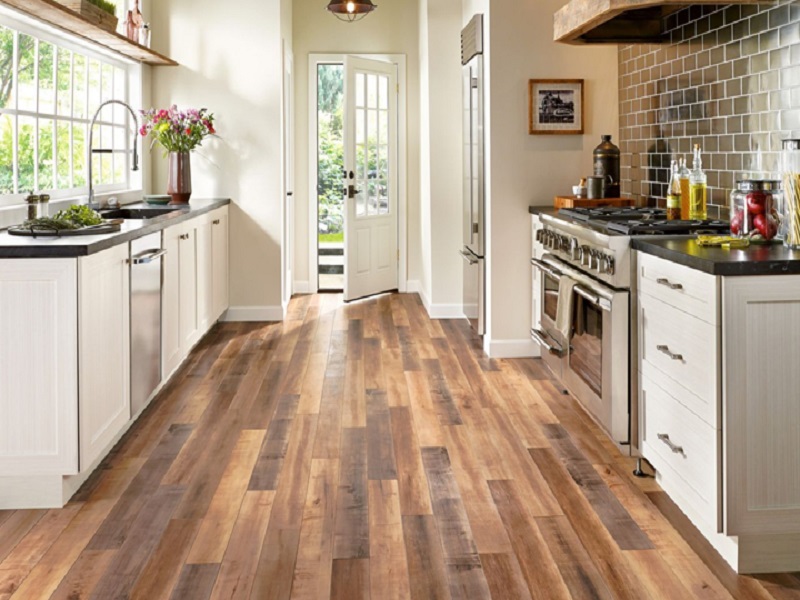 Image via armstrongflooring.com
Laminate flooring should be avoided in wet areas because it is not resistant to water. When exposed to moisture, laminate flooring may expand, contract and therefore warp. Laminate flooring is also not spill-resistant, and a stain will occur if a spill is left unattended for an extended period of time.
Furthermore, laminate flooring requires to be laid on a very smooth surface. This is because its rigid nature will lead it to break over time if laid on a rough and uneven ground.
Ceramic Tiles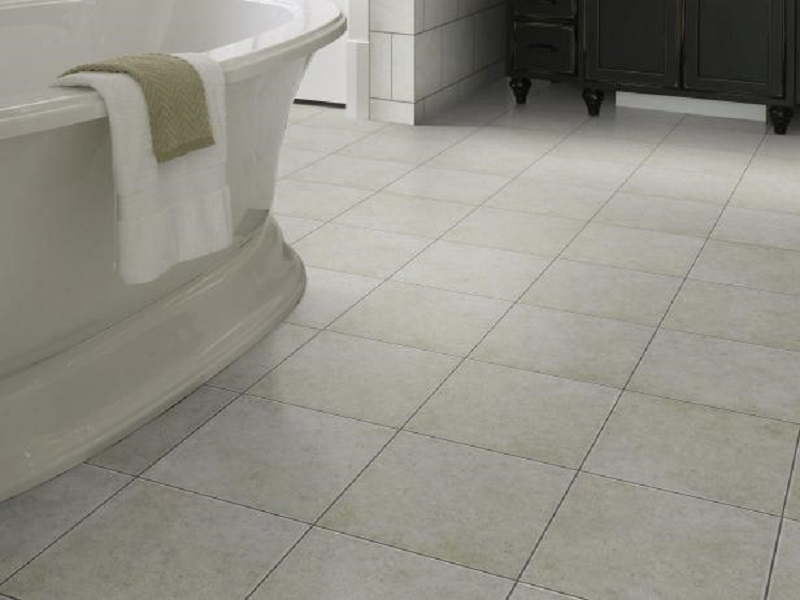 Image via hgtv.com
Ceramic tiles are exceptionally hard-wearing and water-resistant. However, those with wide grout joints or uneven surfaces can be a trip hazard. To add on, it can be very slippery when wet.
In general, ceramic tiles are not recommended for flooring. If it must be used, homeowners have to make sure the flooring area is subjected to a very light traffic. The backs of ceramic tiles are commonly powdery, which implies that they are porous and should not be used in wet areas.
Marble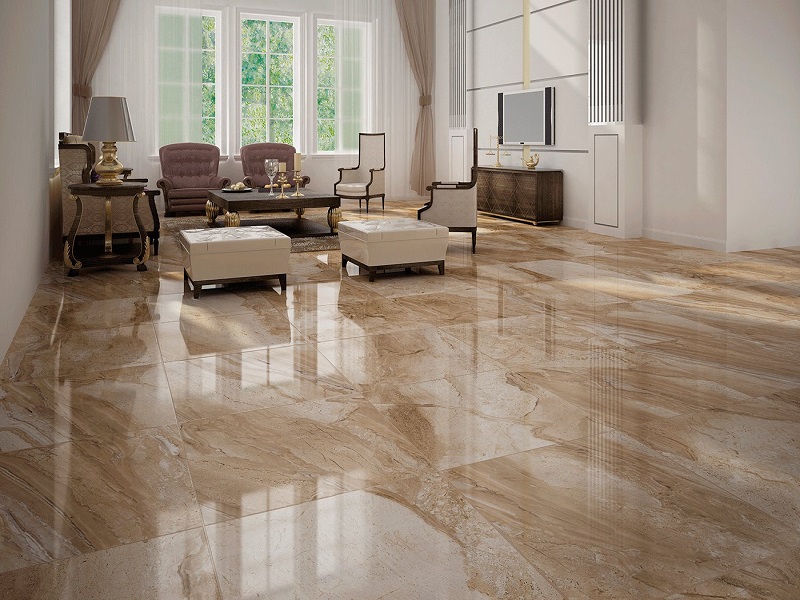 Image via theventurecorner.com

Marble is not recommended to be used as the flooring material in bathrooms or kitchens due to its porous nature. It also stains easily. Even though a high quality sealant would make stains less penetrable, homeowners should still wipe away any spills as soon as possible.

Marble flooring is also susceptible to scratching as it is a very soft stone and scratches will show up easily. To ensure its durability, sealant has to be re-applied on a regular basis to protect its surface.
Regardless of the type of flooring material chosen, homeowners are always encouraged to take part in the EASE programme. Offered as part of the Home Improvement Programme (HIP), it features installation of improvement items to make the flat more elder-friendly and improves mobility and comfort for elderly residents.

The EASE package offers three improvement items. They are namely slip-resistant treatment to existing floor tiles of bathrooms, installation of grab bars for bathrooms and installation of ramps within flat.
EASE is a highly subsidised programme. Homeowners only pay a small fraction of the cost whereby the subsidy can cover up to 95% of the total cost depending on the flat type.
Are you a beneficiary of the EASE programme? Tell us your experience about it in the comment section below!
Request for quotes and we'll match you with a selection of Interior Designers!
Previous
Sofa Buying Guide: 5 Key Considerations in Choosing The Best Sofa
Next
Roger&Sons | More Than Just Honoring A Legacy